.
Comment > Love Thy Neighbour: Sky Mangel by Moe
We'd been crying out for it for years. It would be the perfect way to give Harold a new lease of life and it'd be a great nod to the past for long-time viewers. Why have the Bishop house full of waifs and strays, not to mention the odd fox and hamster, when there was a granddaughter who was exactly the right age to appear on Harold's doorstep? And finally it came to fruition. August 2003 saw the arrival at long last of Sky.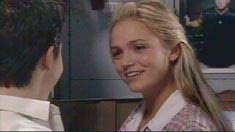 Last seen twelve years previously as a blonde-haired toddler waving goodbye to her big brother Toby in the airport, the all-grown up Sky made her return to Ramsay Street in a bolshy, unorthodox manner befitting one of the best additions to the Neighbours cast in recent years. Interrupting a quiet dinner between Harold and Lou at No.24 by barging in the back door out of the blue and causing her own Grandad to mistake her for a burglar, Sky made an immediate impact. One of the first things to strike viewers about her was how different she was. Sky had jet black hair with blue streaks, dressed highly irregularly and preferred discussing old Hollywood movies to shopping in the mall. After years of a seemingly unending supply of bland, regular teenagers who came in, had a few relationships, got in trouble at school a few times and then left, here was a teen character that was refreshingly different.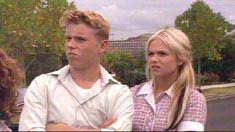 Sky has been at the forefront of some dramatic storylines since her arrival. The widespread problem of bullying at school was dealt with when Sky found it difficult to settle in at Erinsborough High because she was that little bit different to the other students. Erin Perry, in particular, targeted Sky, most cruelly by locking her in a portaloo and knocking it over, ruining the school formal for her. In a noticeable touch of realism, the scriptwriters have avoided going down the happily ever after route and Sky has remained unpopular with a lot of her more mainstream peers and there are often scenes in the school where a barbed comment flies her way about being a 'freak'. The death of Sky's mum Kerry in the early years of the show has also been used to good effect. Kerry's tragic demise hangs over Sky and a lot of her image and attitude is reminiscent of Kerry. Then there's Boyd. The current Romeo and Juliet of Ramsay Street, the teen lovebirds have had a largely successful relationship over the last year, including the first teen sex storyline to be featured on Neighbours in recent years. Of course, the arrival of Lana Crawford looks set to put a cat amongst the pigeons, as she and Sky embark upon Neighbours' first lesbian romance. It's significant that Sky has been chosen as the character that would be best suited to such a storyline, again marking her out as a unique Neighbours character.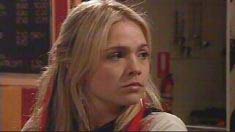 And, of course, Sky came to the series loaded with all sorts of Neighbours connections and history. As well as being a resurrected character from the early years of the soap (and thus, bringing with her stacks of references to long forgotten characters such as Kerry, Joe, Melanie and Toby), the actress picked to play Sky – Stephanie McIntosh - was the real-life half sister of Neighbours legend Jason Donovan. That's the same Jason whose character Scott Robinson used to live in the same Ramsay Street house that Sky now resides in. Indeed, Scott was also the step-son-in-law of Sky's Grandad Harold! It was all too much for Neighbours nuts who were instantly speculating that Stephanie's presence on the programme might even lead to a guest appearance from her big brother. And in yet another Ramsay Street connection, Stephanie also grew up next door to Alan Fletcher, who plays Karl Kennedy on the show.
Although the day will obviously come when Stephanie decides to leave the show (she has regularly expressed an interest in pursuing a music career and has been signed up by Delta Goodrem's former manager, Glenn Wheately), her contribution to Neighbours over the last 18 months has so far been invaluable. Here's to her lighting up the screen for at least another 18 months..