.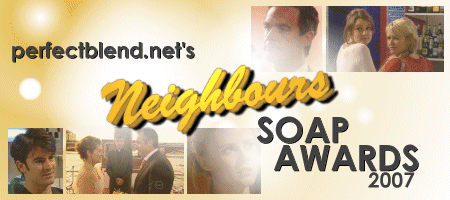 Interactive > Perfect Blend's Neighbours Soap Awards 2007
Now in their second year, Perfect Blend's Neighbours Soap Awards were inspired by the UK's British Soap Awards, for which Neighbours is not eligible. Using the same categories as those awards, Perfect Blend's readers have spent the past few months voting through our messageboard and by email, with only actors and storylines from the 2006 season (episodes 4876-5120) able to be voted for. Here are the results...
Sexiest Male
Ben Lawson (Frazer Yeats)
It was definitely a year for new blood in this category as number 30's new male housemates became a two horse race. In the end, hunky charmer Ben Lawson won out over Christian Clark's chiselled features. Ben's portrayal of loved-up romantic Frazer Yeats no doubt helped to woo many an adoring fan.
Sexiest Female
Natalie Blair (Carmella Cammeniti)
Perhaps it was the nun's habit, but more likely her sultry Mediterranean looks and fun persona that won Natalie Blair this title playing Carmella Cammeniti. As with the male category, the attractive new housemates provided strong competition with blonde bombshell, Nicky Whelan (Pepper Steiger) coming in third, and Blair's onscreen sister Natalie Saleeba (Rosetta Cammeniti) a very close second.
Villain Of The Year
Adam Hunter (Robert Robinson)
It wouldn't take a genius to guess who would dominate the votes for this award in the 2006 episodes. After arriving early in the season to reveal he'd planted the Lassiter's plane bomb in 2005, Robert went on to torment his family while pretending to be his own twin Cameron. Adam Hunter's outstanding performance of sustained psychotic villainy up until Robert's arrest after shooting his own father, meant a deserved landslide victory.

Best Comedy Performance
Deborah Kennedy (Mishka Schneiderova)
She may have only been a guest character, but Deborah Kennedy's fabulous portrayal of Lou's Russian internet date Mishka Schneiderova meant she struck a chord with viewers, and a lot of funny bones. Deborah's wonderful delivery of mangled English, comic timing and pairing with Tom Oliver, lead to many smiles and laugh out loud moments. But some credit must also be given to the script writers for lines like "embrace your womb" or "May diarrhoea strike you down!", as well as Mishka's insistence that she's "only 39". Nell Feeney as Janelle Timmins was the only strong opposition.
Best Newcomer
Natalie Saleeba (Rosetta Cammeniti)
2006 saw the debut of many talented new actors for Neighbours but Natalie Saleeba and Nicky Whelan were the favourites with Natalie winning narrowly. Her confident and assured performance as lovelorn workaholic Rosetta Cammeniti has been a pleasure to watch since her debut in episode 5074.
Best On-Screen Partnership
Alan Fletcher and Jackie Woodburne (Karl and Susan)
At last we were treated to the reunion many of us had been waiting for ever since they split in 2004; and once again Karl and Susan became the much loved partnership they'd always been. Alan Fletcher and Jackie Woodburne clearly know how to work together and the chemistry was still there in abundance. They fitted back together like a jigsaw puzzle and it was as though they'd never been apart.

Spectacular Scene Of The Year
Max runs Cameron over
Another year of high drama provided a wealth of contenders in this field. Elle's car explosion, Paul's mineshaft nightmare and Sky's labour in a burning hospital all had us on the edge of our seats, but Max's rash decision to plough his 4X4 into Cameron Robinson (who he believed to be evil Robert) was the narrow winner. The stunt was probably one of the most realistic in Neighbours history. It lead to the death of Cam, who many would say had huge potential, and eventually Max's departure.

Best Single Episode
Fangs For The Memories (Episode 4995)
A Ticket To Hide (Izzy's departure), Shot! In The Name Of Love (Paul and Gail's fake wedding) and Baptism Through Fire (Kerry's birth) were all very popular episodes, but Fangs For The Memories featuring the long-awaited reunion of Karl and Susan was a clear winner with a quarter of the votes. Bob Hornery, made a touching cameo appearance as Grandpa Tom Kennedy who was suffering with dementia. This sad news brought Karl and Susan back to the family farm where old memories and buried emotions were stirred up, and romance soon blossomed once more. A beautifully scripted and acted piece of work made a fitting conclusion to one of Neighbours' longest running storylines. Perfect in every detail.

Best Exit
Natalie Bassingthwaighte (Izzy Hoyland)
A number of characters left in 2006 but very few voters didn't go for Izzy. Her exit was initially gripping, as we had been tricked into thinking she may be dying, and then poetic, as we discovered she was actually pregnant with Karl's child, yet lied to protect his relationship with Susan. All her goodbyes to Sky, Paul and Susan, made up for any bitterness in the past and we saw her character come full circle to becoming a truly good person. And, despite her huge popularity with viewers, it really felt like the right time for Izzy to move on. Little did we know, we'd see her again in 2007!

Bitch Of The Year
Natalie Bassingthwaighte (Izzy Hoyland)
Another easy win for Izzy - probably Neighbours biggest and best bitch. We were treated to some fantastic catty moments during Gail's brief return and Izzy couldn't help stirring when she spotted Lyn's crush on Paul. Ironically, by the end of her time in Erinsborough, Izzy had turned her life around to become selfless and kind.

Best Dramatic Performance
Stephen Lovatt (Max Hoyland)
It's testament to the overall quality of actors in Neighbours, that the votes were spread so evenly in this category. Adam Hunter, Janet Andrewartha, Carla Bonner and Stephanie McIntosh all made good showings, but there could be only one winner. Following his killing of Cameron Robinson, Max Hoyland tumbled into a world of mental turmoil and anguish. Stephen Lovatt rose to the challenge of portraying the family man's pain as he struggled to come to terms with what he'd done and his inability to communicate with his wife and children. Some of his scenes with Carla Bonner (Steph Hoyland) were simply spellbinding; easily Lovatt's finest work on Neighbours.

Best Dramatic Performance from a Young Actor or Actress
Sianoa Smit-McPhee (Bree Timmins)
Although her onscreen sister Eliza Taylor-Cotter gave her strong competition, Sianoa Smit-McPhee's portrayal of confused teen Bree Timmins garnered her enough votes to win this award. Many viewers were especially moved by her work during the revelation that Bree was swapped at birth.
Best Storyline
Robert's reign of terror
Although Sky's troubled pregnancy and the reunion of Karl and Susan were popular, the high drama of Robert Robinson's time in Erinsborough made a killing with the voters. Probably the most ambitiously thrilling long running storyline ever attempted on Neighbours, it was difficult not to be impressed by the magnitude of it's scale. Special credit must be given to Adam Hunter for carrying the saga and performing so brilliantly as unhinged Robert, as well as the good twin Cameron.

Best Actor
Stefan Dennis (Paul Robinson)
Perhaps a controversial choice considering Paul Robinson's bad boy antics since returning at the end of 2004, but Stefan Dennis' ability to blend comedy, smugness, villainy, camp, insanity, lust, love, hate and abject terror meant viewers couldn't ignore his acting talent. He had plenty to get his teeth into in 2006 with relationships with Izzy, Gail and Lyn but his work during the Robert / Cameron saga is what really captured audiences attention. Being terrorised, kidnapped and then shot by one son and then mourning the death of the other gave Dennis the chance to push his character to the limits.
Best Actress
Jackie Woodburne (Susan Kinski)
Another year of sublime work from Jackie Woodburne has garnered her this award once again. The season began with Susan getting over the death of husband Alex Kinski, but soon her relationship with Karl came into focus and we were treated to watching the evergreen couple falling in love all over again.

Lifetime Achievement Award
Jackie Woodburne (Susan Kinski)
Soon to become Neighbours' longest running female character, Jackie Woodburne's depiction of Susan Wendy Smith Kennedy Smith Kinski has been nothing short of brilliant. During her 12 years in Neighbours, she's been a mother, a wife, a divorcee, a lover, a widow, a teacher, a friend to many and an enemy to a select few. We've seen her grow older and (bizarrely) we've seen her become a teenager again. Jackie Woodburne has tackled ever facet of her role as Susan with seemingly effortless grace. Whether it be comic banter with the kids, canoodling with Karl, gossiping with Lyn or mourning the death of family and friends, her extensive range of facial expressions and natural delivery has made Susan the hugely popular character she is.