.
Magic Moments > 2005 > Sindi's Departure: Part Two Episode 4795

Written by Linda Stainton, Directed by Nicholas Bufalo

Episode Title: He Without Sin

Alex asks Susan out on a date. Lou moves himself into number 30 against Toadie's wishes. Bree is slightly worried by Rachel and Zeke's behaviour. Sindi tells Stuart that she wants him to stop visiting her.

At number 26, Alex drops off Rachel and Zeke for the evening, and Bree explains that her mum and Lyn are just finishing up at the salon but will be back very soon. Dylan and Stingray then get home, so Bree suggests that they can watch over them until Janelle gets home. Rachel and Zeke hug their dad and wish him well as he leaves. Once he's gone, Bree announces that she's scammed them a night with no adults. Zeke is worried, but Rachel thinks it's going to be "angry". Bree corrects her, saying that it will be mad, then assures Zeke that she didn't lie, as lying is a very ugly word.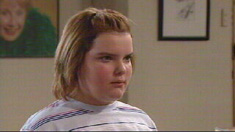 ..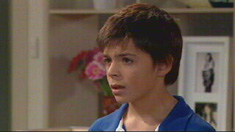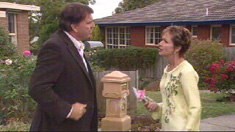 ..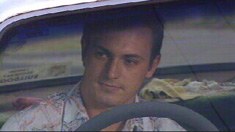 Outside number 28, Alex presents Susan with some figs, as not everyone likes to be given flowers. Susan is quite taken aback and she asks where the car is. Alex apologises and says that he walked. Just then, Zeke phones and tells his dad that Janelle isn't coming home, so a flustered Alex tells his son to do whatever Stingray tells him. Susan and Alex then happily walk down the street and pass a depressed Stu in his car, who manages to briefly smile at them.
At number 30, Lou has made pies for Toadie, as Stuart comes in. Toadie explains that Lou is on trial as their new housemate and Lou tells him that he's desperate for somewhere to stay. Toadie then sends Lou out to the kitchen and tries to convince Stuart, but he's not interested. Lou overhears and comes out as Stu leaves. Toadie assures him that Stu's bad mood is just because of Sindi.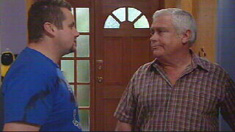 ..
At the Scarlet Bar, Susan is sitting on her own when Stingray runs in with a parcel to deliver. She asks him why he isn't watching Bree, Rachel and Zeke, but he explains that he's making deliveries. She asks him to leave before Alex sees him and he promises her that he'll stay at home and get Dylan to do the rest of his deliveries. Karl then approaches Susan and asks how her date is going. She says that he's gone to the lake, for some reason. As Karl leaves, Alex comes in with a sprig of mint he's picked from the lake, and he starts talking about what a wonderful herb it is. Susan stops him and he apologises, explaining that he's just nervous. He wishes that he could have made a better first impression, so Susan holds out her hand and introduces herself all over again.
At number 26, Stingray is trying to get in touch with Dylan to get him to do the deliveries. Meanwhile, in the kitchen, Bree is showing Rachel and Zeke the five main food groups – fried, bottled, packaged, frozen and chocolate. Zeke isn't impressed, reminding Rachel that their dad doesn't let them eat that stuff, when Stingray calls him into the lounge room and asks if he wants to earn some money. Meanwhile, Rachel starts eating and Bree challenges her to guess the flavour.
..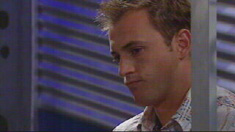 Back at the Scarlet Bar, Alex is talking away and Susan once again shuts him up. He warns her not to get him started on Led Zeppelin and she's surprised that he's a fan, as she was one too. Lou walks up to Stuart and says he's sorry about the whole "song and dance" over him moving in. Stu says he's sorry too and tells Lou he can stay. Lou tells Stu he's really sorry about Sindi, but Stu doesn't really want to talk about it, so he leaves him to it.
At number 26, Dylan is very impressed with the courier shirts that Sky has designed. Meanwhile, Rachel and Bree are watching the video that won Janae $5000 on Stupid Aussies, but Rachel doesn't see why it's so funny. Stingray runs in, looking slightly flustered, and Rachel asks where Zeke is. Stingray doesn't know, and is surprised that Zeke hasn't come back, as he only had to ride the bike a couple of blocks. Rachel is shocked and points out that Zeke can't ride a bike.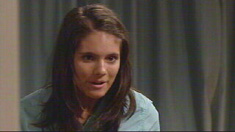 ..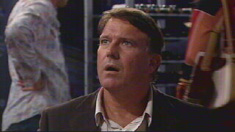 Back at the Scarlet Bar, Susan is encouraging Stu to stick by Sindi, despite her asking for an annulment. She apologises and says that she should get back to her date now. As she sits down, she thanks Alex for being patient and he says that he admires the way she helps her friends. Just then, Rachel and Stingray run in and Rachel announces that they've lost Zeke.
At number 30, Lou, Stu and Toadie are watching the football and Stu is completely distracted. Toadie switches the tv off and tells him that Sindi is obviously giving him a chance to back out of the marriage, as she doesn't want to be a burden on him. Stu tells him that he doesn't care; he loves Sindi and he's not going to abandon her. He then rips up the annulment papers to symbolise this.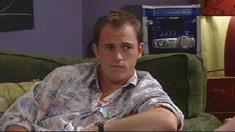 ..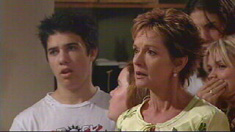 At number 26, Stingray is ripping up the orders that weren't delivered due to Zeke's disappearance. Alex feels bad for having left his kids with the Timmins family, at which point Dylan is offended. Susan comes in after having had a look around the block, but with no luck. As Alex is about to leave with Rachel, his phone rings. He hangs up and asks Susan if she can give him a lift to the hospital.
In a consulting room, Karl has finished patching up Zeke's hand and is working on his knee. Zeke is talking about how amazing scabs are and Karl wonders how someone so clever would ride his bike on the pavement without lights. Karl then rushes Zeke out, as he has more patients to see. Zeke runs into his dad, sister and Stingray and Bree in the corridor. Alex hugs Zeke and Susan then arrives, offering to give them all a lift home. Alex turns her down.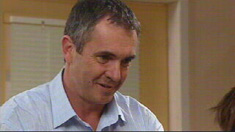 ..
At number 26, Susan is asking Bree why she lied about Janelle being at home that evening. Bree explains that she wanted Susan to have a nice night out and not have to worry. Susan then says that she's also disappointed with Stingray and Dylan, who couldn't stay at home and watch the kids. Dylan isn't impressed with all the drama, saying that Zeke only sprained his finger and he spent half of his childhood in the emergency department. Susan is amused by this, but reminds them to think before they act. Stingray is then amused, commenting that Susan must really like Alex, but she tells him that it's beside the point and that he's going to have to apologise to Zeke at school tomorrow.
The next morning, outside the General Store, the Kinski family are having breakfast and Alex is trying to convince Rachel and Zeke that seaweed is a very nutritious breakfast, although the kids prefer what they're having. Bree and Stingray approach them and Stingray apologises, in his own unique way, for the events of the previous evening. Meanwhile, Mike approaches Sky, who's sitting at another table, and starts mocking her about how soft Dylan has become recently. Dylan turns up and sees him threatening her. As he walks over to Sky, Mike leaves and Sky tells Dylan not to worry about it.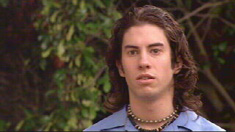 ..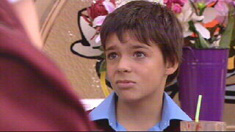 Later, Alex leaves the General Store and is happy to see Zeke surrounded by kids, telling them all about his accident on the bike. Zeke announces that he's going to be the quickest courier Speed Freaks have ever had, but Stingray isn't quite so sure about that.
At number 30, Stu is getting ready to visit Sindi and tells himself that he won't cry. Toadie walks in and is on the phone, cancelling his day at work so that he can be there for Stu when he gets back. Lou says that David is covering for him, so he can be there too. Stu announces that he doesn't want to have to talk to anyone he knows at the bar, so Lou says that he knows a quiet, secluded pub they can go to instead. Stu is grateful to have them for mates.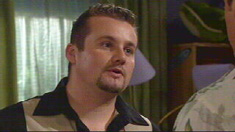 ..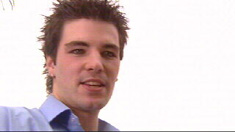 Dylan and Sky are leaving the General Store, when Sky runs back in to get her bag. Dylan spots Mike and walks over to him. Mike starts mocking Dylan, who takes a swing but completely misses. Mike kicks Dylan in the face, knocking him to the ground, and warning him that there's a new world order now. Sky rushes over to help Dylan.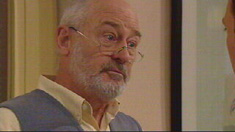 ..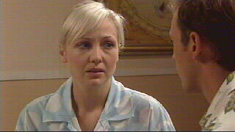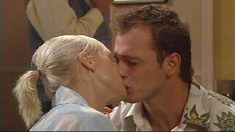 ..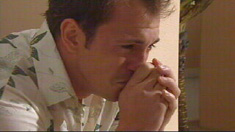 On the psychiatric ward, Dr Levi is trying to stop Stuart from seeing Sindi. Sindi overhears them arguing and allows Stu to come in for five minutes. Stu tells Sindi that he'll give her space, but he won't end their marriage. He tells her that he's going to stick by her during her darkest hour, just like she did for him. She thanks him, before telling him that she's accepted a room at the Dorton Clinic, which is in New South Wales. She says that she's spent time there before. She promises him that she'll be back, just as Dr Levi comes in and tells Stu it's time to go. Stu and Sindi share a kiss before Stuart leaves. He sits down outside the room and bursts into tears.
Summary by Steve