.
Magic Moments > 2005 > Dylan's Memorial Episode 4848

Written by Judith Colquhoun, Directed by Jet Wilkinson

Episode title: Tombstone Blues

Toadie tells Janelle and Kim that Stingray will be going to an adult prison, and that there's very little chance of him being found not guilty. Dylan reads a newspaper report and decides that he has to go back to Erinsborough to help Scott.

At number 26, Kim, Janelle, Janae and Bree are building a photoboard with pictures of Dylan and Kim suggests adding a surfboard rope to it. Janelle thinks that it's a nice idea and they start discussing music for the memorial service. Janelle suggests My Heart Will Go On, reminding them what happened, but it isn't received well by the others. Kim then suggests Sweet Child Of Mine by Guns and Roses and everyone likes that idea more.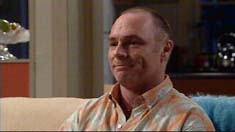 ..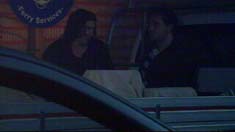 Dylan and Connor have stowed away on a ferry from Tasmania to Melbourne. Connor is worried that it'll sink, but Dylan assures him that it makes the trip twice a day, so it's not likely. Dylan says that he'll just go back to Erinsborough to talk some sense into Stingray, then they'll continue their plan of heading up north.
At the General Store, Boyd and Janae sit down for a chat, and she asks about the bandage on his head, immediately worrying that he's got another brain tumour. He says that he just fell off his bike. She tells him that it's strange at home, especially with her dad around again, but it was nice for them all to talk about Dylan. He asks about Stingray and she quickly changes the subject to Boyd's medical school entrance interview the next day. Janae then helps Boyd by pretending to be the interviewer and running through a few questions with him.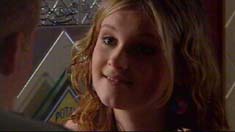 ..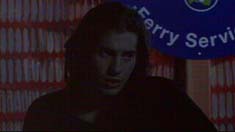 On the ferry, Dylan and Connor hide as a guard with a torch walks by. Connor then starts talking about how ashamed he feels over what's happened and that he can't go back to Erinsborough. He decides that he'll stick with Dylan for the time being.
At number 26, Bree is heading off to bed and kisses her mum and dad goodnight. Janae then comes in and kisses her before walking straight past Kim. He says goodnight to her and she mumbles the same back. Kim then looks over at a photo of the family and goes to help Janelle with the dishes. Their hands touch as she passes him a plate to dry, and they glance at each other.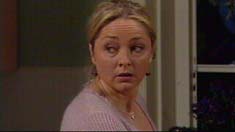 ..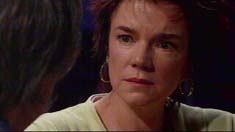 At the Scarlet Bar, Joe and Lyn sit down together and talk about how good it is for the Timmins family to have each other at the moment. Joe thinks that Kim can afford to be all idealistic, as he has his parents' money to fall back on in years to come, although he will hopefully be a good dad to his kids now that he's back. Lyn then mentions that she's been thinking about everything that's happened lately and has realised that she wants to get a divorce. She then asks Joe to marry her.
He says that he's flattered and that he loves her, but he can't get married again. He says that after things went wrong with Melanie, he decided not to go through that again. He asks her if they really need a piece of paper to prove that they're in love. Lyn explains that she firmly believes in marriage, but Joe disagrees. An upset Lyn leaves, telling Joe that he can spend the night at number 24.
The next morning, at number 26, everyone is preparing for the memorial service. Janae offers to help Bree with her hair, but she pushes her away. Sky and Joe then arrive and Bree is delighted to see them, though Lyn isn't quite so happy. Bree thinks that the service should be a little more formal, but Kim and Sky don't think that Dylan would have wanted that. Boyd then arrives and hugs Janae and they all leave. Kim offers to drive Janelle and the girls, but she turns him down. She tells him that he can only stay if he can promise her that he'll be around all of the time, not just when the surf is flat.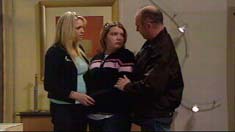 ..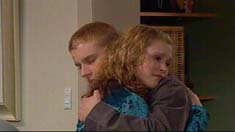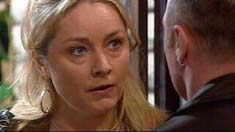 ..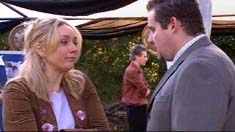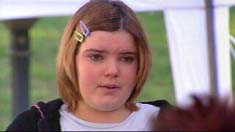 ..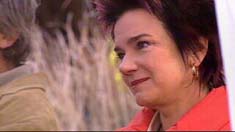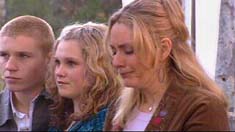 ..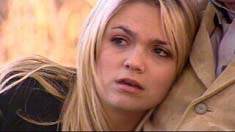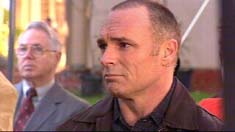 ..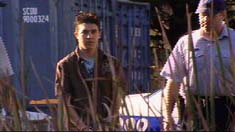 At the memorial service, everyone is gathered, and Toadie assures Janelle that he will do his best to get Stingray off the charges. Toadie then sits down with Susan and is annoyed that Stingray wasn't allowed to come. Bree begins her speech:
" Hi everyone, my name is Bree Timmins and on behalf of my family, I'd just like to thank you all for coming. These are sad days, not just for us but a lot of other families in Erinsborough. We've been comforted that Dylan met his death with great bravery, not crying in fear, but laughing at the thought of one last big adventure. This doesn't surprise us. It might sound strange, but no one could see his true colours better than in the kitchen. He was a really good cook - he could make us anything. He spent his hours slamming around, swearing if something went wrong, too proud to accept help from anyone and too stubborn to give in and admit defeat. And finally, he'd serve up the best meal that you've ever tasted. Because he cooked it with passion for people he loved. He was the most loyal friend, brother, and son that anyone could ever…"
Bree, and everyone else, looks over, surprised to see a police car pulling up. They smile as Stingray gets out and walks towards them.
At number 26, Dylan enters through the back door and checks that the coast is clear, before telling Connor to come in. They start grabbing food but Connor stops when he notices the program for Dylan's memorial service. He shows Dylan…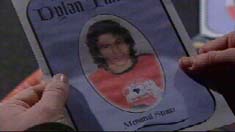 ..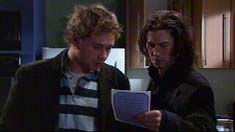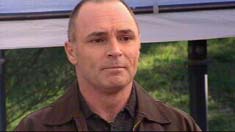 ..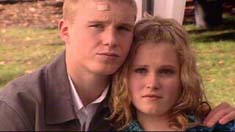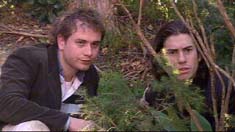 ..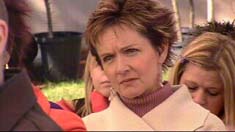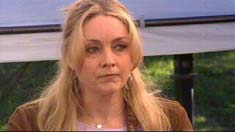 ..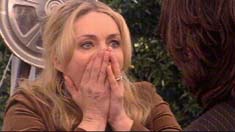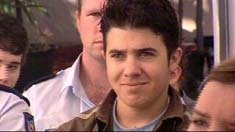 ..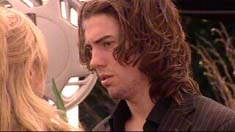 Back at the service, Connor and Dylan watch from the bushes and Dylan is shocked to see his dad saying a few words about him. As Kim sits down, Janelle stands up to speak:
"I think we'd all do things differently, if we had our time again. Me and Dyl, well things were always a bit prickly. But he gave me second chance at being a good mum. And I thank him for that, and I will love him forever…"
Everyone is stunned as Dylan suddenly appears behind Janelle, with Connor quietly disappearing from the scene. Janelle screams, then hugs Dylan, before slapping him.
Later, Dylan is being handcuffed. He explains to his family and friends that he believed that he was the only survivor and that they'd all be better off without him around. He keeps telling them how sorry he is for everything that's happened, as he and Stingray are taken away by the police. Bree tries to look on the bright side – at least he's alive.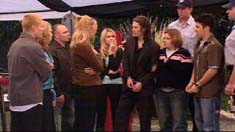 ..
At the police station, Steiger is furious with Dylan for putting everyone through hell and for the money that was wasted on searching for him. Toadie quickly points out that they weren't just searching for Dylan and that he was suffering from shock and exposure and didn't know what he was doing. Steiger points out that he was still evading arrest for armed robbery. Toadie argues that Dylan had no idea he would be arrested when he boarded the plane and, besides, he hasn't spoken to Stingray, so this is their chance to see if their stories tally.
At number 26, Janelle gets off the phone from the police and announces that they can visit Dylan. Janelle doesn't want Kim to join them, but eventually gives in to his wishes. Sky doesn't want to go, but is convinced that she'll be the one that Dylan wants to see. Boyd comforts Janae, then realises that he's running late for his interview and runs out the door.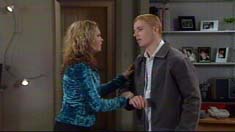 ..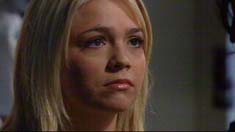 Back at the station, Steiger doesn't believe Dylan's story and thinks he and Stingray worked it out beforehand anyway. They then end the interview and the family is allowed in. Dylan apologises to his mum again and she says that she loves him and always will, remembering how she felt when she thought he'd died. Dylan says that he was thinking of her at the same moment. Sky comes over and looks disgusted, pointing out that Dylan seemed ready to die bravely, but has now shown himself to be a coward. She says that he should have just kept on running.
Summary by Steve