.
Magic Moments > 2006 > Boyd and Janae's Wedding Episode 4999

Written by John Hanlon, Directed by Jovita O'Shaughnessy

Episode Title: Null And Boyd

Gail tells Robert that he needs to repair his relationship with his father and that's all she wants from Paul too – Robert says that it had better be, or he'll do something about. At the town hall, Summer is trying to phone her dad to tell him that Boyd and Janae are getting married. Robert suggests a camping trip to Paul…

Robert pulls up outside a mineshaft. He starts taking supplies out of the boot of the car…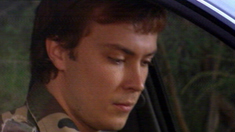 ..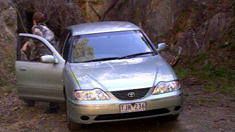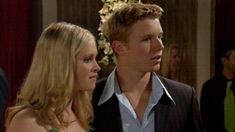 ..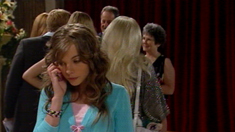 At the town hall, Boyd is introducing Summer and Bree to Sarah Green, the registrar, and he explains that they're going to be the witnesses. Sarah quickly realises that they're not 18, so Janae says that she needs to go and do something. Boyd then explains to Sarah that there will be nobody else in their party, as their families couldn't make it. Janae returns with a couple of people who will act as the witnesses. Meanwhile, Summer is still trying to phone Max and tell him what's going on.
At the bar, Max answers the phone but tells Summer he's busy and will be with her in a minute. On the other side of the bar, Toadie explains to Katya that he's on the way to see Cameron, as the police have found evidence to prove his guilt. Katya still thinks that they've got the wrong brother, however. As Janelle and Steph come into the bar, a shocked Max finally gets the chance to speak to Summer. He's shocked and tells Steph and Janelle about the wedding. A stunned Janelle grabs the phone and tells Janae to come home, but Max takes it back from her and says that it's Summer calling. Steph then takes the phone and Summer asks her to get them all to the town hall as quickly as possible.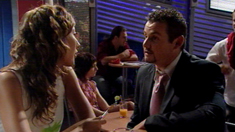 ..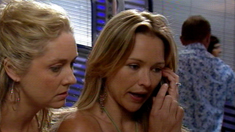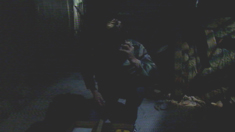 ..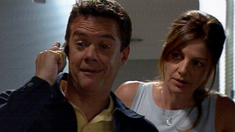 At the mineshaft, Robert is making some preparations when his phone rings. It's Paul, asking him where he is. Robert explains that he's just picking up some supplies for their camping trip and Paul tells him to make a list and he'll pay him back. Robert insists that this is his treat and Paul accepts, while Gail listens in and smiles.
Paul is sitting outside in the hospital corridor when Gail finds him, with a couple of coffees, and tries to apologise for her outburst. Paul isn't sure that he deserves it, but she says that if the coffee's as bad as the stuff on the plane then he probably does deserve it. He says that it might actually be worse, and Gail takes a sip and agrees. He says that he knows all about it, as he spent quite a well in there. He tells her that his leg amputation was the best thing that could have happened, as it really made him reassess the way his life was heading. He says that, despite what she may think, he has always cared about her and the kids. Gail wonders where it all went so wrong, just as Elle and Izzy arrive. Elle rushes to hug her mother, and pulls Paul into their embrace too, as Izzy stands on her own, looking awkward.
At the town hall, Bree quickly interrupts, just as the ceremony is about to begin, and complains that the camera won't work. Janae goes over to help her and points out that she needs to turn it on first. Sarah suggests starting the ceremony again.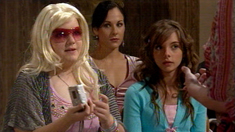 ..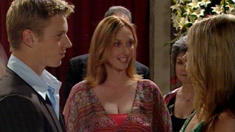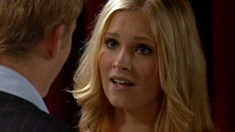 ..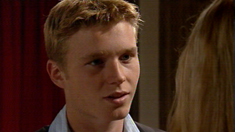 ..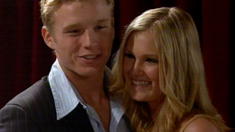 Boyd and Janae stand and hold hands facing each other in front of Sarah, who first asks if they are free by law to marry. They both say yes, as Bree tells Summer to stall it again by coughing. Summer starts having a coughing fit and Sarah has to get her some water, before Boyd and Janae begin reciting their own vows.
Janae: This wedding is really about us isn't it… what we feel. I'm about to spend the rest of my life with you and it just blows me away, Boyd.
Boyd: Me too. You are the most important thing that's ever happened to me, Janae. I love you more than you could imagine. Janae: Not as much as I love you.
Boyd: I want us to have a family together, maybe not right away, but someday. That's all.
They take their vows and exchange rings, before being pronounced husband and wife.
At the prison, Toadie is explaining to Cameron that the police have found the shed with all of the bomb-making equipment and plans inside. He says that the explosives match the ones used in the bombs on the plane and in Elle's car, and there's a diary which reveals his hatred for his father. Cameron insists that he knows nothing about any of it, but Toadie says that there are fingerprints. Cameron says they can't be his, it's impossible, but Toadie starts to get annoyed, telling Cam that he needs to show some remorse to get a lighter sentence from the judge. Cameron remains convinced that he's been set up by Robert, so Toadie stands up and says that he can no longer represent someone who lies. He says that he'll send Robert to visit.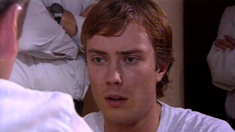 ..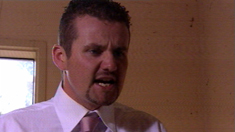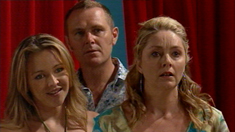 ..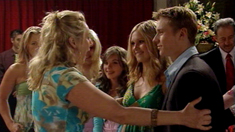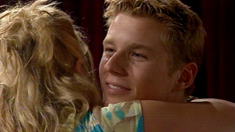 ..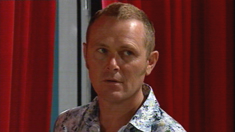 As Boyd and Janae sign the register, Sarah explains that it's a special day for her too, as they are the 1000th couple she has married. She gives Janae a bouquet of flowers to mark the occasion, just as Max, Steph and Janelle arrive. Max holds back as Steph runs over to them and hug them both. Janelle also goes over and pauses for a moment, before hugging Janae. As Janelle also hugs Boyd, he spots his father, who doesn't look pleased and leaves the room. Sarah then asks them if they could move towards the door now, as another couple is about to come in. Boyd and Janae then walk back down the aisle to the wedding march.
At number 22, Paul is packing for the camping trip. Izzy kisses him and he asks her what's up – she insists that she's just going to miss him. They start kissing and ignore a knock at the door, until Gail comes downstairs to answer it and Paul pulls away from Izzy. Toadie has arrived to say that he has news about Cameron. Robert then walks in too, and Toadie explains that the police have found some important evidence to prove Cameron's guilt. He also explains that he will no longer be representing Cameron and Paul says that he'd better find a damn good replacement. Toadie then explains to Robert that Cameron wants to see him, but Robert isn't sure about the idea. Gail says that she'll go along too – they might even be able to get Cam to open up.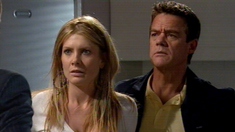 ..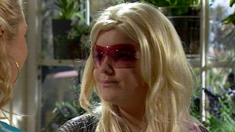 At number 26, Bree gives Janelle an unexpected hug, to thank her for not getting angry with her or Janae. Janelle insists that she'd never just dismiss her family like that – it would make her no better than Kim's parents. Janelle asks Bree about her blonde wig and Bree explains that she got a letter from her birth mother, who saw the ad in the paper and asked her not to try and get in touch. A shocked Janelle hugs Bree, who wonders why they would react like that, and Janelle says that someone like that doesn't deserve a daughter like Bree anyway. Bree then announces that she's decided to make her own identity anyway, hence her new 'Paris Hilton' look.
Toadie and Katya arrive at number 30 for the wedding reception. Boyd stops Toadie in the hallway and says that he knows he's been taking money from them and from Max for the rent. He threatens to tell everyone in the room if Toadie doesn't go and get some champagne for the party, so Toadie quickly leaves. Steph then offers Boyd and Janae her congratulations and says that she wishes she could have been there, before giving them some money to pay for a honeymoon. Janelle and Bree then also turn up and asks where Max is, as she needs a barman right now. Steph says that he didn't come, and Janelle says that it's his own loss then. They then put on some inappropriate music and Boyd and Janae begin the bridal waltz.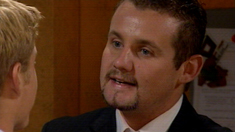 ..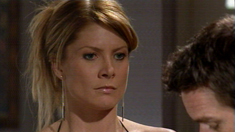 At number 22, Izzy asks Paul why he reacted that way when Gail caught them kissing. He says that he didn't want to make Gail feel uncomfortable, and Izzy reminds him that she has feelings too and he hurt them. Paul says that he, and the house, have a lot of history with Gail and having her around has brought back a lot of old memories and emotions. Paul insists that it's something he needs to work through on his own and says that he'll try to say goodbye to her before he leaves with Robert. Izzy is dejected.
At the prison, Cameron sits opposite Gail and Robert. He quickly tells Gail that Robert has somehow set him up and got his fingerprints. Gail tells Cameron that he needs to stop saying these things, while Robert tells his brother to just own up to his crimes. Robert continues, telling Cam that at least he's close to Paul now – and that they're going away on a camping trip. Cameron becomes increasingly flustered by this and has to be dragged away as he says that he'll kill Robert if he harms Paul.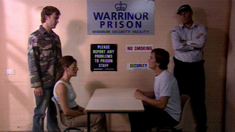 ..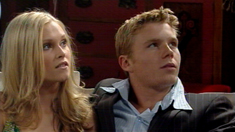 At number 30, Izzy turns up to offer her congratulations to the newlyweds and says that at least she's no longer the craziest Hoyland. Toadie brings in some champagne and insists that it was all just a joke with the rent and he's intended for them to find out. Janae then insists that he become their slave to make up for it, and sends him off to pack for her honeymoon, telling him that he needs to bring each item from her wardrobe so she can decide what to take. The good mood is broken, though, when Max bursts in and announces that Janae's birth certificate was fake, so the marriage isn't even valid.
At number 22, Paul finishes his packing as Robert and Gail return. Robert wonders if they should cancel the camping trip, but Gail insists that it's a good idea and that nobody believes what Cameron is saying. She says that they can't do anything for Cameron anyway and that they need to get their priorities right. Paul says that he has to do something and leaves. Robert, meanwhile, hugs his mother and, in a sinister tone, says that everything he's ever done has been for her.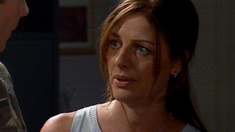 ..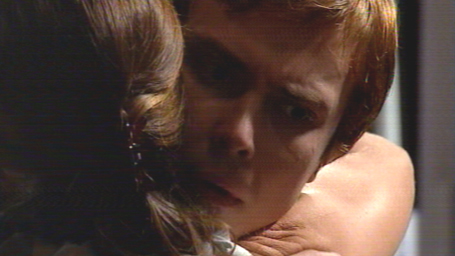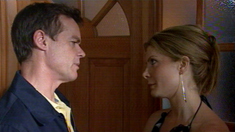 ..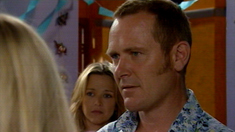 Paul and Izzy are standing outside number 30's front door. He tells her that everything with Gail is in the past and that Izzy is his future. He explains that he couldn't leave without telling her that. In the house, Max is telling Boyd that it can't be good to begin his marriage with a lie. Boyd tells Janae that Max hasn't dobbed them in yet – he just wanted to spoil the day for them. Boyd then stands up to his father, asking him what he's going to do – tell the police? Boyd shows Max the marriage certificate and says that they're married and it's all that matters. He says that if Max dobs them in, he'll never speak to him again and Steph quickly stops Max from replying to this and says that he should go home. Max walks out, saying that he can't just pretend that he's happy with any of this.
Outside, Boyd and Janae are being waved off by Steph, Janelle, Summer and Bree, while Toadie tells Boyd that he's put a slab of beer in the car to make up for everything. Boyd then makes a quick speech, thanking them all for coming and apologising for how rushed it all was, pointing out that he had no choice. Max watches it all from afar, and glares at the car as the newlyweds drive out of the street.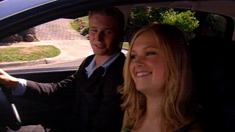 ..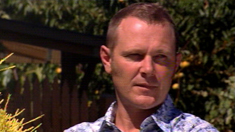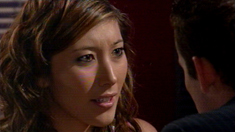 ..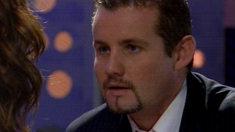 At the bar, Paul and Robert are getting some supplies, just as Toadie and Katya come in. As Robert turns, he accidentally knocks Katya to the ground and, as he goes to help her up, she has flashbacks to him rescuing her at the cliff. Robert quickly looks worried and walks off, as Katya tells Toadie that it was Robert all along – he's the one she had the relationship with, not Cameron. Toadie tries to calm her down, but she insists and says that they have to do something, or Robert will kill Paul.
To read the next episode in this sequence, click here...
Summary by Steve