Karl's apartment 2004-2007
Residents: Karl Kennedy (2004-2006); Isabelle Hoyland (2004-2005); Jenny McKenna (2006); Ned Parker (2007); Paul Robinson (2007)

Following his separation from wife, Susan, Karl Kennedy moved into this apartment in nearby Eden Hills. He was joined shortly after by Izzy Hoyland who took the opportunity to convince Karl that the baby she was carrying was his. After Darcy Tyler who had discovered Izzy's secret had fallen down some stairs and slipped into a coma, Izzy planted some jewellery on him and ransacked the apartment to make it look as if Darcy had robbed them in a bid to discredit him. Izzy subsequently lost the baby, but when Darcy returned the following year, his parting shot was to reveal to Susan via a letter that Karl wasn't the father, leaving Izzy out on the street as Karl & her family disowned her.

Karl lived alone for a while, but in 2006, invited politician fiancé, Jenny McKenna to move in with him, however things were not to be as Jenny wanted to further her career, which meant a move to Canberra, whilst Karl had fallen in love with Susan once again after she supported him whilst he dealt with his father's dementia and the pair parted amicably, leaving Karl fee to reunite with Susan who turned up at his door barefoot to declare her love for him.

Following worries over his career due to a breach of doctor/patient confidentiality, Karl found himself unable to sleep and having taken a sample of sleeping syrup that his colleague, Dr. Jeremy Levi suggested for him to try, headed to Scarlet Bar for a nightcap, however soon descended into a drowsy state leaving bar owner and ex-fiance, Izzy to escort him home. With the side-effects of the syrup and alcohol leaving him confused, Karl mistook her for Susan and so the pair ended up in bed together. Realising the next morning that Karl thought she was Susan, Izzy decided that she didn't want to be at blame for their break up again and insisted to Karl that she had slept on the sofa.

Soon after, Karl began having flashbacks of the night in question and admitted to Susan what had happened. Determined not to let Izzy come between them again, Susan invited Karl to move back into their former marital home.

The following year, having bought the apartment from Karl's landlord, Paul Robinson had it lavishly refurbished and offered it to Ned Parker to live in as payment for doing some jobs for him, however after reuniting with ex-girlfriend and Paul's daughter, Elle, Ned admitted that he had been behind her break up with Dylan Timmins, a scheme orchestrated by her father. As Elle became hell-bent on taking revenge on her father, Ned decided to get away from Elle, Paul & their schemes and decided to get away from Erinsborough for a while.

Shortly afterward, having been evicted from Number 22 by Elle and having lost access to his bank accounts and his businesses, Paul found himself forced to move into the apartment he had originally bought as an investment. As he began to experience intense pain in his head and found it hard to understand what people were saying to him, Paul sought medical advice and it was diagnosed with an acoustic neuroma, and required surgery to remove a hitherto undetected tumour that had been growing on his brain for several years. Rejecting his doctor's advice, Paul ignored the diagnosis and resolved to carry on with his life as best he could.

Whilst he was still learning to deal with the news, Paul befriended a homeless teenager, known as Fox, when he tried to steal his lunch from him one day at Lassiter's. Desperately in need of company, Paul found himself confiding in Fox and began to take onboard his advice and invited him to stay at the flat. However, Fox began to taunt Paul and refused to let him leave. Paul finally managed to escape and ran as far as the car park before collapsing as the noise in his head got louder and louder. He was taken to hospital where the doctors told him he must have the brain surgery or die. But Paul returned home in the hope of first making amends with Elle, only to again be met by Fox at the apartment, who was now making Paul believe Fox and Elle were working together to drive him insane. Paul started to fight with Fox, just as Elle arrived at the apartment and she was shocked to walk in and witness Paul fighting with thin air. Elle convinced Paul to go to the hospital with her, thinking he had had some kind of mental breakdown, but once there, Paul's tumour was revealed to her and he was prepared for emergency surgery. Right up until he went under the knife, Paul was still being taunted by Fox, who was actually a figment of his imagination caused by the tumour.

Following successful treatment for the tumour, Elle invited Paul to return to Number 22 whilst he recovered.

Trivia Notes
• The set for Karl's apartment was the same one that had been used a few years earlier for Libby & Drew's flat and was used later as the Napier House, Carmella's apartment and as Angus' flat
• The location used for the exterior of the apartment building was Saxonwood Apartments, 8 Saxonwood Drive, Vermont South


Key moments (with episode links where available)

Susan declares her love for Karl
Holly Hoyland is conceived
Paul collapses
The truth about Fox is revealed



Gallery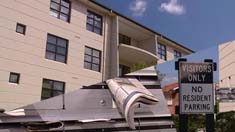 ..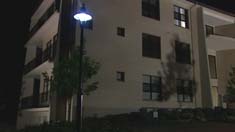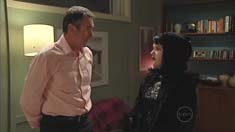 ..