.
Neighbourhood > Places > Robyn Lovell's farm

Robyn Lovell's farm 2008
Residents: Robyn Lovell (2008), Hayden Lovell (2008), Callum Jones (2008)

Located in Ballarat, the Lovell farm was home to Callum Jones' Aunt Robyn and her son, Hayden. When Callum became too much for his guardian, Toadie Rebecchi, to handle, Robyn was contacted and she agreed to have the boy come and live with her. Unsure whether he'd made the right decision, Toadie went to visit Callum and was surprised to learn from Robyn that he was settling in well, despite the quiet new environment with no video games. Believing Robyn, Toadie left without speaking to Callum, who was actually desperately missing Erinsborough and started making silent phone calls to Toadie. When Robyn caught him, she and Toadie realised that Callum might be happier in his old home and he returned to Ramsay Street.

Key moments (with episode links where available)

An unhappy Callum makes prank calls to Toadie


Gallery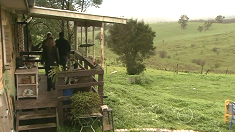 ..