.
Neighbourhood > Places > Luna Park

Luna Park 1985-

A theme park, situated in the Melbourne seaside suburb of St Kilda, Luna Park first opened in 1912 and has been operating ever since. There is a second Luna Park in Australia, situated in Sydney.

A frequent day trip for people in the Melbourne area, Luna Park first appeared on screen in 1985, when Jim Robinson and old schoolfriend Amy Medway went for a day out together, and kissed at the top of one of the rides. In 1989, Scott, Henry, Mike and Jane visited the park, while in 1996, a trip to Luna Park ended badly for various street residents when Mal Kennedy and Stonie Rebecchi's car was stolen. In 2000, Bill Kennedy's farewell party was held at the park, while in 2006, brother and sister Max and Izzy Hoyland visited for her birthday, and she explained that she had never forgotten an incident in her childhood when their father Bobby had failed to meet her at the park, as arranged. Later that week, Sky Mangel and Dylan Timmins visited, where he stunned her by proposing.

Characters have also frequently been mentioned as visiting Luna Park, though not actually seen there. Dating couple Scott and Charlene visited in 1986, while the following year, Gail Lewis' ex-husband Jeremy Lord tried to win her over with a trip to Luna Park, and the day ended with a kiss. In 2004, David and Serena had a father-daughter day out at Luna Park.

Key moments (with episode links where available)

Jim Robinson and Amy Medway share a kiss
Billy Kennedy's farewell party is held
Dylan Timmins proposes to pregnant girlfriend Sky Mangel


Gallery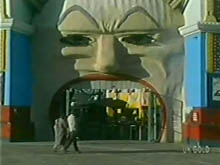 ..