.
Neighbourhood > Places > Montsalvat
Montsalvat 1985, 2008, 2009

Australia's oldest artists' colony, Montsalvat first appeared in 1985 as an old monastery which Scott Robinson took Kim Taylor to whilst on a date after Danny Ramsay and Eddie Sherwin turned up and began teasing them. Little did they know but the pair had followed them to the monastery and recorded a conversation they were having about sex and Kim going on the pill and planned to edit it as a joke. Unfortunately, when Danny was listening to the tape at school, the class teacher and Kim's mother, Marcia, caught him and made him play it to the class. Having later been confronted by her parents, Kim ran away and having learned of this, Scott followed, tracking her down at the monastery.
Scott's father, Jim, eventually tracked them down after neighbour; Max Ramsay told him that Danny had accidentally mentioned an old monastery to his mother, Maria. After overhearing Scott speaking with his father, Kim ran off, leaving Scott and Jim to return home without her.
In March 2009, it appeared again as the location for the wedding of Libby Kennedy and Daniel Fitzgerald. Though the ceremony began happily and the vows were completed, things took a shocking turn when Libby suddenly collapsed and was taken to hospital, where she found out that she was pregnant.
For more information on Montsalvat and how to hire it as a wedding venue, click here.
Trivia Notes
• In 2008, episode 5600 saw Montsalvat double as the home of Oliver Barnes, Carmella Cammeniti and Chloe Cammeniti in Portugal.
• In 2009, episodes 5706 and 5707 saw Montsalvat used as the location of Bridget Parker and Declan Napier's Wedding, however it's unclear if it was appearing as itself or another location as they were near to the fictional Northern Fields airfield.

Key moments (with episode links where available)
First time the sad occasions theme is played
Libby and Daniel's Wedding
Bridget and Declan's Wedding
Gallery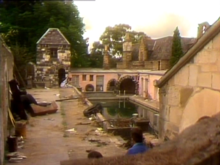 ..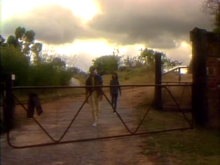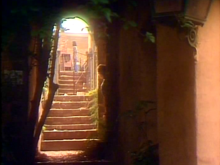 ..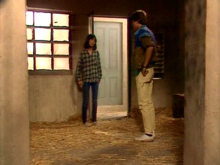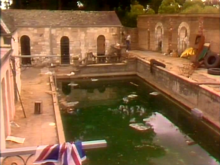 ..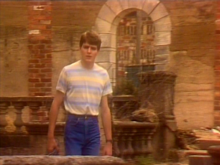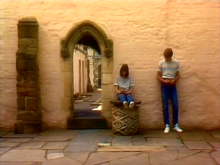 ..