.
Neighbourhood > Places > Montsalvat
Montsalvat 2009

Australia's oldest artists' colony, Montsalvat was the location for the wedding of Libby Kennedy and Daniel Fitzgerald in March 2009. Though the ceremony began happily and the vows were completed, things took a shocking turn when Libby suddenly collapsed and was taken to hospital, where she found out that she was pregnant.
For more information on Montsalvat and how to hire it as a wedding venue, click here.
Key moments (with episode links where available)
Libby and Daniel's Wedding
Gallery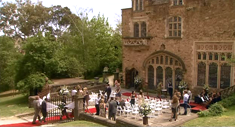 ..