.
Neighbourhood > Places > India's Pre-School
India's Pre-School 2011
Staff: Karen Walker (2011)
Students: India Napier (2011)
In 2011, Declan Napier received a call from someone claiming to be from the Pre-School advising that his daugher, India, has been injured. Missing an important meeting with the board of Lassiter's Hotel, Declan and his mother, Rebecca Robinson raced to the Pre-School only to be advised by a nursery worker, Karen Walker, that the call must have been a mistake as there was no record of India having been injured that day.
Trivia Notes
• The location used as the Pre-School is Biralee Pre-School on Weeden Drive, situated around the corner from Pin Oak Court (Ramsay Street)

Key moments (with episode links where available)
Declan and Rebecca find out that the call to advise them that India had been injured was untrue
Gallery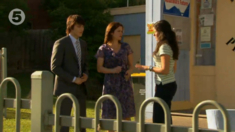 ..