.
Neighbourhood > Places > Southern Cross Station

Southern Cross Station 2007

Formerly Spencer Street Station, Southern Cross is a major transport hub in the city of Melbourne. The station was redeveloped and relaunched in late 2006, in time for Melbourne's hosting of the Commonwealth Games, and now features new entrances, a food court and separate shopping complexes.

In October 2007, following a series of serious problems at home, Declan Napier decided to run away, hiring a cab to Southern Cross station, unaware until the last minute that his driver was neighbour Frazer Yeats. Though Declan lied that he was meeting a friend, Frazer got in touch with Declan's family, who arrived in time to see the train for Sydney leaving. Fortunately, Declan had not boarded and, after a chat with his mum, Rebecca, he returned home.

Key moments (with episode links where available)

Declan attempts to run away to Sydney, but changes his mind at the last minute


Gallery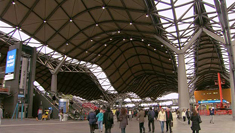 ..