.
Neighbourhood > Places > Tattoo Connection

Tattoo Connection 2008
Erinsborough, Victoria, 9571
Employees: Amy Garven (2008)

Located in Erinsborough, on a strip of shops above a bakery, Tattoo Connection was the tattoo parlour visited by Bridget Parker when she wanted to get her boyfriend, Declan's, name tattooed on her back. Tattooist Amy Garven encouraged Bridget to think twice about having a boyfriend's name tattooed on her body, but she was adamant and so was asked to provide I.D. to prove she was over 18 and old enough to get a tattoo. Didge lied that she'd left it at home, and her friend Donna Freedman then made her a fake I.D. which she used to get the tattoo the following day. Soon after, Declan decided that he was going to get a tattoo aswell, to prove his love for Didge, but he passed out when he saw the needle, and ended up with just a dot of ink on his arm.

Trivia Notes
• The telephone number for Tattoo Connection is 9800 5470


Key moments (with episode links where available)

Coming soon


Gallery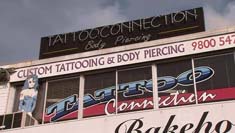 ..