.
Reference > The Cliffhanger Catalogue > 1986
Episode-by-episode cliffhangers from Neighbours' second season (episodes 171-400)
171: Daphne wants Mike Young to call the police about her best friend Zoe Davis.
172: Daphne fears Zoe will ruin her relationship with Des.
173: Des learns that his secret wedding is known to all.
174: Max's bid to enrage neighbour Clive Gibbons only ends in him being alienated by his neighbours.
175: Jim and Helen are shocked to see Paul's date spent the night in their house.

176: Shane & Paul lay their differences to rest.
177: Helen hires a private detective to find Douglas Blake.
178: Madge Mitchell tells Max she too owns No 24 and she'll do as she pleases with it.
179: Des & Daphne put their fears at getting married to rest.
180: Paul tells Daphne that Des has stood her up at the altar.

181: Des finally realises he must face up to the decision he made not to marry Daphne.
182: Jim & Lucy are puzzled at Scott not returning home on the coach from his school trip.
183: Paul's bitterness blames Jim for Scott disappearing.
184: Madge succeeds in Douglas Blake taking an interest in her.
185: Des & Daphne agree to call a truce.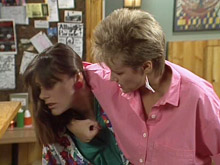 . . .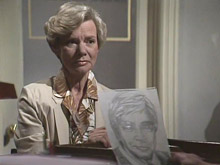 186: Jim looks at the dead body found in the river – is it Scott?
187: Douglas is hooked into Madge & Helen's scheme for revenge.
188: Scott finally calls Jim to let him know where he is.
189: Madge telephones Helen and confirms Douglas has taken the bait for their trap.
190: Private investigator Burt Rawlings blackmails Douglas to make a profit out of his investigation.

191: Having conned Douglas, Helen confronts him to lay her ghosts to rest.
192: Mike stands up against his father and hits him – David Young collapses.
193: Clive, in an attempt to help Shane, lies to Beth, and tells her he's engaged to Daphne.
194: Paul & Rosemary argue as their differences come to the surface.
195: Rosemary's job offer to Helen would mean her leaving the family home.

196: Helen stops Jim & Rosemary from arguing – She has made her decision about the job offer.
197: Who is it that Rosemary wants to run the Australian side of the Daniels Corporation?
198: Rosemary tells Helen she wants to know who her biological mother is.
199: Beth locks Shane into the cellar at her home and refuses to let him out.
200: Danny reveals to Max he didn't place the winning bet on the horses. Max collapses in pain, clutching his chest.

201: Des is upset at seeing Daphne & Shane hugging each other.
202: Zoe is shocked to learn that Paul hasn't given her the secretarial job.
203: Scott is unable to cope with doing all his schoolwork.
204: Is Daphne safe from the intruder in No 22?
205: Daphne surprises Zoe & Shane when she announces she intends to marry Shane.

206: Andrea Townsend tells Des that her son Bradley is his son too.
207: Andrea resents Helen's interference and is resolute she intends to stay in Ramsay Street.
208: Dr Carter tells Max that his illness is only indigestion.
209: Scott, unable to cope with exam pressures, walks out of the exam hall.
210: Jim tells Scott he is on his own in coping with school pressures.

211: Clive forces Scott to make an adult decision about how he is going to handle his schooling.
212: Andrea asks Des to marry her.
213: Helen reveals to Madge & Shane that Max's heart condition is only indigestion.
214: The Ramsays plot revenge on Max – He believes his family are out to kill him.
215: Nikki Dennison isn't pleased by the surprise visit of her mother Laura.

216: Laura admits to Helen she knows Nikki has no desire to get to know her.
217: Paul's jealousy leaves Zoe alone at the party.
218: Daphne isn't pleased when Shane announces their wedding date is sooner than later.
219: Des tells Daphne that Bradley is his son.
220: Jim & Zoe find themselves stranded out in the bush.

221: Paul's jealousy of Jim's relationship with Zoe causes him to make wild allegations.
222: Paul reveals to Zoe he has feelings for her but she rejects his advances.
223: Daphne & Clive are puzzled when Mike is clearly upset from his dinner with Nikki.
224: Eileen returns to the news that Bradley is her grandson.
225: Nikki tearfully watches as Laura leaves Ramsay Street and her life.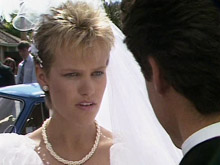 . . .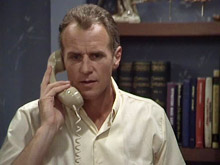 226: Jim & Zoe kiss passionately.
227: Danny feels caught between being a teenager & adult.
228: A family dinner to cheer Danny up ends with Max ruining the evening.
229: Andrea forces Des to accept marrying her or lose Bradley.
230: Paul's vicious remarks to Jim about Zoe causes Jim to slap Paul's face.

231: Resentful of Zoe, Lucy tells her all the family hate her.
232: Paul finally begins to accept the relationship between Jim & Zoe.
233: Jim is concerned when Paul refuses to move back to Ramsay Street.
234: Scott catches a burglar at No.24 and finds it is a girl.
235: Charlene Mitchell reveals to her family that brother Henry is in jail.

236: Nikki is unhappy when Charlene makes it clear she is attracted to Mike.
237: Zoe discovers that Paul is out to destroy Daphne's business and close the Coffee Shop.
238: Despite the consequences, Zoe is determined to tell Daphne about Paul's plans.
239: Eileen seems to have a secret since returning from Perth.
240: Eileen tells Des she has proof that Bradley is not her son.

241: Bradley flees to his room after Gavin McKinley.
242: Gavin's attempts to snatch Bradley from Andrea is thwarted by Des.
243: Max attempts to win the pancake race by enlisting Helen's help to cook.
244: Max is upset that no one wants to eat his pancakes – unaware that Madge has already fed them.
245: Eileen realises Gavin McKinley has conned her as he kidnaps Bradley.

246: Lucy accuses Jim of wanting to go away with Zoe for the weekend to have sex.
247: Shane tells Daphne he wants to call off their engagement.
248: Fred tries to blame Madge for their marital problems and calls her selfish.
249: Nell Mangel vows to get revenge on Daphne by getting the Coffee Shop closed down.
250: Daphne's feelings for both Shane & Des are put into question.

251: Eileen tells Des she believes he is still in love with Daphne but afraid to tell her how he feels.
252: Madge tells Shane she feels 'useless' as her return to work proves too much for her to cope with.
253: Daphne is not pleased to discover Shane in a compromising position with Debra Fleming.
254: Lucy, jealous of Zoe, pours water in her lap – Jim smacks Lucy for the first time in her life.
255: Des is not convinced Jim & Zoe's relationship can survive the problems they have.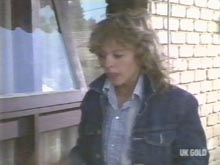 . . .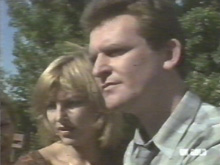 256: Des & Clive toast to the future in their bid to get Daphne back with Des.
257: Des helps Daphne move into the new Coffee Shop premises in Lassiters.
258: Shane toasts himself as being a 'no-hoper'.
259: Jim asks Zoe to marry him.
260: Zoe blows a whistle down the phone to her nuisance caller – Lucy collapses in agony on the floor.

261: Zoe confesses to Jim that she may be the cause of Lucy being potentially deaf.
262: Helen tells Scott she doesn't believe he is mature enough to be in a sexual relationship.
263: Zoe leaves Ramsay Street, refusing to speak to Jim.
264: Charlene asks Clive to prescribe her the contraceptive pill.
265: Scott walks away from Charlene in Paul's hotel room, leaving her feeling rejected.

266: Charlene reveals to Madge & Tom that she has had an abortion.
267: Charlene punches Scott in revenge for how he treated her.
268: Charlene realises Fred doesn't want her to return home to live with him.
269: Shane takes his dive from the high board – Will he survive the impact?
270: Jack gives Bradley his first spanking.

271: Tom is amazed to see how attracted towards teacher Jean Richards he is.
272: Zoe arrives home and interrupts Des & Daphne's romantic night in.
273: Clive asks Zoe if she is pregnant.
274: Angry, Andrea blurts out to Jim that Zoe is pregnant.
275: Helen warns Jim not to push Zoe into making a decision about their baby.

276: Paul refuses to tell Jim where Zoe is living.
277: Clive rushes to stop Mike & Roger fighting over Nikki.
278: Des sweeps Daphne off her feet and over his shoulder to make clear how much he loves her.
279: Des & Daphne are to marry but Bradley rushes to his room upset.
280: Mrs York's secret is out – She is destitute and living off of the scraps of food she has been getting.

281: Tom believes he has made Jean fall for his charms.
282: Mrs York refuses to accept help from Madge & Daphne.
283: Clive discovers Mrs York lying unconscious on the floor of her house.
284: Helen asks Jim to keep the news about Laura being ill from Nikki.
285: Fred asks Madge to sell the diamond ring he gave her for their engagement to help him clear his debts.

286: Madge reveals to Charlene that Fred's visit to see them was for his own financial gain.
287: Madge tells Fred he is no longer a part of her life.
288: Mike saves Cassie Campbell from drowning.
289: Madge & Tom discover Charlene has run away to be with Scott in Canberra.
290: Mike learns that Cassie is a nude model.

291: Mike & Cassie reconcile as he accepts her career decisions.
292: Will Charlene start a new career in nude modelling?
293: Paul, Shane, Clive and Des prepare to have a great time at Des's Bucks party.
294: Daphne & Des are stopped as they try to elope.
295: Des & Daphne are finally married.

296: A road accident leaves Jean Richards dead.
297: Clive tells Shane he may be charged with manslaughter over Jean's death.
298: Des's attempt to carry Daphne to their honeymoon suite bed ends with him slipping a disc in his back.
299: Zoe tells Paul she is quitting her job as his secretary.
300: Will Shane run away rather than face up to the police charges against him?

301: Clive tells brother Graham he cannot go back into practising medicine.
302: Shane nearly has another car accident.
303: Helen and Madge disagree about Scott & Charlene's relationship.
304: Shane realises that Alex Carter is the man who gave him the brandy at the accident scene and could save him from going to jail.
305: Lucy sees a burglar break into No.22 – it's Alex Carter!

306: Eileen returns and learns Des & Daphne are married.
307: Clive thinks he's seen a ghost from his past when Louise Lawry arrives.
308: Scott & Paul fight – Helen can only look on horrified.
309: Why is Charlene holding a baby?
310: Charlene tells Madge & Scott she has a baby son.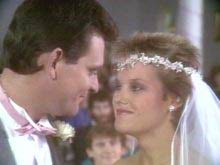 . . .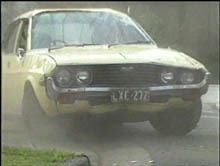 311: Scott tells Charlene he'll stick with her despite the bad times ahead.
312: Charlene cries in Madge's arms over the dramas surrounding baby Sam.
313: Alex tells Vicki if he'll kill her parents if she tells anyone about him being the burglar.
314: Is Vicki's nightmare more than just a bad dream?
315: Clive is upset as Louise leaves for England.

316: Susan Cole arrives at No 24 claiming Sam is her baby and collapses.
317: Madge agrees to let Susan stay at No 24 until she is well again.
318: Graham prepares to confront Alex over the burglary & tormenting Vicki.
319: Vicki reveals to Clive that Alex is the cause of all their problems.
320: Mike learns Jane let him win the maths exam, as she is attracted to him.

321: Will Clive take revenge and walk away leaving Alex badly injured?
322: Did Eileen's salmon mousse kill the cat? Who is next?
323: Jane looks beautiful but Mike is confused by his feelings.
324: Sue Parker ruins the school dance for Jane and Mike – Jane rushes out crying.
325: Clive tells Des to phone for an ambulance for Daphne!

326: Des prays for Daphne to come out of her unconscious state.
327: Dan Ramsay arrives to the delight of Charlene & dismay of Madge.
328: Jim returns from America and has to support Paul in his decision to punish Scott.
329: Mike & Jane vow that Nell won't split them up.
330: Helen tells Jim the phone call is from the woman who claims she 'spent the night with him'.

331: Paul believes that Ruth Wilson's story that she has lost all her money is a con trick.
332: Madge's parents meet up and it turns into a confrontation.
333: Helen's dinner date with Dan ends with Edna calling her a 'home wrecker'.
334: Nell receives a poison pen letter.
335: Nell catches Jane & Mike together – she wants to call the police.

336: Nell's accusations cause Jane to doubt Mike's honesty.
337: Daphne catches Sue Parker trying to deliver another hate letter to Nell.
338: Edna tells Madge she has discovered her marriage to Dan was never legal.
339: Helen tells Jim that Sue Parker's father is going to sue them for Scott being part of a 'gang bashing' on Sue.
340: Dan & Edna recapture the love they lost.

341: Paul learns that the supermarket project will mean the demolition of Ramsay Street.
342: Paul signs the supermarket deal – Will he regret the decision?
343: Madge realises No 24 has been ransacked.
344: Charlene & Jane meet up with AFL star Warrick Capper.
345: Helen is horrified to learn that Rosemary has agreed to back the supermarket project.

346: Madge informs Charlene that they could end up homeless.
347: Helen tells Paul she cannot bear to share his office with him and walks out.
348: Charlene & Jane's friendship is strained over the cheerleader auditions.
349: Peter Smith offers Paul a way to get his family to sell No.26 – set fire to the house.
350: Scott believes he and Mike have been called to see a record producer and could be pop stars.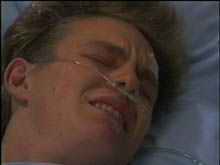 . . .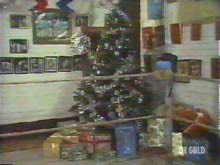 351: Scott & Mike learn that their meeting with Molly Meldrum has been a hoax.
352: Charlene could end up being a pop star but Scott has little reason to celebrate.
353: Ruth admits to Jim that Paul's accusations of her having money are true.
354: Jane suspects the worst when she catches Mike hugging Nikki.
355: Paul asks to see Madge – Is she about to be sacked?

356: Jane and Nikki demand that Mike make his feelings for them clear.
357: Madge tells Ray Murphy she wants to 'cool' things between them.
358: Helen visits her husband Bill's grave and finds someone has put a wreath of flowers on it.
359: Will Laura admit to Helen that Grace and Bill were lovers?
360: Paul tells Helen she is being unfair to Laura & Nikki.

361: Des is unhappy & jealous of Philip Nolan winning the cricket match.
362: Des tells Daphne that Phillip is not welcome in their home.
363: Clive 'proposes' marriage to Susan.
364: Clive's uncle Ted Gibbons tells him he has decided to extend his stay in Erinsborough.
365: Will Paul reveal to Ted that Clive and Susan's engagement is a charade?

366: Ted sees Paul & Susan kissing.
367: Paul learns that Terry has tried to commit suicide in jail.
368: Sue phones Scott to taunt him about Charlene being at a party with Warren Murphy.
369: Ray blames Charlene for Warren ending up in hospital and gets violent towards her.
370: Shane tells Charlene has ruined Madge's career prospects as Lassiters housekeeper.

371: Madge vows to Charlene she will always be there for her.
372: Lucy falls into a storm drain, hitting her head and is knocked unconscious.
373: Lucy calls out for help but Scott & Nikki cannot hear her.
374: Des falls asleep through Clive's relaxation exercises.
375: Paul tells Ruth if she loves Jim she'll return to England immediately.

376: Lucy pretends to be blind to stop Ruth returning to England.
377: Sue overhears Scott's desperate idea to cheat in his exam.
378: A frantic Nell tells Mike she feels Jane and Shane are in trouble.
379: Susan tells Daphne sleeping with Clive was a mistake – She has decided to move away.
380: Shane & Jane return – jealous Mike lashes out violently towards Shane.

381: Mike kisses Nikki to make Jane jealous.
382: Susan agrees to try and make her relationship with Clive work.
383: Eileen has her purse snatched by a mugger and also loses her voice after screaming for help.
384: Shane chases after the motor biking robber on his own motorbike.
385: Helen reveals to Madge she has a secret she can no longer keep to herself.

386: Kelly Morgan steals Paul's new car – Daphne watches as she drives off.
387: Daphne tells Des that Kelly has run away.
388: Jane tells Mike she wants to go to the party with Shane.
389: At No 28 Des falls unconscious to the amazement of Mike & Shane.
390: The neighbours celebrate Des's birthday and the news that Daphne is pregnant.

391: Scott, Paul & Mike are involved in a horrific car accident.
392: Scott fears he is paralysed.
393: Mike & Shane end up fighting for Jane's affections.
394: Kelly tries to run away again but is stopped by Daphne.
395: Kelly takes some $50 notes from the Coffee Shop till.

396: Jane returns home to find Nell in a state of shock and the house in a mess.
397: Charlene, Kelly & Jane wonder if Len Mangel is buried in the back garden.
398: Dan returns and threatens to ruin Clive's plan to diffuse the boxing match between Shane & Mike.
399: The neighbours all get into the fighting spirit as they take sides for the boxing match.
400: The neighbours put their differences aside to celebrate Christmas together.