.
Reference > The Cliffhanger Catalogue > 1987
Episode-by-episode cliffhangers from Neighbours' third season (episodes 401-637)
401: Helen leaves with Reverend Price to visit Terry's grave - but will she ever return?
402: Rev. Price returns to No.26 – Lucy answers the door.
403: Paul & Jim are fearful of what Ralph Drew has done to Helen.
404: Dan informs Madge he's returned to make her a fortune.
405: The Ramsay family fear Dan's health is ailing.

406: Paul & Shane argue – Helen screams at them to stop!
407: Charlene and Kelly's prank goes wrong leaving Mike & Scott naked on the beach.
408: Paul stops Kelly on Shane's motorbike, not realising Shane's life hangs in the balance.
409: Paul kisses Susan passionately.
410: Clive finds a note from Susan telling him she's leaving him and Ramsay Street.

411: Clive breaks down in tears to Daphne over losing Susan.
412: Clive begs Charlene to tell him where Susan & Sam are staying.
413: Clive tells Paul he'll never forgive him for Susan leaving Erinsborough.
414: Charlene cannot believe that Scott has the chance top publish his stories.
415: Jim realises Helen is in love with Gerard Singer – her future son-in-law.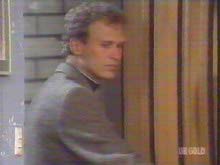 . . .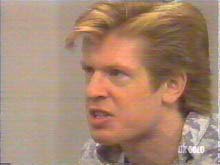 416: Scott announces to Helen that Gerard Singer has arrived to see her.
417: Mike dives into the sea to try and rescue Lucy's dog Basil.
418: Mike tries to help Lucy by giving her a new puppy but she rejects it.
419: Daphne opens Des's mystery letter - It's from Lorraine Kingham. Is he having an affair?
420: Paul announces to Helen & Gerard that Rosemary is arriving home tomorrow.

421: Helen tells Scott if he goes ahead with more stories he risk losing Charlene.
422: Rosemary tells a guilt ridden Helen that Gerard has called off the engagement.
423: Helen tells Madge she feels she must tell Rosemary the truth about her and Gerard.
424: Charlene loses her mechanic job and blames Scott - She never wants to see him again!
425: The dinner to reconcile Des & Daphne's differences ends in disaster.

426: Daphne slips and falls onto the floor – is the baby okay?
427: Jim arrives home to discover Rosemary has found out about Helen & Gerard's romance.
428: Charlene explains to Madge that son Henry owes $1500 in gambling debts and if not paid could threaten his chances of being released from jail.
429: Henry Mitchell arrives at No.24 having left prison – Madge tells him he cannot live there.
430: Helen and Rosemary are reunited.

431: Derek Morris questions Paul about his past and gets thrown out of the Daniels Corp offices.
432: Paul prepares to resign to save the Daniels Corporation from any scandal.
433: Daphne is held at gunpoint by masked men in her home.
434: Brody hears the sound of a police siren – Daphne's life is in danger.
435: Shane accuses Henry of stealing his $100.

436: Des prepares to tell Mike the news that his father has died.
437: Des & Daphne are upset when Mike decides he has to move out of No.28 and back with his mother.
438: Madge is furious at learning that Harold Bishop is boarding with Nell at No.19.
439: Jim's mistake has Henry about the sell off the best of Helen's art collection she's planned for her exhibition.
440: Helen learns that Henry has sold off her exhibition artwork for $650.

441: Helen tells Nell she has no intention of being blackmailed to get back her painting.
442: Mike returns to Ramsay Street after learning his mother only wanted him to move home for her financial gain.
443: Des & Jim's generation age gap competition starts with a game of poker.
444: Des gets a shock realising just how unfit he really is.
445: Harold proposes marriage to Madge.

446: Helen warns Jim that his competition with Des could end their friendship.
447: Jane takes evidence that connects Nell to 'Disclosure' magazine.
448: Paul cannot believe it when Nell confesses she spoke to Derek Morris.
449: The Ramsay Street Relay Race ends in verbal warfare.
450: Henry's gambling debts get him into trouble with Wayne & Steve.

451: Jim is run off the road by hooligans – Des runs by unaware of what Jim has suffered.
452: Des attempts to make his way across the creek, but he slips.
453: Daphne fears Des has drowned.
454: Daphne is overwhelmed to learn Des is safe and well.
455: Dean Bartholomew tells Paul with Nell being sacked; all the staff in Lassiters are on strike to support her.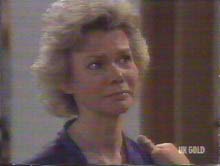 . . .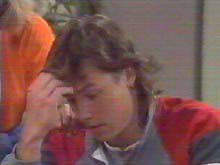 456: Paul & Gail are shocked to learn that Bernard Elliot is a friend of Dean Bartholomew's.
457: Jane tells Nell her 'busy-bodying' has ruined their relationship.
458: Jane refuses to return home. Nell is left in tears.
459: Charlene gets her mechanics apprenticeship – but it means moving to Brisbane!
460: Scott & Charlene are reunited, never to part.

461: Des unwittingly invites Daphne's father Allen Lawrence home to have dinner with them.
462: Daphne tells Des she refuses to see her father if he arrives – there is a knock on the front door.
463: Harold decides Charlene must stop seeing Scott.
464: Jane tells Henry she really does love Mike and won't be unfaithful to him.
465: Nell is horrified when she sees Helen's portrait of her.

466: Henry is caught in Christine Wilton's hotel room, half naked, by her husband.
467: Helen's confidence in her art is destroyed by Christine's criticism.
468: Daphne tells Des she must ensure she gets rid of Allen once and for all.
469: Daphne tells Mike and Des she needs their help to expose Allen's true motives.
470: Charlene cannot bring herself to admit to Warren she is just using him.

471: Charlene tells Scott she's not sure she still loves him.
472: Charlene and Madge can't believe Henry's girlfriend is Sue Parker.
473: Charlene tells Madge and Henry she wants to move out of home to live on her own.
474: Rob & Jim learn that Harold has no intention of remaining a silent partner in the garage business.
475: Scott & Charlene are reunited.

476: Helen learns of Paul's scheme and demands answers.
477: Who is the prowler outside Jack Lassiter's caravan?
478: Jim tells Helen he refuses to allow her to destroy the family unity.
479: Gail's ex-husband Jeremy Lord arrives at Lassiters.
480: Gail tells Jeremy to get out of her & Rob's lives.

481: Charlene confronts Henry about being the caravan prowler.
482: Gail secretly lets herself into Jeremy's hotel room – but why?
483: Daphne argues with Mike – but the stress causes her to feel dizzy and faint.
484: Des is worried for Daphne and the baby, when Daphne has to go to hospital.
485: Paul proposes marriage to Gail.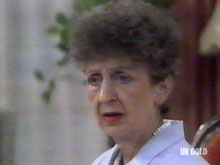 . . .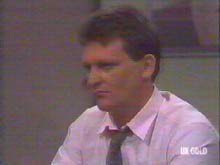 486: Will Gail fall for Jeremy's charms again?
487: Nell & Harold get drunk on Rob's apple cider and are discovered by Jane & Madge.
488: The police take Henry away for questioning about a robbery.
489: Lucy returns from Europe but she isn't pleased to be back home.
490: Helen sympathises with Madge when Harold believes Henry is guilty of the robbery.

491: Madge assures Henry she believes he is not guilty of the robbery and vows to support him.
492: Will the caravan go up in flames?
493: Scott wants to set up home and live with Charlene – but is she so keen?
494: Gail tells Paul she no longer wants to go through with their marriage of convience.
495: Jeremy continues to use Gail but Gail has fallen back in love with him.

496: Lucy's party is a disaster and leaves her in tears.
497: Gail screams as Jeremy in the No.13 racecar crashes off the racetrack.
498: Gail gets a shock when Jeremy's wife arrives at No.22.
499: Gail agrees to marrying Paul again.
500: Jim tells a horrified Gail he intends to buy the 'cursed' No.13 racecar.

501: Jane, Scott, Henry & Charlene realise the Liquid Beauty investment is a con.
502: Scott & Charlene decide to move out of Ramsay Street to prove they are serious about living together.
503: Scott reveals his car has been stolen and their last chance to raise the cash they need for a rental deposit.
504: Scott reveals his car has been stolen and their last chance to raise the cash they need for a rental deposit.
505: Harold falls into Lassiter's Lake and loses Madge's diamond ring.

506: Nell falls from the ladder while helping Daphne at No.28.
507: Nell begs Jane not to leave her alone in a house she cannot remember.
508: Scott proposes marriage to Charlene.
509: Jim refuses to give Scott his blessing or attend the wedding.
510: Helen tells Paul they must stop Jim driving No.13 or it could kill him.

511: Jim gives Scott his blessing for him to marry.
512: Charlene is upset on learning that her ideal wedding dress has sold.
513: Paul & Gail marry – but will it be happily forever after?
514: Henry's wedding gift to Charlene is the wedding dress she wanted.
515: Nell tells Jane she's heard 'a voice from the grave'.

516: Mike reveals to Des & Daphne that Nell could sue them for up to $60,000 for the ladder accident.
517: Nell confides to Madge she thinks that Len's 'dying' wish was for her to find a new man and she has set her sights on Harold.
518: Jim's cousin Hilary arrives and panic reigns at No.26.
519: Scott locks his bucks' party guests in the cellar at the Waterhole to avoid any pranks.
520: Dan refuses to allow Scott to marry Charlene or give his blessing.

521: Has Charlene got the measles?
522: Hilary sees Paul & Gail come out of separate bedrooms and are seen by Hilary – is their secret out?
523: Nell has plans to get Harold down the aisle next.
524: Gail can't believe Rob has stolen $15,000 from the garage.
525: Daphne tells a shocked Nell that Len is alive and everything she has been told has been untrue.

526: Nell orders Jane to move out of the No.19 leaving Harold speechless.
527: Rob admits to Jim to embezzling the $15,000 from the garage
528: Beverly Marshall tells Jim she wouldn't date him, even if he was the last man on earth.
529: Madge asks Harold not to leave Erinsborough.
530: Madge informs Nell that she & Henry are now 'Ramsay' again.

531: Daphne falls to the floor – Will the baby be okay?
532: Nell becomes aware that she is very much alone and becomes frightened.
533: Lucy is distraught when she sees Paul kissing Crystal Marker.
534: A drunken Rob ruins Paul & Gail's dinner party for Mr. Udagawa.
535: Paul & Gail kiss passionately.

536: Henry forgets to give Gail her father's farewell message.
537: Paul gives Gail the chance to get out of their marriage of convenience.
538: Helen tells Madge she'll move out of No.26 if she is no longer any use to the family.
539: Mike tells Jane he's in love with someone else.
540: Jane throws a pavlova in Mike's face when he brags in front of her about new love Megan.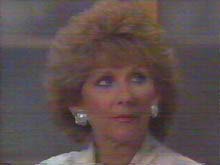 . . .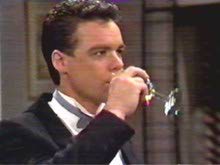 541: Gino Rossini reveals to Harold he lied – He can't cook!
542: Daphne vows nothing will stop her enjoying the picnic by the river.
543: Will Des have to deliver his own baby?
544: Madge is horrified when Henry hints that he could someday marry Melanie Pearson.
545: What is the health concern the doctor's have for baby Clarke?

546: Daphne cries seeing her baby struggling to survive.
547: Megan Downey promises to Mike she is going to change his life forever!
548: Beverly & Jim kiss passionately.
549: Beverly tells Jim that baby Clarke has developed breathing problems.
550: Baby Jamie is okay and reunited with his parents.

551: Will Nell be safe from burglar Gary Slade?
552: Nell suffers a heart attack.
553: Megan leaves Mike & Erinsborough.
554: Lucy tells Jane her mother has arrived from Hong Kong.
555: Jane tells Amanda she's never been a real mother to her.

556: Daphne is furious with Eileen over her interfering and orders her to leave No.28.
557: Daphne tells Des she feels she's a failure as a wife and mother.
558: Amanda tells Henry that Jane is only using him to make Mike jealous.
559: Paul blames Gail for the freeze put on the development.
560: Surprisingly, Jane jumps to her mother's defence against Madge's accusations.

561: Amanda announces she intends to leave Erinsborough the following day.
562: To please her mother, Jane reverts back to her 'plain Jane' look.
563: Amanda's fur coat has all her money in it and has gone missing from the Coffee Shop.
564: Karen Armstrong pours water over Beverly's head and warns Jim to stay away form her.
565: The Robinson family discover Lucy unconscious.

566: Jim breaks down at the prospect of losing Lucy to a brain tumour.
567: Jim is put in a difficult position when Lucy asks if she could die.
568: Mike tells Amanda she is jealous of the person Jane has become.
569: Daphne, believing that Des has been flirting with Amanda, refuses to allow him back into No.28.
570: Nell uses the guilt Madge feels over her heart attack to keep her 'under the thumb'.

571: Lucy regains movement in her hands.
572: Scott & Charlene have no money but do have each other.
573: Eileen believes that Nell's reading of her tealeaves proves Harold is the man of her dreams.
574: Paul is jealous of Gail's ambition.
575: Jim walks out of the surgery after hearing Stephen Armstrong is there.

576: Stephen & Jim square up to each other to win Beverly's affections.
577: Gail catches Paul going through her briefcase.
578: Is Gail & Paul's relationship really just another business deal?
579: Madge riled by Harold, asks Rob to dinner in front of him.
580: Madge regrets asking Rob to dinner when he starts to get amorous towards her.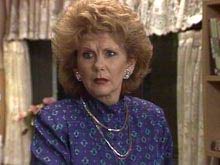 . . .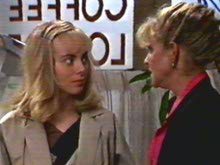 581: BB Larkin beats Henry at darts – the con is on him for a change.
582: Feeling like an outcast, Henry decides to leave home.
583: Glen tells Gail he can clearly see that she actually loves Paul.
584: Who is T. Bentley and why has she sent a cheque for $A5, 000 to Jamie?
585: Daphne's mother Tina Bentley arrives at No.28.

586: Daphne's mother reveals she blamed for being responsible for 'killing' her brother.
587: Jim & Helen fear he could lose everything if he's sued and found guilty.
588: Henry could be sacked if he cannot be proven innocent.
589: Harold is stunned to learn he is being rejected when he wants to be part of the church choir.
590: Eileen reveals it was Madge to Harold, who damaged his reputation in the community.

591: On leaving Erinsborough, Harold is involved in a car accident – Will he be okay?
592: Gail cannot believe that Paul has sacked her from Lassiter's.
593: Charlene wants to sell her wedding dress to raise the money that Scott needs.
594: Allen Lawrence reveals to Daphne she must face the fact that she will benefit from his will.
595: Who wrote the letter that has destroyed Henry's reputation?

596: While out horse riding, events end with Glen kissing Gail.
597: Gail tells Helen she is in love with Paul – Paul overhears.
598: Daphne tells Des she wants to move in with her father to be with him until he dies.
599: Eileen moves into No.28 determined to take care of the family while Daphne is away.
600: Who is Sally Wells and are motives as innocent as they seem?

601: Paul rides Lucy's horse but suddenly it gallops off…
602: Charlene is jealous of Scott spending so much time alone with Jane while he studies with her.
603: Charlene is overwhelmed by a surprise 18th birthday party.
604: Where has the picture of Malcolm Clarke gone?
605: Des demands to know from Sally who she really is.

606: Mike reads Jane's diary and discovers she was in love with Scott.
607: Is this the end of Scott & Charlene's marriage?
608: Beverly tells Jim that she has chosen to be with Stephen.
609: Harold & Madge get engaged for the second time.
610: Des and Sally tell Henry the truth about their relationship.

611: Why is Greg Cooper worried at meeting Des again?
612: Chrissie Adams is in a culture shock.
613: Chrissie causes a bigger rift in Scott & Charlene's marriage.
614: Harold informs Madge he's now financially secure and therefore wants to marry her.
615: Eileen demands to know how Sally obtained the cufflinks she gave to Malcolm over twenty years ago.

616: Greg tells Jim and Helen he murdered someone.
617: Scott & Charlene take their first step towards a reconciliation.
618: Scott blames Madge's failed marriage to Fred for the problems he's having in his.
619: Eileen demands to know how Henry knows Malcolm Clarke.
620: Harold sweeps Madge off her feet for a romantic weekend away together.

621: Scott & Charlene are reconciled.
622: Scott proposes to Charlene they start thinking of starting a family.
623: Sally tells Henry she is going back home to Newcastle.
624: Gail tells Paul she wants a divorce.
625: Paul & Gail look like they are going to separate immediately.

626: Pete tells a stunned Des that his father is in the bank and wants to see him.
627: Eileen is stunned to see Malcolm with Des at No.28.
628: Henry wants to fight Tony Romeo – but Tony seems to have the advantage.
629: Gail sobs after an argument with Scott & Charlene over her failing marriage.
630: After a motorbike accident, Jane decides to stay in Erinsborough rather than leave to go to America.

631: Helen begs Beverly get professional help after she realises Stephen is physically abusing her.
632: Malcolm prepares to meet his daughter Sally.
633: Des & Eileen despair as Mike brings in 5 puppies that Bouncer has fathered.
634: Paul is regretful when Gail tells him she believes he hates her.
635: Beverly accepts Jim's marriage proposal.

636: Will Paul take Scott's advice and tell Gail he loves her before she leaves forever?
637: Everyone celebrates Christmas – especially Paul & Gail who have finally admitted they love each other.