.
Reference > The Cliffhanger Catalogue > 2001
Episode-by-episode cliffhangers from Neighbours' seventeenth season (episodes 3681-3920)
3681: Why does Allana not want Lance & Toadie to visit her at home?
3682: Lance tells Allana he loves her, but she just walks away from him.
3683: Steph reveals to Joe and Lyn that Woody is in jail.
3684: Tad fears he's given Tim a virus that could kill him.
3685: Karl & Susan feel awkward when Darcy's girlfriend Alice arrives while he's with Dione.

3686: Alice warns Dione to stay away from Darcy - he's spoken for!
3687: Allan finally prepares to tell Lance her secrets.
3688: Joel vows he wants to relationship with Felicity to work.
3689: Tad agrees to work on Joe's building site, unaware it is a ploy by Harold to get him back to school.
3690: Lou overhears Woody plotting a scam that involves Steph.

3691: Steph is furious when she overhears Lou telling Joe that Woody is in trouble. She demands an explanation.
3692: Susan and Karl discover Joel and Felicity's secret relationship.
3693: Lance is worried when Allana's mother wants to see him about an 'important matter'.
3694: Dione refuses to allow Darcy to explain his hostile behaviour towards her earlier.
3695: Madge & Harold begin to wonder if their plan to get Tad back to school has failed when he admits he's enjoying working for Joe.

3696: Steph is warned that Woody is planning to commit a crime and she could end up being implicated.
3697: Is Joel trying to break up with Felicity?
3698: Tess & Dione realise that No.32 has been broken into.
3699: Can Libby get anyone to take over as her chief bridesmaid?
3700: Joel breaks the curfew set by Joe, banning him from seeing Felicity and arrives at No.26 demanding to see her.

3701: Joe investigates a noise outside. Felicity tries to sneak back into the house.
3702: Steph is worried when Woody asks her to trust him over something he cannot explain.
3703: Allana and Lance are arrested for car theft when her mother reports the car was stolen.
3704: Will Allana take the first step to reconciling with her mother and move back home?
3705: A car speeds towards Libby and Drew - Can Paul avoid hitting them?

3706: Libby warns Steph that she could be in danger if the men chasing Woody come after her too.
3707: The Kennedy & Kirks' celebrate in Scottish style, at a pre-wedding dinner.
3708: Drew & Libby celebrate their wedding.
3709: On their Honeymoon, Libby & Drew take time to celebrate their wedding.
3710: Joe gives Lyn an ultimatum - her career or family.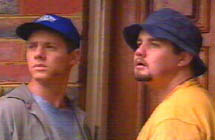 ..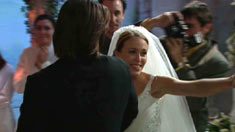 3711: Michelle finds a rifle hidden in No.26's garage.
3712: Libby & Drew are stunned to see Geri has joined them at their Honeymoon resort.
3713: Lance qualifies for the 'Brain Buster' show on Erinsborough FM.
3714: Tad gets the chance of both dating Jess and upstaging Felicity.
3715: Will Felicity and Joel be caught out by Lyn and Joe?

3716: Felicity uncovers that Lyn has mistakenly gotten hold of pictures showing her & Joel together.
3717: Did Jess set up the bomb prank to get out of a school exam?
3718: Lance believes the phone call from the radio station could be a job offer.
3719: Tess is nervous at being out on the dating game after being in love with Brendan for so many years.
3720: Madge has a terrible attack of pain and it scares both her and Harold.

3721: Madge & Harold are told by Karl that she has cancer of the pancreas.
3722: While her family await news about her cancer, Madge and Harold take time to be together.
3723: Libby learns Drew has paid the bond on a flat, before she has viewed it with him.
3724: Lyn comes to terms with the fact she has given up a career to be a housewife again.
3725: Karl explains to Madge her cancer is inoperable and she faces only weeks left to live.

3726: Madge is distraught and cries in Harold's arms as she tries to come to terms with the fact she is dying.
3727: Felicity receives a mysterious letter made out of letters cut from a newspaper. It warns her that Joel is not right for her.
3728: Lance urges Allana to listen to the radio when he is on air - Will he expose the scam?
3729: Libby wants her and Drew to think about adoption.
3730: Will Paul take Luke's ill advised advice and start taking steroids?

3731: Felicity walks into the beach hut and finds a shine dedicated to her.
3732: Susan defends herself from Jess, who falls to the floor. Tad only sees Jess fall and it appears Susan has hit her.
3733: Toadie explains to Lance, Allana & Joel that he is in trouble with the police.
3734: Lance and Allana leave Erinsborough to start their overseas trip in America.
3735: Dione sees Madge after she collapses on the lounge floor at No.24.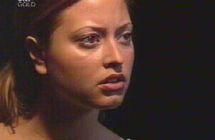 ..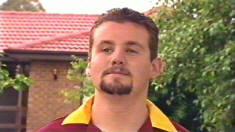 3736: Joe is furious when he discovers Joel and Felicity together.
3737: Felicity decides to disobey Joe and moves out of No.26 and into No.30 to be with Joel.
3738: Susan is told she is suspended as Principal for up to three months while the 'Jess incident' is investigated.
3739: Harold tells Karl that he has lost his belief in God.
3740: The death of Madge Bishop.

3741: Tad asks Jess to tell him what really happened between her and Susan.
3742: Joel & Felicity celebrate living together. Is Joel truly happy?
3743: Joel learns Dione is moving into No.30 as Felicity moves out.
3744: Will Harold agree to go on the trip to Paris with Paul that he spoke about with Madge?
3745: Joe tells Lyn that the phone call he has received brings only bad news.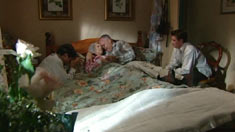 ..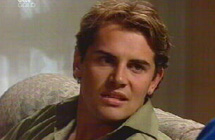 3746: Tad is curious when Felicity tells him she is plotting revenge on somebody.
3747: Jack Scully informs his family he has no intention of returning to England.
3748: Tad demands Jess why Jess lied to him about why she moves out of her family home.
3749: Evan & Maggie Hancock celebrate moving into No.32.
3750: Lou lies to the pharmacy to get more pills to feed his addiction.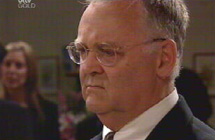 ..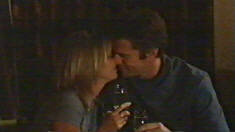 3751: Woody is held hostage by thugs in the garage - Will Steph discover what is going on?
3752: Why has someone thrown a brick through No.26's lounge window?
3753: Will Matt accept his mother's offer to go and study catering in Switzerland?
3754: Toadie begins to worry on learning from Matt that Lou has been taking a lot of painkillers.
3755: Dione admits to Darcy that she is attracted to him but where does he want to take things?

3756: Will Steph leave her life behind to join Woody on a witness protection programme?
3757: Joe suspects Jack isn't as keen as he seems about being back home.
3758: It appears Toadie, with Maggie's help, has cracked the case and will get his day in court.
3759: Jess wants to know why Tad has changed his feelings towards her.
3760: Dione surprises Darcy while working at the surgery by kissing him passionately.

3761: Libby finds an ear-ring down the side of her sofa and it isn't hers. She asks Drew how it got there.
3762: Tad warns Felicity she is unlikely to be happy about the reason why Joel has not returned home as planned.
3763: Harold believes to get on with his life he needs to sell on and move away from Ramsay Street.
3764: Ronnie confronts Drew claiming he is denying he has feelings for her.
3765: Darcy learns he is staying on in Erinsborough - Has he burnt his bridges with Dione?

3766: Karl explains he & the surgery are under investigation after patients reported Darcy for over charging them.
3767: Will Joel explain to Felicity that he & Simone are only friends?
3768: Libby discovers Veronica is actually listed as a missing person and not who she says she is.
3769: Michelle gets selected by a TV reporter to talk about saving the local park from development.
3770: A comment made about 'neighbours being there for one another' really hits home to Harold.

3771: Felicity is upset to learn Joel has gone to the beach with Simone.
3772: Darcy & Dione's celebration is put on hold as he receives a phone call from Alice.
3773: Will Paul reveal that Nathan is still taking steroids?
3774: Karl explains to Susan his surgery will be audited as more discrepancies about the surgery's finances are revealed.
3775: Karl despairs when Darcy refuses to co-operate with the surgery investigation.

3776: Evan accuses Susan of no longer being an educator but turning into a manager.
3777: Harold celebrates with Paul and Tad about staying on in Ramsay Street.
3778: Steph is shocked when she receives a letter from Woody but cannot tell anyone.
3779: Libby wants to adopt a puppy that has a heart problem - Drew is unsure about the possibility of further heartbreak.
3780: Darcy explains to Susan and Karl that Alice is asking for a share in all his financial dealings.

3781: Louise accidently slips into No.30's pool - will she be okay?
3782: Joel is disappointed when he sees Felicity and Luke kissing.
3783: Both Joel and Felicity are still in love with each other but unable to tell the other one how they feel.
3784: Harold is upset when he is reminded about Madge's death.
3785: Harold tells a shocked Paul & Tad that Larissa is on her way over to see them.

3786: Will Joel make declare his love for Felicity in front of her and her family?
3788: Leo begs Matt not to force him to go to school as he is scared.
3789: Libby & Drew hide their dog when visited by their landlord, worried they could be evicted.
3790: Libby suspects that she is pregnant.

3791: Drew fears for Libby's health but she just wants to celebrate the pregnancy.
3792: Felicity tells her parents she's moving into No.30 with Joel. Joe walks away from her.
3793: Toadie is cornered by Dione & Laura who both want to know why he lied that Laura is his girlfriend.
3794: Harold's grief turns to anger and Lou takes the full brunt of it.
3795: Karl is doubly shocked when he learns Libby is staying at his father's farm and she is pregnant.

3796: Libby explains to Drew that she is determined to go through with the pregnancy.
3797: Dione tells Felicity that she is a spoilt, selfish brat!
3798: Will Michelle reveal to Lyn about Steph being with Woody?
3799: Maggie uses her law skills to solve the mystery of Emily's missing doll.
3800: Leo is assaulted by teacher Dean Hearn when he is hit by a board rubber and it cuts him above his eye.

3801: Maggie warns Steph that her intention to meet up with Woody again could risk imprisonment or even her life.
3802: Felicity reveals to Steph that she thinks Joel is about to ask her to marry him.
3803: After a night out at the ballet, the evening takes a surprise twist as Darcy & Tess kiss.
3804: Matt feels awkward at having to watch Laura perform her striptease act.
3805: Frustrated, Paul wants to know if Larissa wants to be with him or Tad!

3806: Steph is followed as she goes to see Woody. Fearing for her life she abandons her motorbike and runs off into the bushes.
3807: Felicity is so sure that Joel is about to propose to her she tells Toadie & Dione her 'news'.
3808: Dione wants to know why Tess is treating Darcy so harshly - Will Tess reveal her real reasons?
3809: Paul tells Harold he doesn't want him to see Frances again.
3810: The Hancock family are distraught as Emily remains missing.

3811: The police search for Emily - will she make herself known to them?
3812: Darcy continues to deceive Tess to avoid telling Dione about their relationship.
3813: Is Libby about to have a miscarriage?
3814: Felicity is upset when Paul & Tad stand by Larissa and not her.
3815: Larissa tells Felicity to be prepared as she is about to make things 'go crazy'.

3816: Dione arrives to see Tess at home. Inside Tess & Darcy panic they'll be discovered!
3817: Maggie & Evan learn a social worker wants to talk to them regarding Emily's welfare.
3818: Drew loses his temper with a noisy neighbour.
3819: Lyn & Joe learn Felicity has no money and wants to return home.
3820: It becomes apparent to the neighbours that Darcy & Tess are seeing each other.

3821: Darcy is on the verge of losing Dione and Tess if Tess's letter reaches Dione.
3822: Darcy's plan to convince Karl to enter into partnership & big business takes another step forward.
3823: Joel explains to Felicity that her moving back home is a serious setback in their relationship.
3824: Will Lyn's illegal hairdressing jobs be discovered by a council official?
3825: Libby feels terrible after overreacting and telling her mother to keep out of her pregnancy.

3826: At the fishing competition, Dione discovers Tess & Darcy locked in an embrace in the car.
3827: Dione tells Joel she'll continue to pretend she knows nothing about Darcy & Tess, until the moment is right for revenge.
3828: Matt's a success at being Elvis but it seems not attracting Felicity.
3829: Will Libby accept the job despite being pregnant and studying at university?
3830: Paul & Tad face the fact they may never be best friends again.

3831: Darcy finally gets Karl to sign into the partnership at the surgery.
3832: Will Joel and Dione's feeling reignite passion between them?
3833: Toadie feels that Sheena's mother is making a play for him.
3834: Toadie is not impressed when Sheena organises dinner for them with her mother.
3835: Libby is warned by 'The Chronicle' lawyer that he intends to do whatever is necessary to win a court case if she sues the paper.

3836: Will Tess agree to marry Darcy?
3837: Dione is upset by the news of Darcy & Tess's engagement.
3838: Joe sees Joel hugging Dione and suspects he's cheating on Felicity.
3839: Joel is jealous when he learns Matt has already sorted out surprises for Felicity's coming 18th birthday.
3840: What is the letter that has surprised both Drew & Libby?

3841: Woody asks Steph to go away with him but it would mean she would have to leave her current life and identity behind.
3842: Joe tells Joel he is selfish and self-centred when Joel breaks up with Felicity on her 18th birthday.
3843: Tess demands she knows who Marcus from Darcy or she'll walk away from their relationship.
3844: Toadie has an opportunity to find romance just waiting for him.
3845: Tad wants to take alcohol with him to camp, vowing to do so even without his cousin's help.

3846: Steph demands to know where Woody has been after he returns home very late.
3847: Darcy is uncomfortable with Tess intending to reveal his plans with Marcus Teague.
3848: Joel is not happy when Dione wants to see Victor McMillan again.
3849: Harold is puzzled by Lou's over-reaction to him after receiving mysterious letter.
3850: A night around the camp fire puts Tad in danger as he is stung by a scorpion but feels no pain after being drunk on his smuggled alcohol.

3851: Everyone fears for Tad's life as a helicopter lifts him off to hospital.
3852: Joe & Lyn watch as Steph and Woody flee to get away from the fear of Kev Kelly finding them, unsure when they'll see their daughter again.
3853: Lou shows Harold his mysterious letter. It is from a man claiming to be Louise's real father.
3854: Lou doesn't want counselling from Karl, just a DNA test to prove he is Louise's father.
3855: Lou refuses to talk to John Allen, calling him a liar and slamming the phone down on him.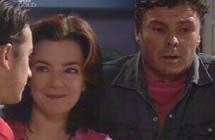 ..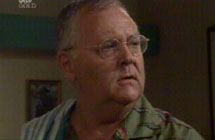 3856: Dione asks Tess to give her just five minutes of her time as she has something to say. Will Tess agree?
3857: Lou prepares to learn the results of the DNA test - Is he Louise's father?
3858: Steph sits alone in her van crying as the grief over Woody's death hits her.
3859: Libby receives a mystery call from someone who could help her win her case against The Chronicle.
3860: Lou decides he wants to meet Louise's real father, John Allen.

3861: John Allen asks to meet his daughter - will Lou agree?
3862: Darcy tells Karl & Susan he has had an offer to buy out the surgery for $A1 million.
3863: Are Joel and Felicity falling in love again?
3864: At Woody's funeral, Steph receives flowers from a sinister source, Kev Kelly.
3865: Harold stuns everyone when he announces he wants to open his home as shelter to the homeless.

3866: Darcy tells Karl he wants $A800, 000 to be bought out of the surgery.
3867: Dione tells Toadie she is pregnant.
3868: Maggie and Evan surprise Matt when they tell him that Felicity appears to be about to ask him out on a date.
3869: John Allen tells Lou that his wife Sandy now wants to meet Louise.
3870: Felicity asks Tad if their night out should really be taken as a first date?

3871: Darcy is frustrated when all around him seem to bear a grudge against him.
3872: Leo catches Evan and Maggie going through his school locker.
3873: Karl explains to Susan he has decided to let Darcy take over ownership of the surgery.
3874: Steph is determined to find out who is behind the $A1000, deposited into her bank account.
3875: Lou tells Sandy Allen that he has no intention of Louise continuing to see her or John.

3876: John Allen he wants more access to Louise than the 12 days a year Lou has suggested.
3877: John warns Lou he is prepared to go to court to secure regular access to Louise.
3878: Darcy learns that Marcus Teague has no intention now of buying the surgery.
3879: Matt follows Leo to an empty warehouse - Why has his brother gone there and with a pocket full of money?
3880: Susan fears that she is going to lose her job at the school.

3881: Dione slips over on a wet pavement and suffers stomach pains - Is the baby okay?
3882: Felicity asks Tad if he wants them to break up.
3883: Lou is told he has to apply for guardianship of Louise immediately, or John Allen could take her.
3884: Susan confronts Evan, demanding to know if his actions are a power play on her.
3885: Will Matt let Leo continue to sneak out to his 'Hip-Hop' meeting despite Evan's wishes?

3886: Lou vows to John he intends to never hand over Louise's full custody to him.
3887: Karl becomes trapped under rubble as a building collapses further.
3888: Susan is shocked to read an article written by Evan about bullying at their school.
3889: Maggie hears the screech of brakes outside - has Emily been hurt?
3890: Matt's lock-in at the pub ends with the police arriving.

3891: Tad and Felicity spend the night together in the Presidential suite of a city hotel.
3892: Toadie's first day at the law firm ends in disaster.
3893: Susan has to apply for her own job as Principal.
3894: Joe & Lou realise that Harvey & Bob have been 'dog napped'.
3895: Lou tells John he wants to have a custody hearing in the following week.

3896: Lou pleads with the Judge not to take Louise away from him.
3897: Will Lou accept he cannot go on the run with Louise and return home?
3898: Lou is devastated as he watches Louise being driven away by John & Sandy.
3899: Darcy begs Karl to let him stay on working at the surgery.
3900: Joel gets a job diving with Vernon Wells - but he has no diving qualifications.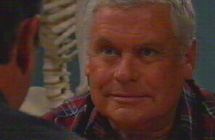 ..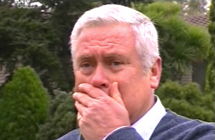 3901: Steph explains to Mitch she does not want to go on a date with him.
3902: Libby reveals to Drew that his friend Scotty has arrived to stay with them.
3903: Scotty reminds Drew he owes him a few favours...
3904: Karl panics when there is a series of medical emergencies at the hospital and has to accept help from Darcy.
3905: Toadie is under pressure when he learns Joe is financially involved in a scam.

3906: Joe's truck swerves out of control - will he and Tad be okay?
3907: Steph kisses Mitch - has she finally put Woody behind her?
3908: Serena makes it clear to Karl that she is attracted to him.
3909: Lou considers getting false evidence to try and win back Louise's custody.
3910: Harold is upset as Ramsay Street is renamed Ramsbottom Street.

3911: Susan fears Karl is having another affair with secretary Serena.
3912: Drew explains he feels he 'owes' Scotty after a shooting accident he caused left Scotty permanently injured.
3913: Lyn tries to convince Steph she's using Mitch to replace Woody and she'll end up broken hearted.
3914: Joel gets the diving job but why is Dione not as happy about it as she should be?
3915: Will Dione tell Joel that she still has feelings for him?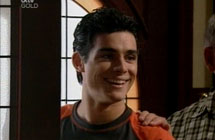 ..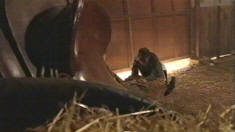 3916: Toadie must lie at work to save his career - Will he do it?
3917: Paul leaves Erinsborough to start his footy career and new life in Brisbane.
3918: Steph opens the door at No.26 to see Woody is very much alive.
3919: While at the Oakey rodeo, Libby goes into labour but becomes trapped in a barn.
3920: The Kennedy's & Drew are in shock as Libby fights for her life in hospital.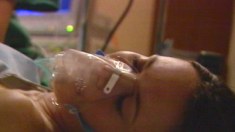 ..