.
Reference > The Cliffhanger Catalogue > 2008
Episode-by-episode cliffhangers from Neighbours' twenty-fourth season (episodes 5366-5605)
5366: Libby lies buried and unconscious in the rubble of the collapsed warehouse.
5367: Janae admits to Ned that she has kissed someone else.
5368: Ned tells Janae that Mickey has run away.
5369: Carmella fears that she has gone into premature labour and Marco calls for an ambulance.
5370: Carmella tries to come to terms with the fact she'll have to have a caesarean birth.

5371: Carmella fights back the tears as she watches her baby.
5372: Karl is disappointed that Zeke believes that he is not an important part of Karl's life.
5373: Carmella finally gets to hold her new baby in her arms.
5374: Are Rachel and Angus about to have their relationship exposed?
5375: Janae inadvertently threatens to expose publicly how she kissed Darren.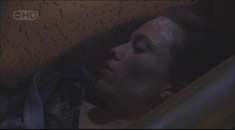 ..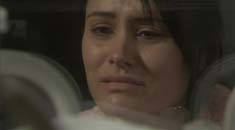 5376: Libby breaks down after the revelations that Darren kissed Janae.
5377: Bridget lies to protect Rachel, claiming she is the student who has a secret crush on teacher Angus Henderson.
5378: Declan refuses to protect Rachel and reveals publicly that Angus & Rachel are seeing each other.
5379: Libby is not impressed by Daniel's tactics even though it confirms Rachel & Angus were seeing each other.
5380: Susan feels helpless when Rachel rejects her after Susan refuses to help Angus.

5381: Angus is stunned by a visit from Susan. She wants him to help her.
5382: Rachel is devastated when she believes Angus telling her, that he never really loved her.
5383: Rachel learns that things have worsen back home when a newspaper article about her and Angus's relationship makes front page news.
5384: Janae tells a shocked Ned that she has decided to leave Ramsay Street.
5385: Ned and Janae are briefly reunited before she leaves to join her family in Cairns.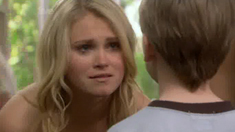 ..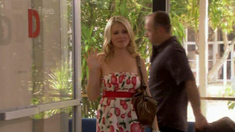 5386: Rachel realises that her argument with Susan has deeply hurt her stepmother's feelings.
5387: Rachel begins to miss the closeness she had with Susan after seeing Susan & Libby together.
5388: As Steph enjoys the nightlife with Libby in Shepparton, Toadie sits at home contemplating the future of his relationship with her.
5389: Elle suffers a panic attack when she revisits the site of the collapsed warehouse.
5390: Toadie has doubts about Steph's sincerity when she insists that she wants to marry him.

5391: Miranda is furious with Steve when she returns home and discovers he has bought No.26 at the auction for far more than she thinks they can afford.
5392: Frazer is stunned when Rosie admits that if she is pregnant then she feels it has happened at the worst time for her.
5393: Paul comforts Elle when she suffers another panic attack over what happened to her inside the collapsed warehouse.
5394: Marco reveals to his sister Mia that he is unable to father a child and this led to his marriage breakdown.
5395: Frazer would consider bringing up his and Rosie's child as a single parent if she still wanted to have no part in their child's life.

5396: Steph and Toadie's plans to marry reach crisis point when they argue over the past and Toadie's first wife Dione.
5397: Steph is devastated when Toadie tells her he wants to postpone their wedding.
5398: Paul doesn't share Rebecca's view that he cannot be held accountable for what he did to Lyn Scully.
5399: The wedding party are shocked when Susan collapses at the wedding rehearsal.
5400: Toadie fears his nightmare is about to become true when he waits for Steph to walk down the aisle and she does not appear.

5401: Toadie admits to Karl that he believes his relationship with Steph is over.
5402: Toadie walks away from Steph after she all but admits she only wanted to marry him to please him.
5403: Steph explains to Toadie that she is going away as she needs to take time to think through her feelings for him.
5404: Toadie watches as Steph leaves Ramsay Street in a bid for them to get over their break up while away from each other.
5405: Rebecca begins to regret talking to Elle about exposing the council as corrupt when Toadie informs her he and Steph have been working to help her.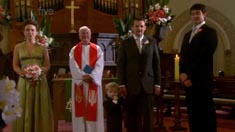 ..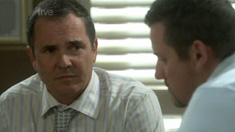 5406: Kirsten walks into the General Store to see Paul and Rebecca in an embrace.
5407: Lou suffers breathing problems but collapses against the General Store door, blocking Harold from trying to get in and help his friend.
5408: Kirsten makes it clear to Paul she'll expose their affair if he doesn't help her in her desire to be successful in her career.
5409: Elle suspicious of her father's motives for promoting Kirsten, warns him as she does not want him to do anything that could risk him losing Rebecca.
5410: Marco is stunned when Harold tells him he no longer is leaving Erinsborough and isn't selling No.24.

5411: Chloe's naming ceremony ends with Marco & Oliver fighting.
5412: Oliver shocks Carmella & Marco by announcing he intends to seek full custody for Chloe.
5413: Dan admits to Libby that the girlfriend he spoke of is actually his wife and he is still married.
5414: Dan decides to try and get back in contact with his estranged wife.
5415: Libby & Karl are surprised to see Dan being greeted with a kiss.

5416: Dan's wife Sam tells him she wants them to get back together.
5417: Elle realises Kirsten is having an affair with Paul and tells her to leave Erinsborough or she'll expose her for who she is.
5418: Steph is stunned when Toadie announces his trip to East Timor could mean he is away for a long time.
5419: Toadie hands back his house keys to No.32 to Steph says goodbye to Charlie and leaves for East Timor.
5420: Lou is left pondering the future after Harold, accompanied by Valda, leaves Erinsborough.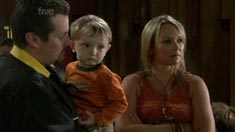 ..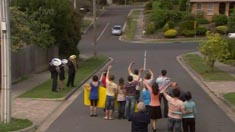 5421: Steph and Dan fall into an abandoned mine shaft.
5422: Ned and Steve's rescue attempt ends with them and Steph & Dan being involved in the mine shaft collapsing.
5423: As Dan begins to confess his feelings to Libby he suddenly feels unwell and collapses in her arms.
5424: Dan begins to wonder if he has a future with Sam.
5425: Sam's grief over the loss of her baby has her accusing Dan of being the one who caused her to miscarry.

5426: Libby is upset to see Dan and Sam embracing.
5427: Ben becomes trapped after rein-acting the mine shaft accident by getting into a drain hole when he plays with Charlie.
5428: Dan proposes to Sam that she stay on in Ramsay Street as he believes they could have a chance to be together.
5429: Rosie and Frazer are devastated to be told there is no heartbeat when they go for their first baby scan.
5430: Frazer breaks down after Rosie blames herself for them losing the baby.

5431: Can Frazer bring himself to support Rosie's theory their baby is still alive and face having to grieve all over again?
5432: Riley asks the police to not inform his parents about the investigation only to see them waiting for him.
5433: A second ultra-scan reveals a heartbeat. Rosie & Frazer are stunned.
5434: Elle and Oliver can no longer resist their feelings for each other and kiss.
5435: Ringo suffers exhaustion while swimming and slips under the water.

5436: Bridget spots Ringo lying unconscious on the beach.
5437: Frazer begins to fear his mother still blames him for his brother's death.
5438: Susan is undecided when Ringo asks if he can take up her offer to move into No.28.
5439: Prue is stunned when Frazer tells her she can no longer be part of his life.
5440: Steve's overzealous attempt to help at Ringo's 18th birthday party ends with Rebecca being pushed to the floor.

5441: Will Kirsten reveal to Rebecca about her affair and trip to Paris with Paul?
5442: Sam is hurt as she believes she is watching Dan kissing Libby.
5443: Rachel realises that Steve & Miranda have seen her with Angus.
5444: Rachel finishes her witness statement and the court recess before sentencing Angus.
5445: Libby realises Ty is admitting to her that he has feelings for her.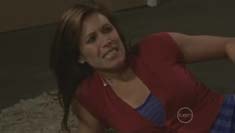 ..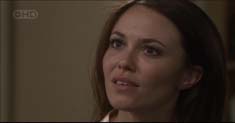 5446: Riley kisses his step aunt Nicola passionately.
5447: Bridget storms out of the hotel room after Ringo rejects her and her offer to sleep with him.
5448: Paul inadvertently intercepts a letter to Rebecca from his blackmailer that contains a photo of him and Kirsten kissing. He lies to Rebecca that the letter is only a bill.
5449: Miranda makes Steve realise that he has nothing to lose by still going on the fishing trip despite his father now joining the fishing party.
5450: Steve is stunned when Jim Parker reveals he is not his real father.

5451: Jim confesses to Steve that his real father died while fighting in Vietnam and he was responsible for his death.
5452: Paul realises a second blackmailer is out to expose his affair with Kirsten but cannot understand who it would be.
5453: Kirsten admits to Ned about her affair with Paul and how he is being blackmailed over it.
5454: Bridget is excited when Chris Knight asks her out for coffee - Is this her chance for real romance at last?
5455: Steph is stunned when Toadie returns from East Timor and reveals that he wants help further by adopting a child from there.

5456: Bridget feels threatened when alone in a hotel room with Chris and he makes it clear he wants to be intimate with her.
5457: Miranda questions Steve after his lack of concern about Chris Knight being badly assaulted - Was he involved?
5458: Steve comforts Bridget after she reveals that in fleeing Chris's advances she pushed him away from her. Did she cause him to fall? Bridget worries what the consequences would be if Chris died.
5459: Bridget is stunned when Steve lies to the police to protect her and claims he hit Chris Knight.
5460: Nicola watches on as Riley quietly leaves Ramsay Street and Erinsborough. She ensures her position at No.26 is not compromised by taking a letter Riley has written to his parents.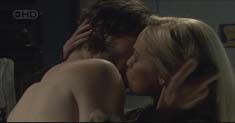 ..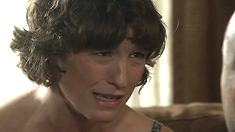 5461: Miranda is too late to let Steve know about Chris's death and he is formally charged with murder and arrested.
5462: Steve sits in the holding cell at the police station, fighting back the tears as he comes to terms with the consequences of his actions.
5463: Bridget panics when Declan shows her he has found her necklace at the scene of where Chris was attacked.
5464: Elle suspects that something is not right when Sam seems less than thrilled at her 'secret' news that she is pregnant.
5465: Despite Elle's best efforts to stop her, Susan reveals to Rebecca about Paul & Kirsten's affair.

5466: Disgusted by her father blaming her for his affair being made public, Elle orders Paul to move out of No.22.
5467: Elle overhears as Kirsten unwittingly reveals to Rebecca how Paul and her went to Paris. Rebecca realises Paul has lied to her about it being a one-night stand.
5468: Dan politely warns Libby to stay out of his and Sam's personal business.
5469: Nicola puts off being confronted by Miranda when she is found out about holding onto Riley's farewell letter.
5470: Marco protests to Carmella that he has to continue working the long hours to pay the bills but Carmella refuses to accept that as it is affecting their relationship.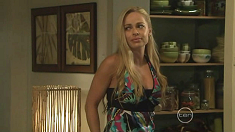 ..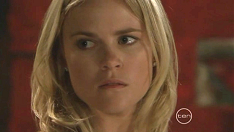 5471: Miranda, desperate to stall Steve's court hearing, threatens to report Toadie to the law institute if he does not stop representing Steve as his lawyer.
5472: At Steve's trial, Nicola interrupts the Judge as she is about to deliver sentence to call out that Steve is innocent.
5473: Sam has to accept Karl's offer for her to see an obstetrician who specialises in her bi-polar condition or risk Dan becoming suspicious about her behaviour.
5474: Oliver worried about Sam, reluctantly agrees to stay for a drink in her hotel room but Sam clearly wants to take things to a physical level.
5475: Steph takes Libby's advice and agrees to go out to dinner with Jay Duncan.

5476: Dan is confused at Libby's pleas for him to go home and talk to Sam about her 'losing' the baby.
5477: Steve is warned by ex-prison inmate Pete Ferguson that he has a score to settle with him.
5478: Steve admits to Nicola his injuries are from him being attacked in prison and now their family is in danger because of it.
5479: Rebecca is stunned when Elle advises her not to accept Paul's money as he cannot be trusted.
5480: Paul warns Elle he intends to get back control of the Robinson Corporation and ensure she is no longer a part of his life.

5481: Dan is shocked when Sam suggests they need to move away from Erinsborough.
5482: Dan resolves to be with Sam and leave Erinsborough despite admitting he has feelings strong enough for Libby that make him want to stay.
5483: Libby looks on helpless after she watches Dan break down in tears when he realises his marriage is over after Sam leaves him signed divorce papers.
5484: Rachel is convinced Donna is becoming obsessed with her but Ringo dismisses her fears.
5485: As the bush fire intensifies, Susan and Karl have to start running to escape the flames.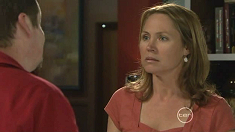 ..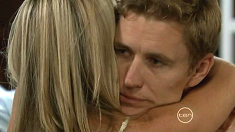 5486: Carmella fears the worst when it is not Marco who has rescued them and there is no sign of him.
5487: Ned and Mickey can only watch as hospital staff battle to save Kirsten's life after her heart stops.
5488: Carmella lies by Marco's side telling stories of how they'll grow old together as he passes away.
5489: Elle is unconvinced that by Paul running the front page story that Donna is the 'fire bug' proves that he is not the real arsonist.
5490: Paul begins to panic inside as Det. Sgt. Brennan asks him to accompany her to the police station to be questioned over the bush fires.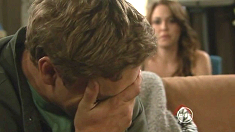 ..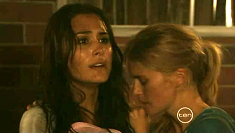 5491: Jay is unveiled as being the arsonist as he takes delight in setting fire to Callum's new outside den.
5492: Steph is swept up in the emotion as Jay announces he is falling in love with her.
5493: Toadie tells Nicola that he suspects Jay is responsible for the bush fires.
5494: Paul & Elle believe that Jay is the arsonist.
5495: Steph finds the papers that Nicola planted that indicate Jay is guilty. Jay suspects all is not well when Steph seems to be acting strangely towards him.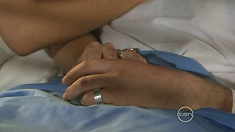 ..
5496: Steph begins to fear for her and Charlie's safety as jay seems to be controlling her from leaving the cabin with Charlie.
5497: Toadie's rescue attempt lands him lying injured on the floor and Jay free to attack Steph.
5498: Steph is terrified when Callum raises the alarm that Jay has broken into No.32.
5499: Steph intervenes to stop Jay hurting Toadie but she is stabbed in the stomach by jay in the process.
5500: Donna makes a decision to hide a letter from Angus that he has written to Rachel, unaware she is being watched by Bridget.

5501: Rachel makes the decision to open and read Angus's letter he has written to her from prison.
5502: Why is Lucas so keen not to be seen by Dan?
5503: Rachel and Angus face each other for the first time since him being sent to prison.
5504: Angus tells Rachel he loves her and asks Rachel if she feels the same way about him.
5505: Disgusted by her sister's confessions, Miranda walks away unable to be near her.

5506: Miranda asks Steve if he is in love with Nicola.
5507: Miranda can only watch on as it seems her family is falling apart around her.
5508: Miranda admits to Steve that she slept with the man she was in love with, the night before she accepted Steve's marriage proposal.
5509: Susan struggles to give Rachel what she wants as Rachel & Angus are reunited as he is released from prison.
5510: Rachel tries to protect Angus from seeing the graffiti 'PERV' sprayed on his porch but it becomes evident they have bigger problems when they have made front page news.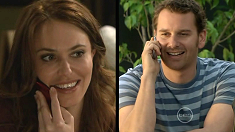 ..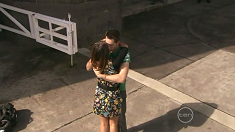 5511: Karl arrives home and is shocked to see Angus in his home and then shocked further to learn from Zeke that Susan has agreed to it.
5512: Oliver realises that believing that he and Carmella can go back to how they were and forget all that's happened can never happen.
5513: At Declan's 18th birthday party the Kennedy Kinski clan's fun is halted by the arrival of Angus.
5514: Steve realises his marriage is in the balance after Miranda leaves a very clear message by tearing up a picture of them together.
5515: Libby throws Dan out of No.32 after he interrupts her & Lucas to warn her Lucas is trouble.

5516: Rachel makes the decision to move out of Ramsay Street to live with Angus but as she leaves she is torn about whether she has made the right decision.
5517: Toadie is shocked to learn from Dan that Lucas is his brother.
5518: Libby makes it clear to Dan that she is just as angry at him as with Lucas but reminds Dan that at least his brother was honest about his feelings for her - she calls them both 'gutless wonders'.
5519: At the parent/teacher evening, things spiral out of control and Rachel storms off after it is made clear that Susan & Karl doubt her innocence to Dan's accusation.
5520: Rachel is devastated after she decides to return home and not join Angus as he sets off to South Australia.

5521: Dan arrives at Lucas's apartment and sees his brother on the balcony. Dan decides to face his brother.
5522: Ty's attempt to show Rachel how much he cares for her is not reciprocated and he walks away hurt.
5523: Rachel's fears that she is being stalked end with her hitting Ty across the head with a cricket bat, knocking him to the floor.
5524: Steve warns Toadie that by letting Nicola stay on in No.30 it could cost him his already troubled marriage.
5525: Bridget is furious about Declan bragging to Josh they have slept together and doubting why he is with her she ends the relationship.

5526: Nicola fears for her future health after an accident with a needle used to treat Pete Ferguson gets stuck into her finger, drawing blood.
5527: Susan fears the worst when she sees Karl and Nicola hugging each other.
5528: The illegal blood test brings bad news as Nicola reveals to Karl that it is 'positive', Pete has HIV.
5529: Carmella is being poisoned by leaking gas after the flame goes out on the cooker while she sleeps.
5530: Callum finally admits the boy Toadie & Dan saw run from the house was runaway Mickey.

5531: Is the search all over for Mickey as Callum followed by Toadie & Dan, sees his friend on the train station platform and runs towards him?
5532: Will Susan break her silence over Nicola's condition to try and vindicate Karl to Elle?
5533: Nicola lies and blames Karl for taking the illegal blood test and then asking him to cover for her.
5534: Karl unsuccessfully tries to convince Nicola to tell the truth but she refuses intent on putting her needs first. Has Rebecca read more into the meeting than she should?
5535: Dan & Libby kiss.

5536: While giving Susan a lift home from work they are both held captive by Pete in Elle's car.
5537: Susan manages to escape from Pete but he bundles Elle back into the drive her car, forcing her to be his getaway driver.
5538: Lucas informs Dan he has bought the garage off of Ned and intends to stick around, convinced Dan & Libby's relationship is doomed and he still has a chance with her.
5539: Bridget explains to Declan she is ready to take their relationship to a physical level.
5540: Ringo is stunned when Donna uses her father's police car to go joyriding.

5541: Donna decides to take out her frustration on her father by stealing his police and driving off.
5542: Nicola is unable to reach her phone as she lies injured in the country.
5543: Donna refuses to admit to her father she was responsible for Nicola's accident and threatens Ringo she'll blame him if he tells Matt Freedman what happened.
5544: Paul believes he may be on the right track to finding the person who caused Nicola's injuries when he sees Donna visiting her.
5545: As Donna prepares to be interviewed by the police to confess about causing Nicola's injuries her father confronts her about what she is about to do.

5546: Ringo comforts Donna as the police take her father in for questioning about perverting the course of justice.
5547: Libby is furious that Dan caused a fight with Lucas because he slept with Libby before Dan did, questioning if Dan is just playing games with her.
5548: Dan tries to woo Libby back by wanting to sweep her off her feet and straight to the bedroom but Libby cannot believe how wrong he has judged things and orders him to leave her alone.
5549: Nicola's amnesia causes her to claim to Miranda that her sister is all she has in the world to care for her.
5550: Steve begins to doubt if Nicola is really suffering from amnesia.

5551: Ty and Rachel share a kiss.
5552: As Nicola faces the fact everyone hates her she focuses her anger on Steve and destroys all his clothes hanging out to dry.
5553: Has Nicola deliberately poisoned Steve after cooking the family dinner?
5554: Steve collapses in pain unable to reach his phone in time to call for help.
5555: Miranda discovers Nicola is faking her amnesia and accuses her of poisoning Steve.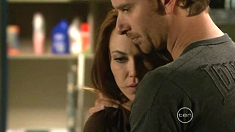 ..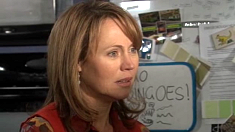 5556: Miranda & Toadie can only wait as the medical team try to save Steve's life after his heart fails.
5557: Nicola claims she only knows herself as Miranda Parker and asks to see her husband Steve.
5558: Callum panics as he overhears Toadie expressing his fears to Kelly that his actions could result in Callum being taken away from him.
5559: Toadie is devastated after giving Callum' guardianship up so the boy can go to live with relatives in Ballarat.
5560: Toadie enlists Steph's help to join him to travel to Ballarat and get Callum back.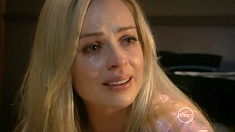 ..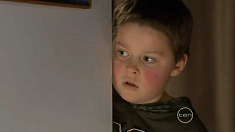 5561: Ringo & Declan faces the fact that despite being best friends they need to compete with each other to be noticed on the footy pitch by talent scouts.
5562: Ringo is devastated when it is Declan that receives the call back from the AFL talent scout.
5563: Libby fears for Ben's health when his medical condition remains undiagnosed.
5564: Why is Dan less than thrilled at Libby's suggestion they move in together at No.32?
5565: Everyone cheers as Libby agrees to marry Dan when he proposes to her.

5566: Will Ringo regret making the deal to buy the Ute from Jason Healey?
5567: Lucas & Elle avoid being caught but fear for Ringo, Zeke & Donna as Jason spends time with them at No.22.
5568: Elle walks away from Lucas after fearing he is still in love with Libby when in fact he has no other intention than to destroy his photos of her that she has found.
5569: Libby tells Dan she refuses to go ahead with the wedding if he insists Lucas is his best man.
5570: Libby reacts badly to Steph's advice that maybe she has doubts she has agreed to marry the right Fitzgerald brother and Steph reminds her she needs to prove to Dan about her sincerity.

5571: Lucas challenges Dan to a rematch on the race track.
5572: Rachel, Bridget & Donna face the fact that one of them is pregnant.
5573: Despite support from her closest friends Bridget fears the future as the reality that she is pregnant begins to sink in.
5574: Libby fears history is repeating itself when the Fitzgerald brothers race.
5575: Declan is stunned when Bridget announces that she is pregnant.

5576: Declan continues to deny what is happening around him when he takes up Dingoes fan Sharni's offer to spend some time with her.
5577: As Declan tries to confess, Bridget faints in his arms and he calls for help.
5578: Declan's fling with Sharni becomes public at Libby & Dan's engagement party.
5579: As Declan speeds off Bridget is overcome with emotion and blurts out to her parents that she is pregnant.
5580: Bridget tells Steve & Miranda she is not ready to have a baby.

5581: Will Declan bring himself to support Bridget as she prepares for the abortion?
5582: Miranda is adamant that Bridget and Declan should not see each other again.
5583: Ty steals some tablets from Karl's medical briefcase.
5584: Will Ty accept Tania Tasker's offer to go touring with his band for six months?
5585: Bridget is expelled from school.

5586: Andrew Simpson has the perfect evidence when he captures Steve attacking Paul over his front page article on Bridget's pregnancy & expulsion.
5587: Harold refuses to accept Karl's help, even when faced with prospect of not doing so could kill him.
5588: Karl swears to Harold they can face trying to beat his cancer together.
5589: Has Ty ruined his singing career prospects by refusing to be intimate with Tania?
5590: Elle decides to ring Oliver to discuss Carmella.

5591: Everyone is stunned to see a heavily pregnant Sam turn up at Charlie's as Libby & Dan celebrate their Hen & Bucks' night there with all their friends and family.
5592: Libby decides she cannot go through with the wedding after Dan's happiness that he'll be a dad forces her to be reminded she cannot give him a child.
5593: Zeke's misguided by Kyle Canning when he agrees to join him & Justin breaking into an old abandoned warehouse.
5594: Harold decides to leave Ramsay Street without telling any of his friends & neighbours - Is he running away from having the surgery as well?
5595: Miranda & Steve are unaware as Bridget decides to leave home without telling them.

5596: Bridget realises that she has been stranded in Nelsons Cove with all her possessions stolen from her.
5597: Bridget wants to strike a deal with Harold - If he agrees to return to Ramsay Street, she'll consider going back home with him too.
5598: Harold wakes from surgery but it leaves him believing he hasn't got the strength to go past the initial biopsy surgery and face more treatment for his cancer.
5599: Paul offers to buy Charlie's to allow Rebecca take up the opportunity to manage the bar - Will she agree to go into partnership with him?
5600: Paul catches Rebecca when she is most vulnerable - Will she falls for his charms again?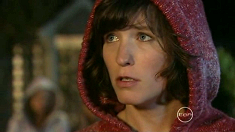 ..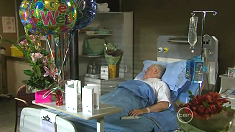 5601: Rachel reveals to Bridget & Declan that Default records want to sign her but not Ty.
5602: Sam is defiant when Susan warns that she needs to move on from trying to win Dan back and ruin his and Libby's relationship.
5603: Karl fears that Susan is facing serious repercussions after being arrested for breaking the restraining order Sam put against her.
5604: Dan tells Sam he wants custody when their child is born but Sam refuses to allow him and Libby raise their child despite his threats to go to court.
5605: The river rafting challenge turns into a life threatening experience as a prank leaves Libby, Rachel, Zeke & Bridget missing when their raft overturns.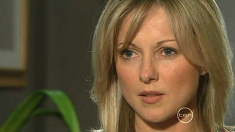 ..