.
Reference > The Cliffhanger Catalogue > 2010
Episode-by-episode cliffhangers from Neighbours' twenty-sixth season (episodes 5836-6070)
5836: Steph struggles to cope with seeing Lucas in hospital and looking so helpless.
5837: Will Andrew risk Rebecca calling the police or agree to stay on at No.22?
5838: Declan and Kate struggle to deal with their feelings for each other.
5839: Susan tells Libby that it is her that needs to actually grieve for the end of her marriage to Dan.
5840: Lucas is confused when Steph rejects that they can be anything more than friends.

5841: Lucas tells Steph he loves her but Steph stalls when asked if she feels the same.
5842: Andrew taunts Declan about not being Paul's real son and heir to the Robinson business empire.
5843: Lucas worries when Steph decides to make an impromptu decision to spend time away from him.
5844: Lou is in a dilemma when he must choose whether to visit his injured daughter Lauren or stay in Ramsay Street to protect the Ramsay children from their DHS visit.
5845: Donna and Andrew risk allowing their feelings for each other to spill over again.

5846: Zeke is caught by security at the Elliot Park testing facility.
5847: Donna finds herself continuing to be more attracted towards Andrew.
5848: Donna mistakenly leaves her laptop recording after a message to Elle and records her and Andrew having sex.
5849: Declan is stunned when Kate accepts the offer of a date from Kyle.
5850: Rebecca feels threatened when Lyn teases her that Paul is still attracted towards her.

5851: Andrew's dealings with Scott Griffin could expose his affair with Donna and destroy her relationship with Ringo.
5852: Ringo is publicly humiliated when a copy of the video of them having sex is played in Charlie's.
5853: Donna is devastated when Ringo tells her he intends to leave for Sydney to pursue his career and hands back his friendship ring as a sign their relationship is over.
5854: After drinking alcohol and taking prescription drugs, Libby collapses to the floor and remains unconscious.
5855: Kate gets the lead role in the dance troop production but she has made an enemy of Candace in the process.

5856: Kate is determined to perform despite her ankle injury.
5857: Zeke sobs as he is taken away to spend the night in a police cell after being found guilty of 'contempt of court'.
5858: Zeke faces the fact that his actions have resulted in Piratenet's closure.
5859: Rebecca agrees to give her support to helping to run the radio station but is she the one really in charge?
5860: Steph returns home on Valentine's Day but she has nothing but bad news for Lucas.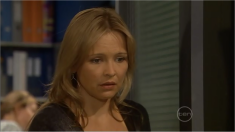 ..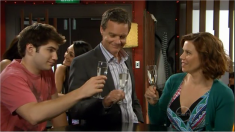 5861: Toadie & Steph faces the fact they have committed themselves to a lie that is now in every part of their lives.
5862: Lucas takes his anger over Steph & Toadie out by smashing into the side of Toadie's car.
5863: Toadie is devastated at losing Sonya and hurting her to keep the lie with Steph ongoing.
5864: Harry faces his try-out for the basketball team alone.
5865: Melissa Evans tries to make Zeke see that the new Piratenet has destroyed the spirit of what the station stood for.

5866: Kate gets a surprise 18th birthday present - a kiss from Declan.
5867: Steph blames herself for the fact that Lucas could face a jail sentence due to his indifference to the court case.
5868: Libby tries to convince Lucas that his 'martyr' acts in court will only hurt the people who love him.
5869: Andrew admits to Harry the 'manual' to picking up girls is fake, unaware Summer is recording the conversation.
5870: It appears Mia has alternative motives to being back in Zeke's life.

5871: Harry is disappointed when Andrew reveals he intends to ask Summer out with his help after Harry denies he is interested in her.
5872: Zeke puts his faith into believing Mia's promise will be kept.
5873: Lucas questions why Toadie would be so jealous over him being around Sonya if he loves Steph as he says.
5874: The lie causes Libby & Steph's friendship to be strained.
5875: Donna comes face to face with Saffron again.

5876: Donna is confused when Mia becomes angry at her trying to help out when she insinuates the police are hassling her.
5877: Zeke becomes suspicious of Mia after learning of her meeting with Detective Skinner.
5878: Lucas tells Rebecca & Declan he intends to win Steph back from Toadie.
5879: Callum expresses how much he dislikes life at home and blames Steph for everything.
5880: Harry and Andrew agree to compete with each other through 'friendly rivalry', to win Summer's affections.

5881: Donna feels torn when Zeke is being set up by Mia and yet she'll end up breaking his heart.
5882: Will Zeke's heart rule and push him to continue to be manipulated by Mia?
5883: Toadie manages to stop Steph from admitting to Lucas how she really feels about him.
5884: Harry feels cornered that he has to continue to entertain Renee rather than 'disappoint' Summer.
5885: Events at No.22 reach crisis point when Declan delivers an ultimatum - either Andrew goes or he'll move out.

5886: Kate is put on the spot when Declan asks if he and India can move into No.24.
5887: Declan refuses to help Andrew get out of another problem he has caused.
5888: Sonya watches on as Lucas continues with his befriending of Toadie to gain the advantage in his bid to win Steph back.
5889: Lucas is happy when he manages to get a drunken Toadie to admit he is in love with Sonya.
5890: It seems Donna may never discover the identity of her father when her mother's diary is accidently burnt.

5891: Donna finishes writing letters to the two men that could solve the mystery of who her father really is.
5892: Toadie rejects Sonya despite it being apparent he is in love with her still.
5893: Declan asks to spend the night at No.22 after the question about him and Kate sleeping together inevitably happens.
5894: Rather than talk through their difficulties, Kate decides to finish with Declan.
5895: Andrew intends to go out in style as he faces just three weeks left before being sent home to live with his mother.

5896: Andrew vows to get revenge after Rebecca makes him feel publicly humiliated.
5897: Rejected by his mother, Andrew takes his anger out on bringing chaos to Ramsay Street.
5898: Libby is shocked when Ben wants to stop playing soccer after feeling that she has embarrassed him.
5899: Declan and Kate decide to spend the night together.
5900: Donna pretends she is someone else as she applies for a job in a bar owned by Leigh Nixon, the man that could be her father.

5901: Donna and Zeke are locked into lying as Leigh invites them further into his life.
5902: Andrew is pleased when he realises he has managed to turn Rebecca's opinion about him around and she wants to give him a second chance.
5903: Steph is desperate to explain to Lucas why she kept her pregnancy a secret but she'll have to wait as he is taken away for hospital treatment.
5904: Libby's keen to be involved all the way with Steph & Toadie's baby - but for them it isn't great news.
5905: Libby finds herself attracted towards Doug Harris.

5906: Libby is disappointed when her date with Doug ends so badly after Sonya's wild behaviour.
5907: Toadie becomes wildly jealous as he witnesses Sonya kissing Lucas.
5908: Donna is devastated when Ringo tells her he has not returned for her but to support Declan as Bridget's birthday approaches.
5909: Ringo and Andrew stage a stand-off in Charlies Bar as their past dislike for each other rises to the surface again.
5910: It seems Naomi Lord has plans that involve Ringo.

5911: Fearing the worst, Donna tells Karl she no longer wants to know the DNA test results.
5912: Steph & Toadie learns that Libby's new boyfriend is the doctor Steph saw earlier about the baby.
5913: Steph is confronted by Lyn after she finds out Steph lied to her about how long she has been pregnant.
5914: Andrew learns that Paul is facing the loss of his job heading up the Australian branch of the Daniels Corporation.
5915: Andrew successfully drives a wedge between Paul and Rebecca/Declan.

5916: Donna is shocked when Ringo tells her to stay away from him and Naomi after accusing her of trying to ruin his new relationship.
5917: Donna tries to warn Ringo about Naomi but he will not believe her.
5918: Andrew panics after discovering Natasha Williams is only sixteen and lied about her age at the photo shoot for Piratenet.
5919: Libby is unsure where her relationship with Doug stands and Lyn feels guilty for causing the confrontation.
5920: Summer discovers that the man Lyn has emailed on the dating site lives in Ramsay Street.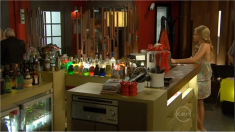 ..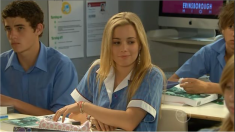 5921: Summer and Harry kiss - unaware Andrew has seen them.
5922: Harry is devastated after Summer learns about the competition with Andrew to 'win' her and believes he is with her for that reason.
5923: Karl plants the seeds of doubt in Ringo's mind about the state of Naomi's mind.
5924: Rebecca feels she has no choice but to support Paul despite him returning to his bad old ways to get a head in business.
5925: Kate realises Candace has been trying to save her from the humiliation of having to perform at a risqué dance club.

5926: Summer hates who she is becoming the more she spends time around Andrew & Harry.
5927: Steph tells Toadie that she has found a lump in her breast - has her cancer returned?
5928: Steph & Toadie's plan to get secretly married is ruined when Summer overhears the marriage plans.
5929: Donna receives a photo of Ringo with Naomi as a warning to stay away from him.
5930: Donna is arrested for stealing Naomi's medical file after being set up by Naomi.

5931: Naomi becomes desperate as Ringo ignores her phone calls.
5932: Ringo tells Karl he has decided to give up his dream of training to become a paramedic.
5933: Lyn and Steph's relationship hits breaking point - will Lyn leave Erinsborough?
5934: Lyn stuns Steph & Toadie when she completely changes her opinion and wants to help plan the wedding.
5935: Natasha uses Andrew to successfully embarrass Michael at a public event at school.

5936: An argument between Natasha and Michael ends with her slapping her father across the face.
5937: Toadie learns he has been duped by Paul into representing him in a legal case that may have no merit.
5938: It's clear that Toadie & Sonya are still hugely attracted towards each other.
5939: Toadie signs up to being Paul's corporate lawyer against his better judgement in a bid to pay for the wedding.
5940: Paul & Declan's relationship reaches crisis point when Paul sacks him from the jobs at Lassiters & Piratenet.

5941: Donna becomes the victim as the sabotaged scaffolding at the building site collapses on top of her.
5942: Paul & Toadie are nervous when Susan seems intent on investigating who is to blame for the building site accident.
5943: Unable to talk to Steph, Toadie turns to Sonya when he needs someone to confide in.
5944: Steph realises just how much Toadie is in love with Sonya and what the lies have done to their chance of happiness.
5945: Steph's confessions to Sonya result in Sonya wanting to distance herself from Toadie even more.

5946: Will Steph go ahead with her wedding to Toadie?
5947: Libby witnesses Sonya kissing Toadie during his & Steph's wedding reception.
5948: Ringo asks Donna to marry him - will she accept?
5949: Declan realises Paul has edited the security camera footage to set him up as the one who sabotaged the scaffolding at the building site.
5950: Declan makes a call to Paul's boss Diana Marshall in New York to tell her about Paul embezzling from the business.

5951: Declan realises that Rebecca would be in as much trouble as Paul should his dealings be exposed.
5952: Paul hires a private investigator to dig up any dirt on Toadie.
5953: Summer has to face difficult questions about her reluctance in being intimate with Chris.
5954: Susan refuses to back away from dealing with being bullied at University despite the family's concerns about what it is doing to her health.
5955: Being bullied leaves Susan scared to have any contact with the outside world.

5956: Susan suffers a panic attack as the stalker continues to bully her.
5957: Zeke and Libby are desperate to find out any evidence that could lead them to the person stalking and bullying Susan for the sake of both her and Karl.
5958: Susan realises the car that was watching her belongs to Uni lecturer John Bradley and decides to follow him in Toadie's car.
5959: Diana Marshall tells Declan she intends to ruins Paul and is prepared to do so even if it means doing the same to him & Rebecca.
5960: Will Declan agree to work with Andrew to stop Diana ruining Paul & Rebecca?

5961: Andrew is devastated when Paul believes he has betrayed him to Diana.
5962: Paul feels guilty after betraying Rebecca by sleeping with Diana in his bid to stop her intentions to ruin him.
5963: Steph seems determined to tell Dan Fitzgerald she is carrying his child after complications following a motorbike accident leave Dan with no chance of being able to have children.
5964: After Donna and Ringo decide to get married sooner than later, they have to face the fact they have to tell Leigh the news.
5965: Andrew despairs as his actions result in him being at loggerheads with Donna and Lucas along with everyone else at home.

5966: Andrew seeks sanctuary away from No.22 but who has he gone to reach it?
5967: Andrew promises his father that he can handle stopping Natasha causing problems over the press campaign but can he really be so sure?
5968: Summer becomes an ally to Natasha as they plan to exact revenge on Andrew.
5969: Will Rebecca take the risk of trusting Diana knowing it could lead her to losing Charlie's?
5970: Paul learns the truth about the real father of Steph's baby, giving him the ammunition he needs to control Toadie.

5971: Toadie decides to call Diana wanting to discuss the job offer but he has conditions.
5972: Paul & Rebecca's marriage seems to be in serious trouble.
5973: Toadie tells Declan it is up to him to stop his friends trying to save Piratenet to get Rebecca to sell the radio station.
5974: Will Libby wallow her pride and come to the aid of Michael?
5975: Sonya tells Toadie that he has changed and that she is unsure she wants to be with him going forward.

5976: Libby discovers the truth that Steph is pregnant with Dan Fitzgerald's baby.
5977: The Kennedy & Scully family are devastated by the truth.
5978: Libby tells Lucas that she is has decided to start 'looking out for number one'.
5979: Andrew feels guilty as Chris's birthday party ends in disaster and him losing his job.
5980: Lou returns to face the fact that all his neighbours are against each other.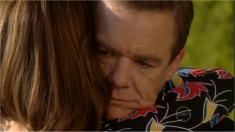 ..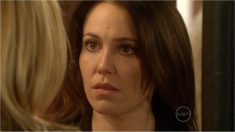 5981: Libby struggles to deal with not helping Steph as her former friend needed her help after a medical scare.
5982: Libby seeks revenge by writing an article about Steph's betrayal in the Erinsborough News.
5983: Paul feels threatened when Diana warns him that she intends to take his job and everything else he holds so dear.
5984: Callum hurts Toadie when he makes it clear he doesn't think of him as his father anymore.
5985: Chris battles with his feelings towards Andrew and reacts against character to all that know him.

5986: Michael is desperate to help Chris after he discovers he is gay but Chris wants nothing to do with him.
5987: Chris feels all alone after Andrew rejects him as a friend after he admits he has feelings for him.
5988: Libby refuses to allow Ben to attend Callum's 13th birthday party putting Karl & Susan in an awkward position.
5989: Rebecca tells Paul he has to choose between her and Lassiters - he cannot have both.
5990: Declan decides to protect his mother and calls Diana to tell her he agrees to work with her.

5991: Kate tells Declan their relationship is over.
5992: Kate is hurt when she sees Declan and Candace kissing.
5993: Libby makes an official complaint against Michael to the school board of governors.
5994: Will Lyn allow Chris to stay at No.26 despite her concerns that Summer hasn't come to terms with breaking up with him and his 'coming out'.
5995: Paul takes great delight in delivering the news to Diana that she is sacked from Lassiters and he intends Declan to be his next subject of revenge.

5996: Paul begins to understand that Rebecca is willing to turn against him to protect Declan.
5997: Donna looks far from certain that she is going to make her wedding.
5998: Cut from his father's will and rejected, Andrew tells summer he wishes his father was dead.
5999: Diana makes a call - she wants Paul 'taken care of'.
6000: Paul lies critically injured after being pushed of the Lassiters terrace balcony.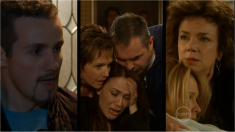 ..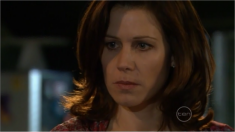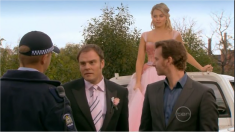 ..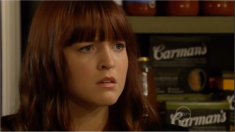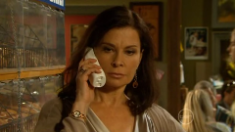 ..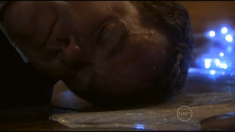 6001: Declan calls Toadie for professional help after the police want to question Rebecca over Paul's accident.
6002: Declan faces hard questions from the police over Paul's attempted murder.
6003: Summer feels responsible when Andrew is arrested by the police for questioning.
6004: Andrew feels betrayed by Summer & Natasha after Natasha's alibi is exposed as a lie.
6005: Summer & Natasha are desperate to stop Andrew as he rushes to find Declan, believing he pushed Paul after seeing the edited footage of the building site accident.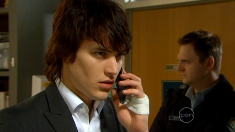 ..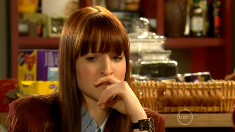 6006: Sonya faces police questioning after her past is exposed that she was previously charged with assault.
6007: Frustrated by the police apparent lack of action, Andrew decides to find his father's attacker, starting with Diana Marshall.
6008: Susan receives an anonymous text claiming that Diana Marshall is not guilty of pushing Paul.
6009: Paul's cheating on Rebecca with Diana makes the front page of the West Warratah Star.
6010: Sonya is stuck in limbo again as Toadie rushes to see Steph to stop her giving up baby Adam.

6011: Steph refuses to allow Toadie to convince her to get Adam back from Dan Fitzgerald and pushes him away by sniping at him.
6012: Libby accuses Steph of giving Adam to Dan as a way to try and gain sympathy from everyone.
6013: Libby & Kate catch Lucas and Steph kissing.
6014: Susan is hopeful that with Paul regaining consciousness it is only a matter of time before the identity of the attacker is known.
6015: Paul can speak again and it is clear he has remembered how he was injured.

6016: Will Rebecca put her own feelings aside to support Andrew and stand by Paul's side?
6017: Steph is intrigued when a chance meeting has her reacquainted with former love Larry 'Woody' Woodhouse.
6018: Steph worries Lyn when she favours living a fantasy lifestyle with Woody in favour of what is going on in her real life.
6019: Kate is angry with Declan after he lies to her about what he has taken from the lost property box at the hospital.
6020: Susan and Declan cannot understand Rebecca's change of heart to stay with Paul and save the marriage.

6021: Rebecca tells Declan & Kate she intends to go to the police and claim she pushed Paul.
6022: Rebecca makes it clear to Paul she is only pretending to want to save their marriage for Declan's sake - she will never love him again.
6023: Summer is devastated when her bid to bring Steph home only fails.
6024: Steph is stunned to find Libby has come to find her.
6025: A terrible freak accident leaves Ringo & Steph fighting for their lives.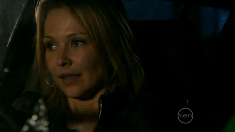 ..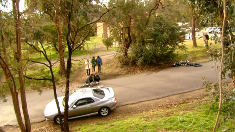 6026: The Kennedy's have to deal with the fact that Steph is being charged with drunk driving and could be a direct cause to Ringo's death.
6027: Donna blames Kate for Ringo's death after the fact Ringo stepped in to save Kate from being hit by Steph's motorbike is explained.
6028: Andrew refuses to have anything to do with Summer as she is linked to Steph.
6029: Natasha enlists Summer's help to stop her father's blossoming relationship with Ruby Rogers going further. 6030: Steph announces she wants to hire her own lawyer rather than use Toadie.

6031: Donna is at risk of missing Ringo's funeral.
6032: Andrew calls an ambulance after finding Paul collapsed and unconscious on the floor.
6033: Natasha is unhappy when Michael asks Ruby to stay on.
6034: Steph resigns from working at the garage rather than make Lucas have to sack her after Elle Robinson instructs him to do so.
6035: Trick & Treat on Halloween has a nasty surprise for Steph when Charlie goes missing.

6036: Kate's opinion that Steph's state of mind and alcohol blood levels contributed to Ringo's death scare Toadie that she could send Steph to jail.
6037: Libby refuses to give evidence that would allow Sam Fitzgerald convict Steph, despite the facts against her best friend.
6038: Declan realises his career is going to force his relationship with Kate & his daughter to take second place.
6039: Natasha blackmails Sophie into helping her secure Andrew as the organiser of the school social event.
6040: Paul backs Sam's campaign to get Steph convicted and sent to jail for causing Ringo's death.

6041: Lyn sacking Kate could ruin Steph's chances of Kate giving a favourable testimony in court.
6042: Kate's date with Mark Brennan is ended abruptly after Declan intervenes and scares Kate after she is reminded she lied to him about Rebecca's alibi.
6043: Michael scares himself after realising he is developing feelings for Rebecca.
6044: Summer is disappointed when Andrew's kiss is revealed to be just a ploy to secure a business deal.
6045: Steph panics when on her way to court she realises she will have to testify in front of Donna.

6046: Sonya challenges Toadie after he goes against Steph's wishes and wants Doug to testify in court for her.
6047: Steph feels betrayed by Toadie when Doug's testimony in court ends up going against her.
6048: Rebecca admits to Michael that Paul is stopping her from leaving her marriage to him.
6049: Susan's admission that she believes Steph should be convicted of killing Ringo leaves Lyn devastated.
6050: Susan makes it clear she blames Steph for Ringo's death but seeing her go to jail is not what she wants. Susan stands by Libby's intention to defend Steph and stop her going to prison.

6051: Steph is found guilty of killing Ringo through dangerous driving.
6052: Steph & Lucas spend the night together, both realising it could be their last.
6053: Rebecca and Michael almost give into their feelings for each other.
6054: Summer seeks comfort with Andrew but feels rejected after finding him intimate with Natasha.
6055: Following the annulment of his marriage to Steph, Toadie takes off for time to be alone.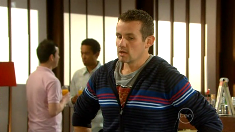 ..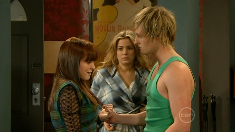 6056: Toadie assures Callum that he will convince Sonya to move into No.30 with them.
6057: Kate is confused when Mark appears to not care about their relationship.
6058: Michael faces a tough decision - admit the thief is Natasha and also risk her being broken hearted over losing Andrew.
6059: Rebecca continues with renewing her wedding vows to Paul despite Declan's objections in a bid to continue to protect him.
6060: It seems Michael is too late to stop Rebecca from leaving for the airport.

6061: Declan face the fact that Paul may be about to tell the police about Rebecca pushing him.
6062: Kate feels torn when Paul wants her to quiz Mark about why the police have reopened the investigation into who pushed him.
6063: Natasha warns Summer off from Andrew.
6064: signs Tim Collins to help try and release Steph but it leaves her at risk of losing everything.
6065: Sonya is fearful for her future happiness when her sister Jade arrives.

6066: Is Lyn about to commit fraud by causing a fire at No.26 to then pay for her legal bills?
6067: Paul pushes Kate too far and she disowns him.
6068: Mark misses seeing video evidence of Kate that proves she was lying to him in the police interview.
6069: Andrew & Summer fail to admit their true feelings for each other.
6070: Summer, Andrew, Natasha & Michael's lives are all in danger as they battle the fire in No.26.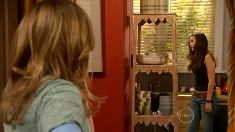 ..