.
Year by Year > 1986: Episodes 171-400


Network Ten airdates: 20/01/1986-05/12/1986
BBC 1 airdates: 30/06/1987-19/05/1988
UK Gold airdates: 28/06/1993-13/05/1994
Number of episodes: 230
Regular Cast: Shane Ramsay, Des Clarke, Daphne Clarke, Jim Robinson, Paul Robinson, Lucy Robinson, Helen Daniels, Eileen Clarke (recurring)
Joining Cast: Scott Robinson (second casting), Madge Mitchell, Tom Ramsay, Nikki Dennison, Charlene Mitchell, Zoe Davis, Clive Gibbons, Mrs. Mangel, Jane Harris, Mike Young
Departing Cast: Zoe Davis, Nikki Dennison, Max Ramsay, Tom Ramsay, Danny Ramsay
Notable Guests: Laura Dennison, Jean Richards, Fred Mitchell, Dan Ramsay, Edna Ramsay
The first Channel Ten episode brought with it many new faces - Madge, Zoe, Clive and Mike, as well as replacing Darius Perkins with Jason Donovan for the role of Scott.
The neighbours are all talking about the new residents who have moved into 22. No one has yet to see them, but Max is convinced that he saw a giant ape in the back garden. After much gossiping, they soon realise that their new neighbour is Clive Gibbons, who runs a Gorilla-gram service.
Over at the Robinson house, Helen's niece Nikki Dennison arrives. Helen is also plotting her revenge against Douglas Blake, who conned her out of all her money, and asks Madge for some help in doing so. Jim gets the news that his son Scott is due back early from his school trip, and wonders what has happened. When Scott doesn't arrive back, Jim learns that he has been accused of rape, and that he has run away so he can avoid arrest. Jim and the rest of the Robinsons are wracked with fear when the police inform them that they have uncovered a body in the bush, and that Jim must identify it. Thankfully, the body isn't Scott's. A few days later, he turns up at the hospital.
Des and Daphne's relationship begins to blossom, and soon after dating, Des proposes to her. She accepts. As Des and Daphne's wedding day approaches, he begins to get cold feet when she is late. By the time she arrives, Des has fled the church, believing that he is jinxed. Zoe finds out that Mike's father regularly beats him. Daphne and Clive agree to take Mike in when he has a huge bust-up with his dad. Madge and Helen's scam to win back Helen's money from Douglas succeeds. However, her happiness is short lived, when her adopted daughter Rosemary arrives and says that she wants to find her real mother, Heather Ambrose - she eventually gets to meet her, but realises that Helen is more of a mother to her than Heather will ever be.
Elsewhere, Shane and Clive, both jobless since Daphne's wedding day, set up their own business - Ramsay and Gibbons Gardening Service (RAGGS). Their first client, Beth Travers, proves to be problematic when she becomes obsessed with Shane and holds him hostage in her cellar when he tries to brush her off. Luckily, nobody is hurt and Shane decides to put the whole incident behind him and move on with Daphne.
Zoe gets a job as Paul's secretary, and now that Des and Daphne have split, Shane decides to move in on his old turf and tries to win back Daphne. Max, meanwhile, goes for a check up and finds out that he is unfit. Convinced he is about to suffer a heart attack, he starts being overly nice to his neighbours, which leaves everyone feeling uneasy. Jim begins to find that he is attracted to Zoe, and the couple share their first kiss soon after spending time together.
Andrea Townsend, an ex-girlfriend of Des' from Perth, arrives to claim that her son, Bradley, is Des', after the pair had a brief fling. Des is won over and allows her to stay, but she and Bradley manage to put most of the street offside with their rude behaviour. Daphne is shocked to learn from Zoe that Bradley is Des' son and feels hurt that he didn't confide in her. Meanwhile, Eileen turns up after a trip away and is astonished by the developments. She is quickly suspicious of Andrea and decides to do a little digging to find out the truth.
Helen invites her sister Laura over to stay. Her motive is to get Laura to spend some time with her daughter Nikki. However, her plan falls flat when the pair do nothing but argue. Just as Laura is about to leave, however, Nikki has a change of heart and patches things up. Laura extends her visit for a few more days, before returning to Charleville.
Daphne shocks the residents when she reveals that she and Shane are engaged. They throw an engagement party, and soon after Des and Daphne have dinner together, and they both realise that they still have feelings for each other.
With Zoe working as Paul's secretary in Lassiter's, Paul begins to fall in love with her. This causes him to argue with his father over her. The Robinsons, along with the rest of Ramsay Street, find out that Clive is actually a doctor when he performs an emergency tracheotomy on Lucy on the dining table.
Scott thinks he sees a burglar breaking into the Ramsay house, and when he runs up to stop the person, he is punched in the jaw. Madge comes running out, and it is revealed that the burglar is her daughter, Charlene. Although Madge and Charlene fight like cat and dog, she is allowed to stay, but must live with the Robinsons for a while. When Danny transfers to a bank in the country, Charlene moves back into the Ramsay house.
Thankfully for Des, Eileen returns from Perth with evidence that Bradley is not his son. However, Des has become increasingly fond of the boy and his mother Andrea since they have been staying with him. He allows them to stay for as long as they need to. Clive organises a pancake competition, in a last-ditch attempt to save Daphne's coffee shop, and Max is determined to beat his sister Madge, and consequently enlists Helen's help. But Madge's mind is no longer focused on the pancakes, when her ex-husband Fred Mitchell arrives. He almost convinces her that he's a changed man, but she realises at the last minute that he'll never change and she decides to get a divorce.
A grouchy customer complains non-stop in the Coffee Shop - it turns out to be none other than the dreaded Mrs. Mangel! A few weeks later, she moves into the street with her husband, Len. Des is determined to get Daphne back, and hires Clive's 'Gift of the Gab' service to do so. The Coffee Shop is re-located to the Lassiter's complex, and Tom Ramsay arrives at the Ramsay house, when Max leaves to reunite with Maria in Queensland.
Love is in the air for several residents, as Scott and Charlene start dating. Zoe announces to Jim that she is pregnant with his baby, and he begs her to marry him. She refuses, and then sadly miscarries a few days later. Des wins back Daphne, and the pair re-plan their wedding day.
Jack Lassiter sells the hotel to the Daniels Corporation, and Andrea agrees to marry him. They leave soon after to begin their new life in Europe. When Nikki is told that her mother Laura has been diagnosed with multiple sclerosis, she leaves to be with her.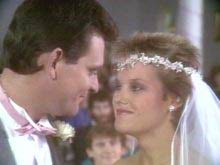 Church bells ring out as Des and Daphne finally tie the knot in a beautiful ceremony. However, the happiness is short lived when Shane's car crashes, killing Tom's good friend Jean Richards. A witness, Alex Carter, sees the accident and gives Shane some brandy to calm his nerves. However, when the ambulance arrives he is given a breathalyser test, and is consequently charged with manslaughter. Shane begins to search for the man, and luckily tracks him down to his new job as a barman at the Waterhole, and clears his name. Meanwhile, Clive's brother Graham arrives and stays in Number 22 with his family, wife Kate and daughter Vicki. When the house is robbed and Vicki walks in on it, the robber tells her not to say anything, or he'll come back and kill her parents. At first, she refuses to talk, but when she sees Alex at the surgery, she tells her dad. Alex attacks Graham and escapes, but a few days later, Clive sees Alex and chases him. Alex is put in prison and Graham, Kate and Vicki decide to return to the country. Graham manages to persuade Clive to go back into medicine and take over his practice.
After losing the baby, Zoe breaks up with Jim, and soon after leaves to be with her ex-boyfriend, Tony Chapman. Mrs. Mangel's granddaughter Jane Harris moves into Number 32 with her, and develops an instant attraction to her neighbour Mike.
Madge is shocked when Charlene brings a baby into her house, claiming it is her own, but is later devastated when she learns that the baby isn't Charlene's, but Susan Cole's. It is worse for her because Susan is her ex-husband's mistress, and she had effectively been helping Charlene raise the child, thinking it was her grandson. Meanwhile, Jane asks Daphne and Charlene to give her a makeover so she can attract Mike. Jane is sick of being referred to as 'Plain Jane Superbrain', and when she walks out looking absolutely stunning, Mike is lost for words.
Madge takes the place of Zoe and becomes Paul's secretary at Lassiter's. When he asks her to learn how to use the computer, she refuses and so Paul ends up moving her into The Waterhole. Clive's faith in himself as a doctor is shattered when he fails to notice that Daphne has meningitis. Des is distraught when she is hospitalised. Zoe returns to check on her friend, and Daphne is finally given the all clear.
The Ramsays are in for a shock when Dan Ramsay arrives announcing that he has left his wife Edna, after 50 years of marriage. Madge uses Clive's 'Gift of the Gab' service to get her parents back together, but Edna has since learnt that their marriage was never legal to begin with, as the celebrant was a con artist. Fortunately, Clive's plan to reunite them works, and as they reminisce about the early days of their marriage, they decide to tie the knot again.
Paul shocks the residents of Ramsay Street when he announces that he has plans to buy Ramsay Street, demolish it, and turn it into an access road for a supermarket. However, when both Des and Jim refuse to sell up, the construction company representative, Peter Smith, turns nasty, and Paul has a change of heart, telling him to get lost.
Daphne and Mike are shocked to learn that Des is friends with football star Warwick Capper. Jane and Charlene decide to try to become cheerleaders for Warwick's team, the Sydney Swans, while Scott and Mike start up a band, hoping to win a newspaper talent contest. Jane and Mike's relationship hits the rocks when Nikki returns and comes between the pair. School bitch Sue Parker phones Scott and, as revenge for Mike turning her down, she claims that Molly Meldrum is interested in their song. When they arrive to see Molly, he has never heard of them. He does listen to their tape, though, and offers Charlene work as a backing singer, but she decides that she'd rather finish school and become a mechanic. Meanwhile, Nikki and Laura return to town for a visit. Nikki tries her best to win Mike over, but he soon tells her that he is not interested in her, as he is seeing Jane now. Helen is distraught when she learns that her late husband had an affair with her best friend, Grace Barnett. She refuses to speak to Laura, who knew about it, before having a change of heart. Helen and Laura leave to visit Rosemary in America.
Jim begins a new romance when he meets Ruth Wilson, an English widow, on a plane. When she is unable to pay her hotel bill, Jim invites her to stay with him and she slowly begins to take over Helen's role within the family. Ruth is embarrassed when it's revealed that she got a bank loan soon after she moved in with the Robinsons, and was only staying as she loved being around the family. Jim convinces her to stay and they begin a romance, though she later decides to go back to England. Madge also starts a romance, with recent divorcee Ray Murphy. She backs off whenever Ray tries to get close to her, and later admits that he reminds her too much of her ex-husband, Fred.
Susan accepts a marriage proposal from Clive, but also begins an affair with Paul. However, Paul has other things on his mind, when he learns that his ex-wife Terry has killed herself in prison and he feels terrible as he refused to visit her when she begged him. Charlene's friend, teenage alcoholic Warren comes between her and Scott, and Scott's irresponsibility is highlighted when he is asked to look after Lucy. He doesn't pay proper attention to his sister, and she runs off and falls down a storm drain, trying to rescue a kitten. A search begins for her, and she is found the next day, terrified and suffering from temporary blindness. She later regains her sight, but doesn't let anybody know, as she is worried that Ruth will leave if she learns that she can see.
Shane and Jane get lost out in the bush one day and end up spending the night out there together. As they realise that they have feelings for each other, Mike suspects something is going on between the two of them. Meanwhile, after a speight of bag snatches, Eileen becomes a victim, and the criminal is revealed to be Kelly Morgan. Daphne divides the community by taking Kelly in and trying to help her and Kelly later makes a fool of herself by trying to win Shane.
As the season draws to a close, Des is worried about his food cravings, and asks Clive what is wrong with him. Clive is pleased to announce that his cravings are sympathetic, and that Daphne is finally pregnant. Meanwhile, Nikki leaves town to go on an American exchange programme. Jim splashes out and Scott a car, but he crashes it the same day and, although it looks like he may never walk again, he ends up with just a broken leg. Dan Ramsay returns and kicks off a feud between the Robinson and Ramsay families, with the Robinsons claiming that Black Jack Ramsay cheated and the street should actually be named Robinson Street. Shane and Mike continue to fight over Jane's affections, having a showdown in the boxing ring, and the Ramsay/Robinson feud spills over to their fight. However, when referee Clive is knocked out during the match, everyone unites to make sure he's ok, and they all agree to put their differences aside for Christmas.
1986 Episode Summaries | 1986 Magic Moments | 1986 Opening Titles
Production Notes
• This was the first year that Neighbours was shown on Channel Ten. Channel Seven axed the show after 170 episodes, and Channel Ten picked it up soon after, which was the first time in television history that a rival channel had continued a show that had been axed from another network. Channel Seven, however, had destroyed all of the sets, which meant Ten had to build some rather cheap ones temporarily. This is why, for the first few months of the show on its new channel, everyone appeared to be redecorating!

Review by Billy