.
Year by Year > 1988: Episodes 638-876


Network Ten airdates: 13/01/1988-12/12/1988
BBC 1 airdates: 20/04/1989-22/03/1990
UK Gold airdates: 12/04/1995-11/03/1996
Number of episodes: 239
Regular Cast: Madge Bishop, Jane Harris, Mike Young, Gail Lewis, Jamie Clarke, Harold Bishop, Henry Ramsay, Des Clarke, Jim Robinson, Paul Robinson, Scott Robinson, Helen Daniels
Joining Cast: Edie Chubb, Bronwyn Davies, Sharon Davies, Todd Landers, Katie Landers, Gloria Gardner, Joe Mangel, Toby Mangel, Nick Page
Departing Cast: Eileen Clarke, Mrs Mangel, Charlene Robinson, Tony Romeo, Sally Wells
Notable Guests: John Worthington, Mark Granger, Nina Williams, Steve Fisher, Malcolm Clarke, Hilary Robinson
Neighbours was now established and truly came of age, introduced new stars, and was just about to show how much potential it had in a year no one would forget...
The year starts with Jane, Mike, and Scott trapped out at sea on a model shoot - Scott swims back to shore, but when the other two are rescued and Scott isn't found, he is presumed dead. Although Jim blames Mike and Jane, Scott does make a return and passes his exams, all of which causes Charlene to faint!
Des' parents, Eileen and Malcolm, start dating again and he even proposes to her. She accepts and Des is thrilled. However, on the day of the wedding Mrs Mangel accidentally gives Malcolm cold feet, and he calls the wedding off. Eileen is devastated, and Mrs Mangel never tells her the truth.
Madge wins a car in a raffle, and arch nemesis Mrs Mangel has to tell her the good news. As Madge does not know how to drive, Henry decides to teach her - against other friends' warnings. It all goes wrong however when she ends up hitting the fire hydrant, soaking Eileen, Mrs Mangel, herself, and Henry. Later, Helen also tries to teach Madge, but it just ends up with the pair arguing, so Madge gives up and sells the car.
Jim and Beverly Marshall get married at Number 26, where Paul and Gail renew their vows. Katie and Todd Landers, Beverly's neice and nephew who turned up for the wedding, darken the party when they run away from Erinsborough. Luckily, they are later found by the Ramsay Street residents, and end up living at Number 26.
While working on someone's car, Charlene finds an old coin worth quite a bit of money. She leaves it in the drawer at Number 24, but Katie is given it accidentally by Henry. Then, Katie gives it to Mrs Mangel! Charlene tries everything she can to get the coin back from Mrs Mangel, especially after she almost uses it in a phone booth. However, in the end Charlene gives it back to the owner.
Scott ends his gardening business with Henry and goes into business with his father. Scott finds out that boss Ross isn't as honest as he seems, and exposes him to the police. Ross later burns the factory down, and Jim gets an apprenticeship at the garage with Rob Lewis.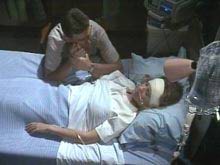 Daphne has been away caring her sick father. Coming back from his funeral, her car (with Jamie and Gail inside) is involved in a horrific accident. Gail and Jamie are fine, but Daphne remains in a coma. Des is adamant that Daphne will pull through, despite his friends and family in Ramsay Street not being so sure, and he eventually admits to Paul that on the outside he is acting fine but on the inside he is being torn apart. After months of remaining in a coma, Daphne suffers cardiac arrest and dies in hospital, leaving Des devastated. He remains in a deep depression for weeks, and his friends and family help him through it. He especially realises that "life must go on" when young Katie Landers calls him 'Clarkey', not knowing it is the name that Daphne called him. Mike talked to the guys responsible for Daphne's condition, and they subsequently claim that Mike bashed them, and he is put on trial. However, Henry and Scott form a plan, which exposes the faking the of injuries, and Mike is let off with a good behaviour bond.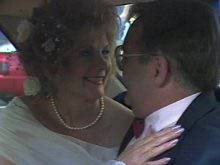 Lovebirds Harold and Madge have a very rocky road to the altar. Harold calls off the wedding early on in the year after he loses all his shares, devastating Madge who insists that she doesn't care that she won't have a big wedding. Harold vows to give Madge what she deserves, and Madge briefly heads up to Brisbane for a while to visit her parents. Whilst Madge is in Queensland, she starts seeing someone behind Harold's back. Just as Madge tells Harold of what she has done, the man shows up and turns out to be an old enemy of Harold's - Lou Carpenter. Since high school, the two both had fought over Madge. They argue and argue until Madge throws a bucket of water over them both. Harold proposes to her again later, and she accepts. Scott, Charlene, and Henry decide to give Madge and Harold the biggest wedding ever... when she finds out about it, though, she makes them ring all the relatives they had invited and cancel the plans. She eventually gets married, with Charlene as bridesmaid and David Bishop, Harold's son, as best man. Sally and Eileen leave for a trip around Europe after the reception.
Paul discovers he has a child from a fling with old flame Nina, a four-year-old called Amy. Gail accuses him of now not wanting to have any children, but he assures her that he still does.
Shortly after Daphne's death, Jane discovers feelings for Des, and dumps Mike. Her gran tries to make Jane see sense, as does Mike, and Jane is deeply upset and embarassed when Des finds out and tells her he isn't ready for another relationship.
Harold starts writing the advice column "Dear Georgette" in the Erinsborough News. Mrs Mangel gives him a few stern words when she finds out, but when Harold quits she becomes the new Dear Georgette. Nell also meets John Worthington, who takes a shine to her and her to him. However, through the coloumn Mrs Mangel advises John to propose to her. When John finds out he is disgusted and leaves her.
After returning from Brisbane, it is obvious Scott and Charlene are having problems. Scott tells everyone that Charlene had an affair in Brisbane with Steve Fisher. He turns up in Brisbane and gives her driving lessons, and although Charlene has a brief affair with him she realises it isn't worth it and goes back to Scott. However, Scott isn't so willing to forgive and forget. At the Erinsborough 50's Night, the pair make up.
Des hires Bronwyn Davies as his babysitter. Henry is instantly attracted but Mike gets her, though their relationship doesn't last too long and she goes for Henry instead. On Jamie's first birthday, Bronwyn's sister Sharon arrives. They both end up staying at Number 32 with Mrs Mangel.
Scott, while writing a report about the Ramsay family, discovers that Ramsay Street should really be named Robinson Street. He discovers this when he finds a diary talking about a card game between Jack Ramsay and 'great grandfather' Robinson, in which Ramsay got his 'usual four Jacks', suggesting that he cheated. It sends the whole street into an uproar. The Robinson/Ramsay feud starts up and Todd and Katie change the street sign to Robinson St [a storyline which would later be used again with Hannah and Claire in 1997]. The street decides to settle it over a card game between Scott and Henry. Charlene fixes the cards (with help from a distraction by Madge's father Dan), and Henry wins. When Charlene tells Scott later, he is angry and demands to know what henry actually got. Henry checks the cards (which he had put in his coat pocket), and discovers that he, in traditional Ramsay style, had gotten four Jacks.
Dan Ramsay offers Scott and Charlene a house up in Brisbane. After fussing about for a bit, Charlene agrees to take the house while Scott says he'll go up as soon as he finds work there. Charlene leaves Erinsborough after saying goodbye to all her friends and family in Ramsay Street.
A gun is found in Mrs Mangel's yard. After questioning her over it, Jane discovers that it belongs to Joe, Jane's uncle and Nell's son. Joe and Mrs Mangel had been estranged for years, and with Henry's help, Jane attempts to pair the stubborn pair together, eventually succeeding. Joe moves in to Number 32 with Jane and Mrs Mangel.
Meanwhile, Erinsborough has been affected by a spate of graffitti, especially at Jim's workshop. The culprit is caught by Todd and Henry, revealed to be Nick Page. Helen realises that the teenager isn't as bad as he seems, but just been having a batch of problems recently, with his gran's bad health. After moving in to Number 26, he starts up a romance with Sharon Davies.
Sharon scores a job at The Coffee Shop working for Harold. One day she is offered a cigarette by some friends from school, but throws it in the bin. When Des, Bronwyn and Jamie are strolling past later, they realise that the shop is on fire. Des rushes in and Bronwyn calls the fire brigade, but the shop blows up. Luckily, Harold saves the day and rescues Des. Nick takes the blame but Sharon spills the beans to Harold eventually. Joe Mangel revamps the shop afterwards.
Sharon and Bronwyn's Aunt Edie arrives in town and promptly tries to get Bronwyn and Sharon back to Narabri and stop their relationships with Mike and Nick, respectively. Edie also plans to buy No. 30 (which had been empty since 1985). Sharon is distraught at the idea of her aunt moving in next door to her, so dresses up and goes to the house auction. All Sharon was trying to do was to raise the house bid high enough for Des (who was representing Edith) to stop bidding and for someone else to win, but she ended up winning! However, all is settled, Edie gets the house, and moves back to Narabri.
A cake-fest is held in Erinsborough. Mrs Mangel, Sharon, and Madge have all put in entries - although Nell greatly doubts Sharon's will get anywhere, and continues to brag. Sharon is sick of her complaining and sabotages Nell's cake with vinegar. Henry meanwhile mistakenly runs over Madge's entry, and replaces it hastily, making Sharon her unexpected winner! Mrs Mangel takes up fortune telling and predicts bad things for Beverly, but predicts Katie will win something - and she ends up with second prize in the raffle. And when she finds out about how Sharon sabotaged her cake, she throws both Sharon and Bronwyn out of her house! The pair soon move to Number 30, to live with their aunt.
Beverly is desperate for a baby. She thinks Jim doesn't want one and almost commits suicide after mistakenly hearing him say something. She does, however, fall pregnant, but Mrs Mangel's prior fears are proved true when she loses the baby after being mugged.
John Worthington and Nell meet up again and start to rekindle their romance. However, Joe, who has heard of Nell's version of what recently had happened, throws him out the house when he comes to visit. However the two make up, and after getting married, and Madge catches Nell's bouqeut... which causes Nell to start an argument as Madge is already married! On a re-throw, Katie catches the bouquet, and Mrs Mangel says a final goodbye to Jane, Joe, Bouncer, and the other residents before setting off for England.
After being accused of almost killing Jamie, Todd runs away with a bad influence, Skinner. Todd starts to steal, making secret phone calls to Katie. Helen suffers a stroke and when Todd hears of the news he returns home.
Jim finds a statuette, to which the identical twin could make it worth $80,000. The only problem is that his cousin Hilary has the matching item and she's still holding a grudge on him for wrecking her doll when she was a child. However, Katie accidentally sells one statue at a garage sale and Henry and Joe accidentally break the other one!
Towards the end of the year, Jane finds love with Mark Granger, and Joe's son Toby shows up. In the 1988 season finale, while at a Christmas Party at the Robinson house, Jane accepts Mark's propsal.
1988 Episode Summaries | 1988 Magic Moments | 1988 Opening Titles
Review by Joe