.


Interviews
> Joy Chambers
Last seen in Ramsay Street accompanying Hannah Martin on her trip to France, Rosemary Daniels made guest appearances each year from 1986 to 1998. This week, she's back in Erinsborough as part of the 20th anniversary celebrations and we caught up with Joy Chambers to find out how her return came about, and her thoughts on the current celebrations...
After a gap of six or seven years, how did the return to Neighbours for the anniversary episodes come about? Did it come out of the blue?
Yes it did come out of the blue from the line producer, the outstanding Linda Walker who is just a lovely human being and she asked me via email if I would be interested in returning to the show for the week of Neighbours' 20th anniversary. Well, as it turned out it was being recorded in Melbourne when I was actually home in Australia on business and so the timing was perfect. So I learnt my lines and turned up on the day!
How did it feel to be reunited with the other returning cast members for the special episodes?
It felt as if I had never left. The years rolled away and it was the same as always even though many of us had gone on to other roles or other shows or other lives, etc. It was just as if no time had passed at all.
What did it feel like to step back into Rosemary's shoes again?
Stepping back into Rosemary's shoes is easy for me because I know her so well. I played Rosemary Daniels for 13 years so she is a true alter ego. And because she is such a strong character with such definite ideas she is a joy to play.
Do you think Neighbours has changed since you last appeared in 1998?
Yes and no. You could say the storylines have altered, that they are sometimes grittier and that some of the characters are angrier people: that would be the 'Yes'. The 'No' side would be that there are still the marvellous likeable characters whom the audience relate to and love to follow, in the form of Harold Bishop (Ian Smith) Lou Carpenter (Tom Oliver), Karl and Susan Kennedy (Alan Fetcher and Jackie Woodburne), etc.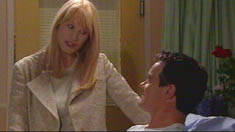 Tell us a little about the filming of the anniversary episodes, which included a traditional Aussie barbecue out on Ramsay Street. What was the atmosphere like on set as characters old and new came together to mark 20 years?
The atmosphere on the set for the anniversary show was that of a very happy reunion. It was just terrific to catch up with some of my favourite people: Ian Rawlings, Stefan Dennis, Mark Little and Terry Donovan and to see how we had all been written back into Annalise's documenatary day! The current cast still included actors we all knew and everybody got along. But that's the way the Neighbours cast has always been, like a big family of genuinely likeable people. The actual anniversary barbeque was shot on a really hot day in Ramsay Street and because the episodes in Australia went to air in winter we were in warm clothing! I was wearing a velvet coat, a glamorous item but oh, so, hot! I remember sitting between takes under an umbrella with Kimberley Davies who played Annalise, and we were both perspiring and having to drink iced water. Mark Little was sensible - he wore a huge hat!
Which other former cast members would you have liked to see return for the occasion?
I would have loved to see one there who could not possibly be there: Anne Haddy who played Helen Daniels, Rosemary's mother, a fine actress and a fine person, and a dear friend of mine, I miss her. Although it was very good to see her husband, James Condon at the end of week party.
Have you seen the reunion episodes yet? If so, what did you think of them?
I have seen them and they are wonderful. The storyline for the reunion worked very well. And considering the time which had gone by, I reckon we all passed muster.
A big birthday party was held around the time of the filming of the episodes, did you attend? If so, can you tell us a little about it?
I was not in Australia for the big birthday party but I have it on excellent authority that it was a smashing success.
Now that Paul Robinson is back on the series as a permanent fixture and once again running Lassiters, do you think we might see Rosemary back in Erinsborough again at some point?
I was very glad to see Stefan back on the set. The Paul character is explosive and he plays it so well. As to Rosemary's return? At this point I have not been asked... But you never know!
Finally, what do you think accounts for the 20 years of success Neighbours has enjoyed?
Neighbours' success is due in the beginning to two remarkable men: Reg Grundy and Reg Watson. The show was Reg Watson's brilliant idea, and Reg Grundy, who is a powerful salesman, sold it in Australia and then in England to the BBC. We can all have opinions on why it has lasted, but the fact is the longevity of Neighbours has been one of those showbiz miracles. It's about ordinary people in an ordinary street, but are they really ordinary? I don't think so. The fact that they are a tiny bit exceptional and we know them so well, keeps our attention year after year.
Interview by Moe. Added on 15th October 2005