.
Interviews > Kate Gorman
Kate Gorman found herself becoming one of the most unpopular figures in soap when she stepped into the role of school bitch, Sue Parker, in 1986. Her attempts to come between some of the most popular couples in Erinsborough were legendary, and, here, Kate shares some memories from her time in Neighbours.
Could you give us some background on your career before your role in Neighbours?
I come from a family of actors and grew up under a dressing room table! My first role was when I was six in the TV series about World War Two called The Sullivans which my father was a main cast member of, the producers knew he had a daughter and asked him if I would do the role. I did the odd roles in children's TV series for the ABC, then when I was 15 I got the lead role in a TV series call The Zoo Family which we filmed for a year and I went from that into Neighbours while finishing high school at the same time.
How did your role as Sue Parker come about? What do you remember of the character and your time on the show?
I actually auditioned for the role of Charlene when Neighbours transfered from Channel 7 to Ten and they had cast change over, (obviously I didn't get it!) apparently it was between Kylie and myself, the producers remembered me and when the Sue Parker role came up they offered it to me. It was only meant to be for a month or so but the character kept on getting written back in over the next year and a half. Most of my memories were of racing from school to rehearsals or an early morning taping to math's class, I was doing my VCE and it was tricky balancing Work, school, learning lines and writing essays. It did make me very good at learning lines, I used to do it in the cab on the way to work, I could read a scene three times and know it, a skill I still have!
Sue was very much the bitch, there to cause trouble for the popular young characters. Did you get any negative feedback from the public because of this?
Yes there were a couple of incidents, at school I was teased a bit, not but the students in my year but younger years. But the most bizarre incident was at Flinders Street station (main railway station in the city) when a girl came up to me and said "Hey Sue Parker, leave Charlene alone or I'll thump you", and then she pushed my over on the platform, hilarious really that someone could take it all the seriously. I never had negative fan mail though, only nice mail.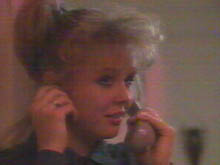 Your sister, Charmaine, appeared as Vicki Gibbons for some of the time you were appearing. Did your paths ever cross during filming? How did it feel to be working on the same show as your younger sister?
We never had a scene together but certainly worked on the same day a couple of times and shared cabs home. I love working with my family especially Charmaine and that was the first time of many. We played sisters in the musical Seven Little Australians and I have directed her in two plays and a movie, she is one of my favorite actors.
When Sue returned in 1987, working as a bank teller, she was much nicer. Did you enjoy reprising the role so many times? Was there ever any talk of Sue becoming a regular character?
That return was just one of the many returns that Sue had, maybe there had been a longer gap in-between, I don't remember, but that was when she then turned nice and went out with Henry and lived in the caravan with Charlene that Alex Papps then blew up! That's all I remember. There was some talk of me coming back again (I seem to remember I had run off with Warren, played by Ben Mendlesohn) But my parents had a talk with me about maybe just finishing school, and then I straight away got two movie roles so had moved on.
Who did you most enjoy working with at the time?
Craig and Guy were the most fun, I knew and had worked with Kylie before on The Zoo Family and Anne Charleston is an old family friend.
Do you have any specific memories of working with Kylie and Jason as the popularity of the show was beginning to grow?
Probably the only interesting one is I remember when Kylie had done a demo tape singing some Olivia Newton John song and she played it to me in the green room, and I thought, "Hey she can sing!". I also remember the first Logies when they both won most popular awards and we were starting to get a sense that the show and these two were going to be big.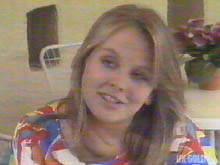 What have you been up to since your time on the show?
Oh well, it's been years! I've continued working in film, television and theatre in Australia, I lived in the UK for 4 years in the early 90s and did pantos and summer seasons. I also work as a writer in television (sketch comedy). I am now married, have a daughter and another one on the way, we are in the UK currently for my husband's work. Three years ago I retrained as a director for film and television and have just directed my first feature as well as continuing to work as an actor.
Have you made any good friends from the cast and crew during your time on Neighbours, and do you still keep in touch with anyone from the show?
Anne Charleston is still a close friend, I recently employed Annie Jones in my movie, she was fantastic! And others from the cast you may see occasionally when you bump into them on a show. I have seen Guy recently but not Jason or Kylie for years.
With the show fast approaching its 20th anniversary, do you have any thoughts on why it's been so successful?
No, it's a mystery, and a much pondered question, but it would be sad to see it go.
Interview by Barry. Added on 2nd April 2005