.
Interviews > Darren Gray
Born in England, journalist Darren Gray took his love of Australian soap operas to a new level. Moving from television presenter to theatrical agent and from England to Australia and back again, his company Darren Gray Management represents the stars of Neighbours and many other Australian shows here in the UK and is the man we have to thank for many a Neighbours-packed panto season. Here, we caught up with Darren to ask him a few questions about his work, the Neighbours cast and the show itself...
Firstly, can you tell us a bit about yourself and how you came to work as a theatrical agent?
I began my career working as a television presenter in the UK for the Wire TV cable network. I went out to Australia to send reports back for the channel and whilst I was Down Under the network was closed down. It was a case of being in the right place at the right time as I met Joy Hruby through a mutual friend in Sydney. Joy had been a theatrical agent since the 1960s and was about to retire - I convinced her not to retire and bought into her business. I was fortunate to learn the craft of being a theatrical agent from an expert in the field.
How did you become involved with representing the Neighbours cast in the UK?
After several years working as an agent in Australia it struck me that the real demand for Australian actors was in the UK due to the continuing popularity of the Aussie 'soaps'. As such I returned to England in the 1990s and established Darren Gray Management - this agency is still the only one in the UK to specifically represent Australian talent over here. At the time several Australian actors had been 'ripped off' by rogue British agents and as I was known and trusted in the Australian entertainment industry it made sense for visiting actors to come direct to me if they wanted to work in the mother country.
Which Neighbours actors have you represented over the years?
The list is endless. I represent Alan Coleman who was the executive producer of Neighbours for a time and I have worked with so many of the cast members over the years that I simply couldn't name them all but they have included Rebecca Ritters, Ian Rawlings, Gwen Plumb, Krista Vendy, Daniel MacPherson, Jaime Robbie Reyne, Brooke Satchwell, Jacinta Stapleton, Chelsea Blake, Ryan Moloney, Paige Alcock, Maggie Millar, Natalie Blair, Eliza Taylor-Cotter, Lara Sacher, Elisha Gazdowicz... Just a few examples for you - as I say too many to mention.
Apart from Neighbours, what other programmes do you manage cast for?
I manage cast and crew members from many other hit Australian shows including Home & Away, The Young Doctors, Heartbreak High, Sons & Daughters, Prisoner: Cell Block H, Class of 74, The Sullivans, Out of the Blue - again the list goes on and on.
What does your average day's work entail?
In this business no single day is ever the same, however it's always an early start due to the time difference between the UK and Australia which means a couple of strong cups of coffee and a good few cigarettes to get myself right for the numerous phone calls and e-mails with Australia during the early hours of the morning. As the morning progresses I'll be dealing with casting directors and will be sorting out auditions for my various actors as well as negotiating contracts for jobs which they have been offered. I'll also be dealing with the media arranging press interviews and during the evening will often be at the theatre watching productions in which I have actors appearing. So pretty long days and weekends are often spent at the theatre or meeting actors as during the week I don't have time to fit everyone in. An agent needs to be on call 24 hours a day, seven days a week so it's not a vocation suited to everyone.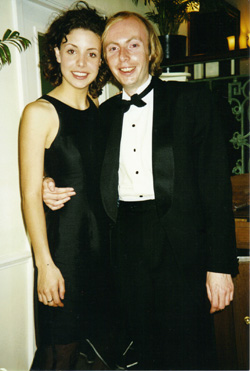 How do the roles in panto come about? Are specific requests put in for actors and if so, who are the most requested?
This situation varies but as a general rule an Australian actor will contact me to say that he is interested in coming over to the UK to work or his Aussie agent will contact me on his behalf. I will then contact the pantomime producers in the UK and negotiate a contract should one of those producers be interested in casting that actor. It is very rare these days for pantomime producers to request specific Australian actors - it's really down to the agent (me) to sell the production company on why they should cast a particular artist.
2003 & 2004 saw news of the ill-fated OzSoap 2003 convention and UK free-to-air channel Aussie Gold. Can you tell us a little bit about what happened and what we could have expected from them?
Oz Soap 2003... I was approached by the event organiser who wanted to hire some of my actors to appear at his event. It sounded like an excellent idea and all seemed above board. Then he disappeared and the event was cancelled - none of the actors were paid and we never heard from him again. I did make every effort to track him down but without success.
Aussie Gold... A consortium of investors were looking to launch a free-to-air Australian themed channel in the UK. I was approched to consult as Director of Programming given my long standing relationship with the various Australian production companies and distribution outfits. I completed my contract as agreed with them however unfortunately they never did manage to get the channel off the ground as one of the major investors saw his core business go down the shute. I still believe that this style of channel would be a winner in England however another outfit has since attempted to launch such a station without success - let's just hope that one day we do get a channel showing classic and current Australian drama - at the very least one of the current digital channels could repeat some of the classic Aussie 'soaps.' It amazes me that those stations haven't recognised the huge untapped market of Aussie soap fans out there.
Would you ever consider organising another event such as OzSoap if the funding could be secured?
I wasn't involved with organising Oz Soap 2003. We were simply supplying actors that we represented to appear at the event as we would do with any other producer casting a show. If something similar were to arise of course I'd be prepared to talk to the event organisers however sadly I fear that after the Oz Soap fiasco that most actors would be cautious about committing and indeed fans would be very reluctant to book tickets. Once bitten, twice shy as they say.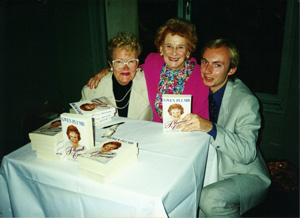 In 2006, you published your story 'Why not cast an Aussie?' which gave an insight into life behind the scenes of the industry. How did that come about?
The opportunity came up to write a book and I always believe in grabbing every opportunity. I enjoy writing and in fact have written many magazine and newspaper columns over the years, I currently write a weekly column for the Australian Times newspaper in London. The book gave me the opportunity to talk about some of the amazing people that I've been fortunate enough to work with over the years and also to share some advice with those wishing to break into the entertainment industry. The book has proved to be very successful and can be ordered via Amazon.com.
What can we expect to see from Neighbours stars in the UK this year?
Well we do have a few things in the pipeline including a new book from someone who was involved with the show and I am already in negotiations for the next pantomine season so watch this space!
With Neighbours now in its 25th year of production, do you have any thoughts on why the show has lasted so long?
When Neighbours launched in the UK it filled a much needed gap in the market. The British television networks were awash with gritty and some would say depressing locally produced 'soaps' and way over the top offerings such as Dynasty from America.
Neighbours offered viewers escapism and the dream of a better way of life - a way of life that they could actually aspire to where everyone had a swimming pool and where the sun was always out. The pacey upbeat storylines and good looking young actors combined with the strong older performers appealed to viewers across the board - viewers from kids through to pensioners were hooked. Reg Watson is indeed a master at what he does and he devised a show which he knew would work on this side of the world. The efforts of people such as Jan Russ have helped to keep the show fresh and as long as it continues to feature characters which the viewer cares about and storylines to which that viewer can relate then it will run and run.
Interview by Callum. Added on 14th March 2009