.
Neighbourhood > Places > Angus' flat

Angus' flat 2008
Residents: Angus Henderson (2008), Rachel Kinski (2008)

After his release from prison, following his relationship with his 16-year-old student Rachel Kinski, former teacher Angus Henderson found himself shunned by his family, but couldn't be released on parole without somewhere to live. Though Rachel wanted him to move in with her family, it was arranged with the Salvation Army for him to be placed in an emergency flat. It wasn't long before his release was mentioned in the newspaper and the word 'PERV' was spray-painted on the front of the flat, then, as Angus and Rachel enjoyed an evening in, a brick was thrown through the window. Realising the problems he was making for Rachel, Angus decided to skip town, until she sent him a message which made his reconsider. He returned, and they moved in together, though Angus struggled to find work, and the power in the flat was switched off. In the end, Angus realised he'd have to leave Erinsborough to find work, and Rachel, at the last minute, chose to stay with her family.

Trivia Notes
• The set for Angus' flat was the same one that had been used for Carmella's apartment, the Napier house, Karl's apartment and Libby & Drew's flat


Key moments (with episode links where available)

Rachel finds out that Angus has left town without her


Gallery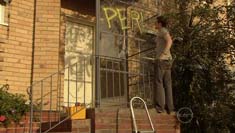 ..