.
Neighbourhood > Places > Freedman apartment

Freedman apartment 2008
Residents: Donna Freedman (2008), Sergeant Matt Freedman (2008)

Located close to Erinsborough, this modern apartment was shared by Donna Freedman and her father, Matt. Father and daughter didn't have a close relationship, but she had stayed with him following her parents' divorce. When Donna was involved in a hit-and-run accident, Matt forced her to keep quiet about it, destroying evidence and intimidating witnesses to protect his daughter and she received visits from concerned friends. In the end, her guilt got to her and she went to the police station to own up, but Matt caught her and stopped her.

The hallways of the apartment block opened directly into the apartment's lounge room, which was the only area shown on screen, and featured a large black and white print of a cityscape and chunky wood shelving.

Key moments (with episode links where available)

None


Gallery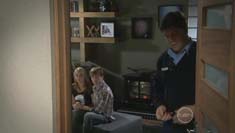 ..