.
Neighbourhood > Places > Power Road > Grease Monkeys

Grease Monkeys 1999-
Address: Power Road, Erinsborough, Victoria, 9571
Owners: Portia Grant (1999), Don McCredie (2000), Dennis Dimato (2015)
Managers: Desi Grant (1999), Harold Bishop (2000), Madge Bishop (2000), Ken O'Connell (2009)
Employees: Sophie Ramsay (2012), Sky Mangel (2003), Felicity Scully (2000), Tad Reeves (2000), Paul McClain (2000), Tim Harrison (1999), Libby Kennedy (1999; undercover journalist)

Opened by Portia Grant in 1999, opposite Lou's garage, Carpenter's Mechanics, Grease Monkeys was designed to appeal to the youth of Erinsborough, with a 50s American diner design. The restaurant was managed by Portia's daughter, Desi, and employed various Ramsay Street teens, including Libby Kennedy, who pretended to be younger than she was in order to score a job and expose the terrible working conditions for an article in the Erinsborough News. Before the article was even complete, Grease Monkeys went bust, with the investors pulling out, and was forced to close down.

The following year, Madge and Harold Bishop, whose Coffee Shop had suffered a drop in business after Grease Monkeys opened, decided to take over the running of the Erinsborough branch, for owner Don McCredie, employing young Felicity Scully, Paul McClain and Tad Reeves. The opening day for the Bishops proved to be a disaster, with Don's son, Rob, watching and taking notes on all the mistakes made by the waiting staff. With the Bishops on a two-week trial period running the business, Rob proceeded to blackmail them into paying him for some extra consultancy, or he'd have to give his father poor feedback. Backed into a corner, Harold agreed to meet Rob to pay him $500, only to reveal that he'd been taping their conversations, and unless Rob left them alone to run the business, he'd send the tapes to Don. Later that year, the opportunity came up to buy the Erinsborough franchise, with Madge and Harold considering it, but pulling out at the last second when they realised that the broker handling the sale had been conning them.

By 2003, Grease Monkeys had new owners and a new manager – Richard Hafner – who employed strong-willed Sky Mangel, and forced her to join in with the staff group dances whenever the jukebox played. Only a few days and several dressings down later, Sky quit her job. Grease Monkeys also briefly became a regular hangout for the youngsters of Ramsay Street again in early 2005, when the Lassiter's complex was rebuilt following a fire.

In 2012, Sophie Ramsay started work at Grease Monkeys, however resigned after one shift having negotiated a better position and pay at Lassiter's with her Uncle Paul.

In 2015, shady businessman Dennis Dimato revealed to Paul Robinson that he had bought Grease Monkeys and the neighbouring shop, however his assets were later sold after his arrest.

Key moments (with episode links where available)

A jealous Michelle tips a drink all over Dee, who is having lunch with Joel
Sky is excited when one of her idols, Dr Karl Kruszelnicki, visits to film outside the restaurant
Dan Fitzgerald borrows Grease Monkeys' CCTV footage and spots Johnno Brewer tampering with the Parkers car.


Gallery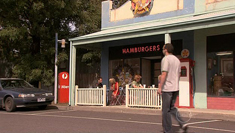 ..