.
Neighbourhood > Places > Rhys' apartment

Rhys' apartment 2011
Residents: Rhys Lawson (2011)

This modern apartment in which Dr. Rhys Lawson resides, was first seen as Kate Ramsay woke up in unfamiliar surroundings and was offered a cup of coffee from a stranger. Declining breakfast, Kate struggled to remember the name of the man she spent the night with. Looking around for any clue of his identity, Kate was relieved when he eventually left for work, putting his number into her phone before he departed. Checking the phone and seeing the number marked as 'unknown', she continued to rack her brains, eventually having a flashback to him introducing himself as Rhys in Charlie's the night before.

Only the bedroom and the hallway outside was shown on screen.

Key moments (with episode links where available)

Kate Ramsay can't remember Rhys' name after spending the night


Gallery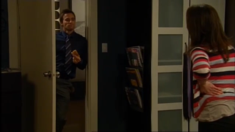 ..