.
Neighbourhood > Lassiter's > The Waterhole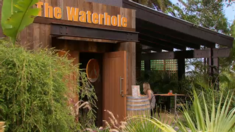 The Waterhole 2014-
Owners: Paul Robinson (2014-2015, 2015), Quill Group (2015, 2015-2016), Terese Willis (2016-)
Managers: Sheila Canning (2014-), Nate Kinski (2015-2016)
Employees: Ned Willis (2016), Stephanie Scully (2015-2016), Courtney Grixti (2015-2016) Kyle Canning (2014)

In early 2014, Paul Robinson enlisted his niece, Kate Ramsay to help him with his plans to redesign Charlie's. Following Kate's shooting shortly afterwards, the plans were brought forward by Lassiter's Complex manager, Terese Willis, due to Paul trashing the bar in grief. The new design used natural timber and patina'd steel to give an industrial feel with increased natural light provided by a vertical garden courtyard.
As the day of the re-opening arrived, Paul had not let come up with a new name for the bar and came under pressure from Terese to choose one, with bar manager, Sheila Canning suggesting the name "Sheila's" after herself. However, Paul received some last minute help from his late niece as a parcel arrived at Lassiter's that had been ordered by Kate before she died, a sign for the new bar, with Kate having been inspired by Jack Lassiter's visit the previous year to revert to the name of the complex's original pub, The Waterhole.
In 2015, the bar was sold as part of the complex to the Quill Group when Paul was tricked into believing he was dying by Dr. Nick Petrides, but soon bought it back, however by the end of year as the bank called in Paul's loans, the Quill group quickly became owners again.
In 2016, following Julie Quill's arrest for causing the hotel explosion, Terese Willis became owner of the complex, including the hotel and The Waterhole.
Previously...
Charlie's 2007-2014
Owners: Stephanie Scully (2007-2008), Elle Robinson (2008-2011), Serge Pavlov (2011-2012), Paul Robinson (2012-2014), Andrew Robinson (2012-2014)
Managers: Sheila Canning (2013-2014), Kate Ramsay (2012), Celeste McIntyre (2012), Rebecca Napier/Robinson (2008-2011)
Employees: Pete Clark (2013), Sheila Canning (2013), Kate Ramsay (2012), Natasha Williams (2010, 2012-2013), Leigh [Nick] Nixon (2010), Donna Brown (2010), Kim Ladle (2010), Kyle Canning (2010, 2010-2011), Toby (2010), Adrian (2010), Declan Napier (2009-2011), Lou Carpenter (2009), Ringo Brown (2009), Ty Harper (2008-2009), Animal [unseen] (2007), Valda Sheergold (2007-2008), Kirsten Gannon (2007-2008), Justin [unseen] (2007), Boyd Hoyland (2007)
Following her separation from Max, Steph wanted to put her own mark on the bar, employing Adam Rhodes to completely renovate it, removing the exposed steel and giving it a much warmer, more welcoming feel. The previous 'island' bar was replaced with a much bigger bar, whilst the office was set further back, increasing the space. The new look includes vertical wooden bars, sofas and various styles of tables and chairs. Whilst Scarlet Bar's signature red walls remained, the blue and steel was replaced with warmer, earthier tones such as taupe and chocolate brown. Meanwhile the lighting was made more natural, with lamps and uplighters replacing the spotlights of Scarlet Bar. Steph also renamed the bar, Charlie's, in honour of her son. After 18 months running the bar, Steph decided that she needed to do something new with her life and, coincidentally, so did Rebecca Napier, who had just quit her job as Toadie's legal secretary. Though Rebecca couldn't afford to buy it, Elle Robinson agreed to put up the cash, with Rebecca paying her back over time.
In 2010, as part of renovations at the Lassiter's Complex, a new canopy was added over the main entrance. In addition, the kitchen was fully refurbished and the patio chairs were replaced.
In 2012, Paul Robinson was looking for a joint venture for he and his son, Andrew. Knowing that Charlie's owner, Serge Pavlov, was looking to sell he made a successful offer, with Andrew taking over the day to day management of the bar. Suffering from Epilepsy following a car accident, Andrew quickly instructed the removal of the strobe lighting from the bar.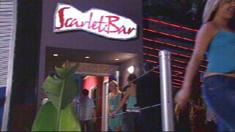 Scarlet Bar 2005-2007
Owners: Max Hoyland (2005-2007), Stephanie Scully (2006-2007), Izzy Hoyland (2005-2006)
Employees: Boyd Hoyland (2006-2007), Janae Hoyland (2006-2007), Frazer Yeats (2006-2007), Will Griggs (2006-2007), Dylan Timmins (2006-2007), Stingray Timmins (2006), Kim Timmins (2005), Connor O'Neill (2005), Sindi Watts (2005)
Now in business with his sister, Izzy, the siblings planned a new modern wine bar to replace Lou's Place. The new bar used a modern scarlet and stainless steel colour scheme with steel structural columns left on display and corrugated iron panels give an industrial feel. Light wood and steel tables and chairs completed the look. The bar was originally going to be called Max's Wine Bar, however Izzy changed it to Scarlet Bar at the last minute, without consulting Max. The new set featured a backdrop composed of an enlarged photographic image of the actual location, giving a more realistic feel, resulting in windows not having to be covered to the same extent, however this meant that the doors and windows of the bar looked out onto a deserted Lassiter's complex. Therefore a few months after the set started being used, blinds were put in the windows to disguise this fact. In 2007, Stephanie Hoyland installed a sofa and a motorcycle game in the bar.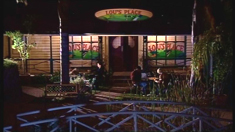 Lou's Place 1997-2005
Owners: Lou Carpenter (1997-2005), Max Hoyland (2002-2005)
Managers: Connor O'Neill (2004-2005)
Employees: Connor O'Neill (2003-2004), Gus Cleary (2004), Valda Sheergold (2004), Carmella Cammeniti (2003), Alex Argenzio (2003), Stephanie Scully (2001-2002), Matt Hancock (2001-2002), Kev Duve (1997-2001), Sarah Beaumont (1997), Joanna Evans (1997), Toadie Rebecchi, (1998-2000), Geri Hallett (1999), Libby Kennedy (1998-2000), Madge Bishop (1997)
Following his inheriting the pub after Cheryl's death, Lou decided to put his own mark on the place. Having bought out Joanna Hartman, Lou renamed the pub 'Lou's Place' and employed Darren Stark & Mal Kennedy to refurbish it, replacing the stained glass windows emblazoned with the name of the establishment featuring rolling hills, a river and various animals. A new door to the office was put in behind the bar, which was made larger and the pub returned to the dark wood finish of the original Waterhole, with new furniture to match. In 2002, when Max Hoyland bought into the business, he completely replaced the previously square tables with round ones, as well as replacing the chairs. Following the total destruction of the pub due to an arson attack started by Paul Robinson, the pub temporarily operated from the community hall, before Lou & Max's partnership was eventually dissolved after they failed to agree on their plans for the new pub.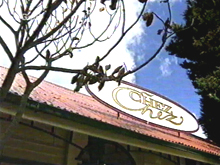 Chez Chez 1994-1996
Owners: Lou Carpenter (1996), Joanna Evans (1996-1997), Cheryl Stark (1994-1996)
Employees: Tiberio (1994-1996), Jen Handley (1996), Debbie Martin (1996), Philip Martin (1996), Danni Stark (1996), Marlene Kratz (1995)

Now under the new title of Chez Chez - Cheryl's way of celebrating retaining ownership of the pub after selling off the rest of the Lassiter's complex and with the new name suggested by Cheryl's nephew, Sam Kratz - the pub retained much the same decor as The Waterhole, with only the signage changing.

The Waterhole 1986-1994
Owners: Cheryl Stark (1994), Lassiter's Hotel (1985-1994)
Managers: Brad Willis (1992-1993), Madge Bishop (1986-1992), Alex Carter (1986)
Employees: Kev Duve (1994), Susie Quilty (1994), Rick Alessi (1994), Brad Willis (1992), Annalise Hartman (1993), Gaby Willis (1992), Glen Donnelly (1991), Gloria Lewis (1989-1990), Henry Ramsay (1987-1988), Alex Carter (1986), Patty Collins (1986), Clive Gibbons (1986), Madge Bishop (1986)

An exact replica of Jack Lassiter's local pub back in Western Australia, The Waterhole was originally painted a beige colour with dark wood finishes. In 1991, the set was revamped overnight, receiving a coat of yellow paint on the walls. The bar was also repainted and the tables and chairs were replaced. In 1993, the pub was all but destroyed by a gas explosion and was completely refurbished, this time featuring a larger bar and a new, lighter, medium wood finish and light wood furniture. In 1994, having retained the pub following her sale of the rest of Lassiter's, Cheryl decided to rename the pub.

Key moments (with episode links where available)

2005 Anniversary Week
Lassiter's Reopening
2005 Premiere
2004 Finale
2004 Premiere
2003 Finale
1996 Finale
The 2000th Episode
Waterhole Explosion
1987 Finale


Gallery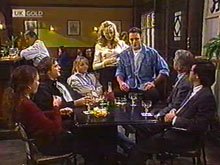 ..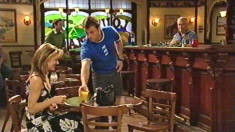 ..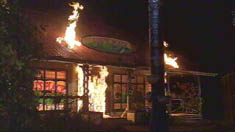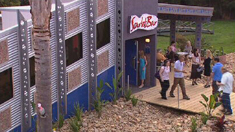 ..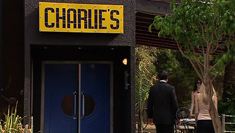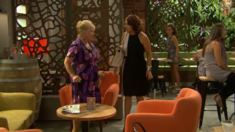 ..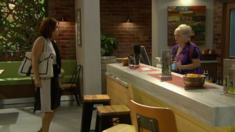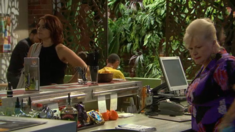 ..