.
Year by Year > 1991: Episodes 1351-1585


Network Ten airdates: 21/01/1991-13/12/1991
BBC 1 airdates: 22/01/1992-10/12/1992
UK Gold airdates: 05/01/1998-27/11/1998
Number of episodes: 235
Regular Cast: Madge Bishop, Caroline Alessi, Christina Alessi, Josh Anderson, Dorothy Burke, Glen Donnelly, Jim Robinson, Paul Robinson, Helen Daniels, Toby Mangel, Doug Willis, Pam Willis
Joining Cast: Phoebe Bright, Guy Carpenter, Brenda Riley, Andrew Robinson, Lucy Robinson (third casting), Brad Willis, Gaby Willis
Departing Cast: Harold Bishop, Sky Bishop, Melissa Jarrett, Joe Mangel, Melanie Pearson, Gemma Ramsay, Adam Willis, Cody Willis, Matt Robinson, Ryan McLachlan
Notable Guests: Michael Daniels, Aidan Devlin, Colin Burke, Darren Wood, Martin Tyrell
1991 was another confident year for Neighbours. Two of the show's biggest comic characters faced great tragedy, while births, marriages and deaths formed a strong part of the mix...
Joe kidnaps Sky from Eric Jensen, when he is worried that he will lose the custody battle to keep her, following Kerry's death the previous year.
Cody is bought back to Ramsay Street after collapsing with a fever, but Todd remains away. Toby is caught calling an expensive joke phone line, which clears up the mystery of the astronomical phone bill. Paul and Glen's relationship begins to take a positive turn, when Paul invites Glen to his wedding. When Pam tells Doug that she intends to return to nursing, Doug is extremely angry with her. Joe is devastated when he looses the custody battle for Sky, but is relieved when, just a few weeks later, Eric returns to Ramsay Street with Sky, saying that Joe would be a better father for her.
Paul and Christina's wedding is a memorable event - especially when, as the cruise ship raises its anchor and sets sail for their honeymoon destination, they realise that Melanie is still on the ship after passing out in the bathroom!
The Willis family plan a family holiday in the bush. The dream holiday turns into a living nightmare when the family gets caught in a bush fire and Cody is missing. Doug and Pam fear for the worst when they are told by the emergency services that they have uncovered a body. Luckily, Cody is found the next day.
Rumours are circulating Ramsay Street regarding Jim and Dorothy's friendship - many residents convinced that there is more between them. Melanie takes it upon herself to find Joe the perfect girlfriend, and Gemma is in for a shock when her ex-boyfriend Aidan turns up and tells her that he is still in love with her. Aidan's appearance causes Matt and Gemma to argue with each other.
Meanwhile, Ryan shocks the residents when he announces that he wants to join the army. Madge is a nervous wreck after having an operation on her vocal chords, being told that it could leave permanent damage. Luckily for Madge (and us), her trademark gravel voice remained fine after the operation.
Dorothy is in for a shock when her husband Colin is released from prison. He visits her and says that he wants to reconcile and start a fresh with her. Dorothy believes that he has changed for the better, and allows him to move into Number 30 with her. Lucy arrives back from boarding school and finds herself instantly attracted to Glen, unaware, of course, that he is in actual fact her long lost half-brother. Madge and Harold, who have been consistently unhappy with Gemma's choice of men, try to set her up with Adam, who they believe is perfect boyfriend material. Elsewhere, tensions are rising in the Willis house as their financial difficulties mean that Pam has to work all the hours God sends for her nursing studies, and then run the household when she returns.
Joe's window cleaning job at Lassiter's lands him in deep, when he sees Dorothy's husband Colin in bed with Rosemary through a window. Christina, meanwhile, has been desperate to conceive, and when the tests come back negative, she cannot tell Paul the bad news. She pretends to be pregnant, and tries to get that way as quick as she can!
Madge and Paul clash when he decides to make The Waterhole a no smoking zone, but when his profits decline, he reverses his decision. Things aren't looking up for the Willis family - their financial problems have become so severe that Doug tells his family they will have to move to a smaller house.
Harold appears to have lost his faith in God, when he returns from a Scout trip, telling Madge that a boy in his care had died. Bouncer also has his troubles - he is mistaken for a savage dog, and nearly gets put down before he is, thankfully, rescued. Josh shocks the street when he tells them he has been living in the garage.
Madge and Dorothy's on going feud escalates, but then Dorothy becomes less interested in their petty problems when she is diagnosed with breast cancer. Luckily for her, the cancer was spotted early, and so she undergoes a mastectomy.
Melanie's fruitless attempts at finding Joe a girlfriend result in her persuading Joe to visit single bars. Luckily for Christina, she conceives and announces her pregnancy as official. However, she comes close to a miscarry, and that terrible event causes Paul to put his work aside and focus on looking after his wife.
There is a major shift in the relationships - Glen and Gemma break up, as do Adam and Caroline. This causes Adam and Gemma to begin dating each other. Joe is out driving, and sees a body in the road. He manages to stop his car before he hits it. Josh tries to steal Lucy's heart by lavishing her with expensive gifts, but neglects to tell her that he earns his money from stripping.
Someone is trying to frame Joe for the road accident he witnessed, and Michael, Helen's late husband's cousin whom she met whilst at the surgery, proposes. She gladly accepts. Gemma comes close to being fired from the animal sanctuary when she joins a protest to stop animals being used in circuses, and Christina and Lucy compete against each other to become the new Lassiter's Girl. Todd competes with the school bully Darren Wood for Cody's affections. Todd gets his girl, but then Cody leaves soon after to study in America.
Josh is booked to perform at Helen's hen night, and is horrified when he is unmasked and everyone is made fully aware of his real job. Michael tries to call off the wedding a few days beforehand, but Jim begs him to go through with it. Jim is suspicious as to why he would do such a thing.
Madge becomes increasingly protective over Harold after he suffers a heart attack, and Pam and Doug head out to Bagee to be with their son Brad, who has been arrested for drugs charges. Joe comes to the realisation that his dream girl was under his nose the whole time - Melanie. However, his hopes are dashed when he finds out she has fallen for Simon Hunter. Gaby Willis arrives home after living in Japan, and manages to get her parents out of hot water by posing as the family lawyer, which tricks a debt collector into handing over $10,000 to the family.
Jim begins to feel low, when he is notified that he is now officially divorced from Beverly. His spirits aren't raised when he catches Paul and Glen in a fight. Pam and Doug bring back their son Brad, after he is cleared of the charges. Simon proposes to Melanie, and she accepts, shattering Joe. Whilst Harold and Madge embark on a tour of Australia, they rent their house out to Brenda Riley.
Glen is shocked when his ex-girlfriend Karen returns, pregnant. Glen acts responsibly and asks Karen to marry him. When the pair are about to exchange their vows, she cracks and confesses that the baby isn't his, and that all she wanted was a good father for her baby. Meanwhile, Paul and Doug's plan for a guest house looks set to not go through when the local counsellor, Felicity Brent, says she will vote against it. Madge fills in Melanie's shoes and tries to find Joe a date, by forcing him to enter a TV show called Dream Date. Whilst Helen is on her honeymoon with Michael, Jim discovers that the man is already married. Melanie decides to go along to Dream Date with Joe for moral support, and somehow ends up being a contestant. She attempts to disguise her voice so Joe won't know it is her, but he still manages to pick her, and the couple win a holiday.
Whilst on the holiday, Melanie comes to the realisation that she loves Joe, and so the couple consequently plan to marry. When Paul and his sister-in-law Caroline get stuck in the bush after their car breaks down, it is evident that there are deeper feelings between them. Dorothy decides to run for the local council, and Helen is devastated when she finds out the truth about Michael. The Willises say goodbye to Adam as he heads to Newscastle to be with Gemma, and Gaby opens up her own fashion store, Gabrielle, in the Lassiter's arcade.
Madge and Harold's holiday turns sour when Harold vanishes. A search party begins, and still no trace of him is found. He is presumed dead. Brenda, meanwhile, has turned her attentions to Doug, but she politely refuses her advances. When an attempted robbery happens at Lassiter's, Paul tries to claim more than what he should from the insurance agency. When Joe hears that Paul and Melanie once had a fling, he has trouble coming to terms with it.
Lucy starts to date Guy Carpenter, who has moved in Number 24 with his aunt Brenda. Joe and Melanie eventually wed, and the entire street celebrates. Madge, unable to cope with her grief for Harold, moves to Brisbane to be with her daughter Charlene and son-in-law Scott. Todd is upset when a letter arrives from America - it is Cody telling him that she has found someone else. When Melanie and Joe return from their honeymoon, they hear that Mrs. Mangel has suffered a heart attack, and head over to England to be with her. Gaby and Glen begin dating, and Josh sees 'Creepy Phoebe' at school, and is attracted to her. Pam thinks she is pregnant again and agonises over telling Doug, and Helen purchases Number 32 when it is put up for auction. Rosemary returns for a visit and offers Caroline a job she cannot refuse in New York.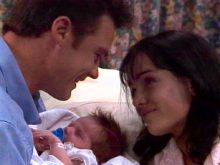 Whilst in New York, Caroline uncovers a plot within the Daniels Corporation which could ruin Paul. She tells him, and as a way of thanking her, asks if she'd like her old job back. Whilst Caroline was away, he had employed Martin Tyrell, and they pair clash badly when she returns. As so often is the case, the opposites attracted and the pair ended up in a passionate love affair, even though Martin was married with children. Brad foolishly falls for Paige Sneddon, when all she is after is his surfboard designs. Christina gives birth to baby Andrew, to her and Paul's delight, but Caroline is not so happy, after she learns that Martin has gone back to his wife.
Tragedy strikes Glen, when he falls from a roof whilst fixing a banner for The Waterhole, leaving him paralysed.
1991 Episode Summaries | 1991 Magic Moments | 1991 Opening Titles
Review by Billy