.
Year by Year > 1994: Episodes 2071-2290


Network Ten airdates: 24/01/1994-25/11/1994
BBC 1 airdates: 21/10/1994-24/08/1995
UK Gold airdates: 09/10/2000-10/08/2001
Number of episodes: 220
Regular Cast: Rick Alessi, Helen Daniels, Lou Carpenter, Philip Martin (second casting), Hannah Martin, Annalise Hartman, Cody Willis (second casting), Mark Gottlieb, Cheryl Stark, Danni Stark, Brett Stark
Joining Cast: Stonefish Rebecchi, Colin Taylor, Karl Kennedy, Susan Kennedy, Malcolm Kennedy, Libby Kennedy, Billy Kennedy, Sam Kratz, Serendipity Gottlieb, Marlene Kratz, Louise Carpenter, Zac Willis
Departing Cast: Doug Willis, Pam Willis, Gaby Willis, Zac Willis, Julie Martin, Debbie Martin, Michael Martin, Wayne Duncan, Lauren Carpenter
Notable Guests: Drew Grover, Sally Pritchard, Chip Kelly, Dave Gottlieb, Vikram Chatterji
Huge cast changes saw a whole family depart, to be replaced by the Kennedys, who many people never thought they would warm to. Hippies, a murder mystery and some long-lost relatives also helped to turn 1994 into an unforgettable season…
The beginning of the year saw the resolution of the 1993 cliffhanger – Annalise and Gaby were rescued from the bush following their plane crash. The incident helped them to put many of their past problems, feuding over Mark, behind them. It also helped them both reach decisions in their personal lives, as Annalise opted to move in with Mark, while, with the future of Lassiter's hanging in the balance, Gaby accepted a job offer in Italy and left Erinsborough.
The arrival of Wayne Duncan's younger brother Troy led to both Wayne and Lauren leaving Ramsay Street for good. As Troy attempted to set up Wayne and Lauren on a date, the couple got closer, but when she mistakenly believed she'd slept with him one night after getting drunk, they realised that they were happier as friends. When a disillusioned Wayne punched the school principal and was suspended from work. This was enough to make him realise that it was time to move on and he left to return home. Meanwhile, Lauren was also feeling like an outcast on Ramsay Street, with her father more interested in his new love, Cheryl Stark, and her kids, so she left for Queensland to work with horses.
Newcomer Danni Stark found herself the centre of attention when she was caught injecting herself by Rick Alessi and soon word had spread that she was a drug user. The truth was far less controversial – she was diabetic. Rick found himself in a love triangle with recently returned Cody Willis and Michael Martin. Rick and Cody then found themselves caught up in some dangerous drag races with schoolfriends Briggs and Lenny. As things got out of hand, a car crash resulted in Briggs' death and Cody spending weeks wishing that she could have done something to help.
The Willis family found that Cody's depression was the least of their problems, when Gaby suddenly returned home with no warning, and no explanation. In the end, she was forced to reveal that she was pregnant, but, despite pestering from Pam and Doug, she wouldn't reveal who the father was. However, it was later revealed that she was pregnant to her flying teacher Jack Flynn. Meanwhile, Pam had a brief flirtation with estate agent, Tom Weaver. Unfortunately, Tom became besotted with her, even proposing, and things looked bad as Pam had kept the entire friendship to herself, to avoid Doug's jealousy. In the end, Tom backed off and admitted that he missed his own wife terribly and was trying to replace her.
Someone else who discovered they were pregnant was Cheryl, much to the surprise of her family. She struggled to cope with the realisation that, at her age, the baby could face serious complications. Meanwhile, a feud was developing between the Starks and the Martins over Danni and Michael's blossoming relationship. Following a major row, Julie got into her car and a spider dropped from the sun visor. In a moment of panic, she reversed – straight into Cheryl. Fortunately, the injuries weren't life-threatening and Julie managed to escape being charged by the police. However, it looked like Cheryl would have to spend many weeks in hospitals in the lead-up to her child's birth.
Someone who would recurringly haunt Ramsay Street for most of 1994 and 1995 was Colin Taylor. At the beginning of the year, Julie and Philip first met him when they went on a country retreat. Later in the year, Doug Willis went into hospital following some problems with his bladder and ended up in the bed next to Colin. It was when Mark and Annalise met Colin during their trip across Australia for the Big Bash that we found out that he had an identical twin – Alf.
A former resident of Ramsay Street, but one that the viewers had never seen – Len Mangel – returned to Ramsay Street. Helen was pleased to see an old face, albeit one who had a tendency to charm the ladies. As they got closer, Helen's step-great-grandson, Michael, was suspicious of the man, particularly when money became involved. He proposed to Helen that they set up an Outback Artists' Tour programme together, but Michael managed to save Helen from being conned once again, when it emerged that Len was still living with Gwen, the woman who Len had left Nell Mangel for.
With so many problems in the family, it was no surprise that quiet Debbie Martin began to develop an eating disorder as her way of coping. It all began when she developed a serious crush on Doug Willis' new foreman, Andrew Mackenzie. Debbie was heartbroken when he revealed that he had no interest in her as he was gay and she spiralled into a depression that even her closest friends failed to spot. It wasn't until she collapsed during dance rehearsals for the school's debutante ball that her family realised something was wrong. When Cody and Brett found hundreds of food wrappers under her bed, they discovered what had been happening. Debbie then spent several weeks at a clinic to get over her problem.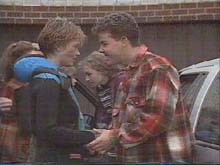 As Cody grew closer to Michael Martin, who wrongly suspected that he had contracted HIV from an ex-girlfriend, Rick found himself attracted to new Japanese teacher Sally Pritchard. While Michael eventually ended up with Danni Stark, Rick was determined that he would win Sally over. After quitting school for a job at the Waterhole, hoping that she would see him as more of a man, he attempted to prove his feelings to Sally by proposing. Unfortunately, she already had a partner and was forced to leave when the pressure from Rick became too much. Rick then had a brief flirtation with Cassandra Rushmore, whose father owned Lassiter's' rival hotel, Parkside Pacific. This was enough for Cody to realise that she wanted to be with Rick and they got back together. Meanwhile, Michael found that his relationship with Danni was causing more harm than good and the families agreed that one of the kids would have to leave. In the end, Michael got a place at the Brosnan Centre, an outback project where he could get his schooling and develop practical skills. Danni was devastated as she watched him leave.
After both finding out they were pregnant around the same time, it still came as a huge surprise when Cheryl and Gaby gave birth on the same day. Cheryl was already in hospital following her accident, and was forced to undergo a caesarean section. Meanwhile, Gaby went into labour at home one day and, when Doug couldn't get home in time, she had to sit in the sidecar of her mother's new motorbike on the way to the birthing centre. Cheryl gave birth to a little girl, while Gaby had a boy. Both children were fine, but complications arose when Doug and Lou registered both babies with the name Shannon. Cheryl and Gaby agreed to use the middle names – Louise and Zac – from then on.
Annalise and Mark's relationship was threatened by Katerina Torelli, a paraplegic who had witnessed his attempts earlier in the year to raise money for the Paralympics. She developed an obsession with Mark and even shared a kiss with him, before Annalise decided that they should take a break to get away from this woman. During the trip to visit his parents, Mark got a nasty shock when he learnt that his mum, Sally, was in the final stages of terminal cancer. After nursing her through this, he was heartbroken when she died. The whole experience brought him closer to Annalise, and Mark's father Dave decided to follow his son back to Ramsay Street and have a break from the farm. Dave's presence in the street led to Helen almost being arrested for drug trafficking, when the remedy Dave had given her for her glaucoma turned out to be something slightly less mainstream. Dave also encouraged Annalise's interest in poetry and she met publisher Elliot Patterson, who wanted to print an anthology of her work and became a good friend to her.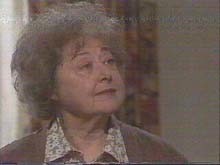 When Pam Willis inherited a motorbike from one of her patients, she began to develop a strong interest in biking and set off to attend a rally. She brought back a young man named Sam Kratz, who revealed that his grandmother had just bought a house in Ramsay Street. Lou and Cheryl were in for a surprise when they found out that Madge had sold number 24 from under them, and they were forced to evict Cheryl's tenants from number 22 and move in there. Meanwhile, everyone was in for a shock when Sam's grandmother, Marlene, turned up and explained that she was Cheryl's mum. The shock was almost too much for Cheryl, who had already gone through Lolly's birth. After several weeks of bickering, mother and daughter agreed to give each other a chance.
Mark's younger sister, Serendipity (Ren for short) arrived after leaving her nannying job in Amsterdam to come and see her family. She started to cause trouble with her reckless ways, before getting a job working for Cheryl as Lolly's nanny. Ren also developed a close friendship with Sam, which looked set to become a romance, but he was more interested in Annalise. Ren then met Sam's friend, Chip Kelly, who she started seeing regularly, but his mood swings caused some concern for her. It wasn't until he turned on Ren one night and she was forced to run away that it emerged that Chip had been using steroids. The incident led to Helen Daniels organising some self-defences classes for the residents of Ramsay Street.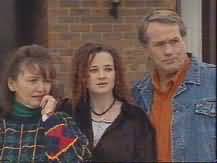 Following the birth of Zac, Gaby struggled to regain control of her life. She found it tough working at Lassiter's and bringing up a baby and things only got worse when Jack Flynn returned, determined to have a say in the child's upbringing. It wasn't until he snatched the child in an act of desperation that Gaby realised how important it was to him. She agreed access and the couple grew a lot closer once again. When Gaby was offered the job overseeing the new Lassiter's complex in Darwin, she jumped at the chance and Jack decided to go with her. The couple later became engaged. Pam and Doug then found that their family was gradually dispersing and their financial problems were only getting worse. When Gaby told her father about a big contract up in Darwin, that could save the family from financial ruin, he realised he had little option but to take it. Pam agreed to go and join him once the house was sold and Cody had found somewhere to stay. In the end though, Cody found a room at Marlene's and offered to look after the house sale, so Pam and Doug left for Darwin together.
Following all of her problems, Rosemary asked Debbie to come and stay with her in New York for a while. Debbie happily accepted and made plans to leave. She was particularly pleased to be getting away from Phil and Julie, whose bickering had become too much for everyone. As the arguments got more and more serious, Helen and Philip started to suspect that Julie was suffering from mental problems. Things came to a head when the whole street went away for a murder mystery weekend. Julie turned up and spoilt things with a huge outburst aimed at her husband. The following morning, her body was found in the grounds of the hotel, and she had seemingly fallen, or been pushed, from a tower. After a few days in intensive care, Julie died. For a while, it looked like Philip was the main suspect for having killed her, until a disturbed Debbie started having flashbacks, which revealed that Julie had been drinking and had fallen by accident. ollowing Julie's death and Debbie's departure for New York, Philip struggled to cope. He turned to alcohol to comfort him. Meanwhile, Hannah was also finding it difficult to live without her mother, and even found herself talking to her dead mother, much to the concern of those around her. Fortunately, Helen's return from New York brought about more stable times for the family.
Cody and Rick were reunited, meanwhile, and things were going well for them. His job at Lassiter's saw him being sent away to Montana on a management training course and, while he was away, newcomer Stonefish Rebecchi set his sights on Cody. At a school party, Stonie suddenly kissed Cody and the whole thing was caught on camera by Rupert Sprod. When Rick came back, he saw the photos, and it almost brought about the end of the relationship once again, but, for once, they talked things through and he realised he was in the wrong. Cody, meanwhile, was struggling with her studies and Rick offered her some leaked copies of the exam papers that he'd received from a friend. Cody opted not to use them, but decided to move in with Helen and Philip at number 26, where she could get plenty of piece and quiet.
Brett Stark was overwhelmed when he met Lata Chatterji, younger sister of newsagency assistant, Vikram. Due to her brother's disapproval, the pair were forced to keep their relationship a secret and she struggled to maintain any kind of social life. One night when they were messing around at the flat she shared with her brother, he walked in and caught them. Lata was immediately sent away to live with a strict aunt, but before she went, she bought a galah, Dahl, for Brett to remember her by. He was devastated for a while, until he met the new neighbours…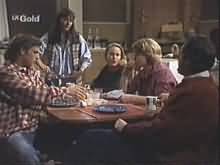 The Willis house was finally sold – to Dr. Karl Kennedy and his family. Karl's wife, Susan, had trained as a teacher and eventually found work at Erinsborough High, where their three children, Malcolm, Libby and Billy were all students. Karl soon found work, setting up a practice at Lassiter's, with new business partner, Dr. Tamsin Caldo. Meanwhile, all three kids found themselves romantic interests very quickly. Mal and Danni got things together very quickly, although he found himself offside with many of his new neighbours when he accidentally shot Lou in the leg. Libby found herself the object of Brett's affections, but she wasn't quite sure whether she felt the same way. Meanwhile, Hannah developed a crush on Billy, who tried to let her down gently.
Marlene Kratz decided to open up a bric-a-bric shop, Kratz Bric-a-Bratz. It was there that Sam and Ren got a shock when they found homeless girl, Bianca Zanotti, sleeping on the floor. Sam allowed her to carry on sleeping in the room out the back of the shop and he even offered her work with him at his handyman business, Handy Sam's.
When Mark and Annalise went on the charity drive, The Big Bash, it helped them to get much closer to each other and he ended up proposing. Back in Ramsay Street, they started to plan the big day and Mark agreed to be baptised. As his interest in religion deepened, however, nobody foresaw what would take place on his wedding day…
For several weeks, Lou seemed to be acting oddly, but Annalise was one of the few people to spot it. As he began to spend a lot of time going to mysterious appointments and money started going missing from their joint account, Cheryl was concerned, but always managed to brush off her worries. However, when she spotted Lou meeting a young woman in the park one day, all of her worst fears appeared to be coming true…
As the school year came to an end, the students all decided to hire a beach house for a few days. Things went slightly wrong when a storm washed out the road to the house and they were stranded. Even worse, Danni and Mal had gone out in a boat and hadn't been heard from. Luckily, they turned up safe and Danni was saved once she got her insulin. Meanwhile, Mal's mate, whose beach house they were using, revealed that there was a rumour going around the Kennedy family's old town – that Karl had done a runner after killing a patient. Mal wasn't the only one in for a surprise, as one of the young girls on the trip, Squirrel, revealed to Sam that she was pregnant and he was the father.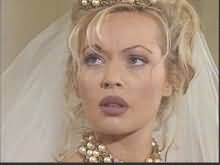 With various storylines coming to a head, the season finale was action-packed. Mal confronted his father about the rumours he'd been hearing, Sam worried about how he could prove his innocence over Squirrel's baby, Lou told Cheryl that the woman he'd been secretly meeting was his daughter and Mark suddenly called off the wedding – and told Annalise that he'd decided to become a priest.
1994 Episode Summaries | 1994 Magic Moments | 1994 Opening Titles