Episode Title: Three Women And A Baby
Recap
• Frazer reveals to Boyd he's known Charlotte for a long time and she is a con artist
• Mary frets over the impending move that will separate her from Kerry and Sky and vows that she'll not lose her
• Harold and Janelle reveal Mary could be mentally unstable – then the prison alarm goes off

Goodwood Women's Prison - Exercise yard: Sky is desperate to get back into D block but the guards refuse entry to anyone in the prison as it is D block that is rioting.
Goodwood Women's Prison - Corridor/Sky and Mary's cell: Mary clutches onto Kerry desperately trying to think of a way to protect her. Mary decides she going to hide Kerry where no one will find her.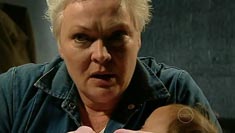 ..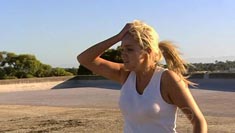 Goodwood Women's Prison - Exercise yard: The guards still refuse to allow Sky into the building. The guards escort Harold and Janelle and Sky slips past into the building.
Goodwood Women's Prison - Corridor/Sky and Mary's cell: Sky rushes into find no sign of Mary and Kerry. In the corridor Krystal is threatening Mary to reveal where Kerry is – Sky arrives and demands the same thing. Mary accuses Krystal and as Sky turns, Mary runs off. Krystal gleefully tells Sky, Kerry is in the hands of mad Mary.
Erinsborough Hospital - Waiting Area: As 11.30 pm approaches Elle has drifted asleep but is woken up as a nurse brushes past her. Elle asks for any news but the nurse has none except Paul is still in surgery.
The General Store: Steph, Toadie, Rosie and Frazer are having lunch together but Rosie is unhappy at Toadie's policy that he charges their clients a dollar per sheet they photocopy – especially when it only costs them 4 cents. Steph tries to change the subject and Frazer too commenting on when is Toadie going to repair their laundry room. Toadie avoids the question by calling over Janae asking her to join them. Janae declines and Steph comments how she and Janae hardly ever speak since her and Boyd's break up. Rosie questions if Janae is aware of Boyd seeing Charlotte. Karl and Susan arrive and Toadie sees Susan is injured. Karl just sniggers.
Goodwood Women's Prison - Stairwell: Sky finds Mary on a stairwell leading to the roof but Mary is begging her to come with her so they can all be together. Confused, Sky then fears Mary has taken kerry to the roof and pushes past her to run up the stairs.
Goodwood Women's Prison - Rooftop: Sky runs out onto the roof calling out to Kerry. She runs to the edge and looks down to see Kerry's pushchair lying overturned below. Fearing the worst Sky screams Kerry's name and runs towards the stairwell.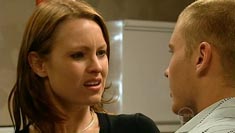 ..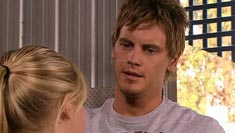 Goodwood Women's Prison - Fire exit: Sky rushes out of the building to find the pushchair empty. Behind her guards follow and Mary reappears with Kerry in her arms. Sky snatches Kerry from her but soon realises Mary has helped her when Mary explains she heard Krystal discussing starting the riot to get her hands on Kerry. Sky thanks Mary for saving Kerry.
The General Store: Boyd and Charlotte arrive to overhear Rosie, Steph, Toadie and Frazer discussing them. Charlotte seems panicked and has a flashback to placing the sugar dispenser into her handbag. Charlotte leaves and Boyd blames the lunching foursome for her leaving. He tells them they need to accept her and to Steph he announces he's moving out of home.
Erinsborough Medical Centre - Office: Charlotte wipes away her tears as Boyd arrives and tells her she has to ignore his friend's behaviour. He asks if he can move in with her now that he has told Steph he's leaving. Charlotte is not happy but reluctantly agrees so not to cause suspicion. Boyd reminds her she has a meeting with Karl about some new blood pressure control drugs but Charlotte's lack of medical knowledge almost exposes her again to Boyd. Left alone, Charlotte decides to read up on the subject to prepare herself for Karl.
The General Store: Karl and Susan prepare to leave and ask the foursome to join them for dinner later to celebrate Steph's birthday. Steph admits she was staying quiet about it but Susan has all her friends and family birthdays on the computer. All agree to come to celebrate but Steph doesn't want any presents. Karl tells them he'll fill them in on probing Charlotte later on at the meal. Steph and Toadie approach Janae fearing how she's taking the news of Boyd and Charlotte being together but Janae is adamant it if fine. Rosie and Frazer turn to wedding plans. Rosie wants a church wedding but Frazer says no as he's not religious. Rosie also wants them to reconcile with their families before then but Frazer tries to trade off having a church wedding if he doesn't do the family thing. Rosie isn't convinced and leaves for work. Ned arrives to find Janae eating full fat food and spurns her into leaving with him to get training.
Erinsborough Medical Centre - Office: Karl continues to chat to Charlotte and tries to trip her up with medical jargon – but her research stands up and she corrects Karl's mistake. Karl then takes a look around the office and at her certificate to practise medicine, commenting on a friend of his who went to the same university. Karl also is interested in a paperweight on Charlotte's desk. Getting nervous, Charlotte takes the paperweight from him and shows him to the door.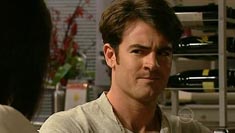 ..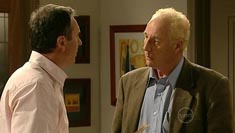 Erinsborough Medical Centre - Reception: Rosie and Toadie watch as Karl leaves Charlotte's office and Karl gives them a small headshake to say he hasn't found anything on her. Boyd comments about knowing what Karl has been up to but Karl denies it.
Carpenter's Mechanics - Workshop: Janae finishes working on a car to start training with Ned but she is particularly edgy. Ned asks if she is upset over Boyd and Janae admits she is.
Scarlet Bar: Steph finishes racing on the arcade machine after reaching a new top score. Frazer tells Rosie he'll agree to the church service but really cannot ask his family – especially when his brother Johnny is Rosie's ex-boyfriend. Rosie reveals she is going to reconcile with both her parents to prove to him too that things can change if you want to.
Carpenter's Mechanics: On their way home Rosie is still trying to ask Frazer to invite his parents. Frazer interrupts Janae's training with Ned and asks if she'd like to sell him the car that she bought for her and Boyd to do up together. Janae declines the $200 offer and Ned sees this as her turning a corner and not seeing Boyd in everything she has. Janae denies it.
No 28 - Lounge: At Steph's birthday dinner, Karl shows Frazer his exercise equipment. Toadie, Steph and Charlie arrive and Toadie comments again on Susan's injury. Karl reveals the truth behind it when Karl's doctor friend Stanford arrives with the list of possible doctors he could do business with. Karl asks after the paperweight Stanford used to have on his desk and Stanford explains it was stolen some months ago along with his medical certificates. Stanford points out that he bought the paperweight overseas too. After he leaves Karl explains to the group he is positive he saw Stanford's paperweight on Charlotte's desk and that she apparently qualified at the same university as Stanford according to the certificate. Rosie declares she knew Charlotte was a fraud.
Goodwood Women's Prison - Sky and Mary's cell: Sky tries to settle Kerry as Mary explains the breakdown led her to kidnapping Pepper – Sky tells her she is a lovely caring friend and Mary cuddles Kerry. Overwhelmed Sky begins to cry and suddenly she sees a flashback to when she hit Terence. Sky realises she only hit him once and that she didn't kill him.
Goodwood Women's Prison - Visiting area: Harold and Janelle arrive following Sky's request to see them. Sky asks Harold to take Kerry home with him as she realises she doesn't belong in prison either. She knows she didn't kill Terence.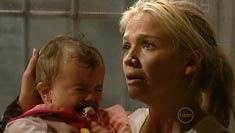 ..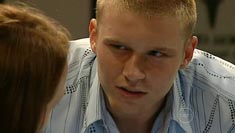 Erinsborough Medical Centre - Reception: Boyd and Charlotte prepare to leave for the evening but Boyd is troubled that he cannot find any recent medical records for Paul to send over to his specialist. Charlotte tries to intervene to use the computer before Boyd and asks about Paul's condition. Boyd explains he has an acoustic neuroma and Charlotte jokes she thought it could have worse, like a brain tumour. Boyd tells her it is a brain tumour – Charlotte is stunned into silence. Boyd demands to know what is going on!
Cast: Ian Smith as Harold Bishop, Stephanie McIntosh as Sky Mangel, Claudine Henningsen as Kerry Mangel, Alan Fletcher as Karl Kennedy, Jackie Woodburne as Susan Kinski, Ryan Moloney as Jarrod 'Toadfish' Rebecchi, Nell Feeney as Janelle Timmins, Eliza Taylor-Cotter as Janae Timmins, Carla Bonner as Steph Hoyland, Kyal Marsh as Boyd Hoyland, Daniel O'Connor as Ned Parker, Natalie Saleeba as Rosetta Cammeniti, Ben Lawson as Frazer Yeats
Guest Cast: Rachel Gordon as Charlotte Stone, Rowena Wallace as Mary Casey, Freya Nielson as Krystal McCoy, Michael Quinn as Dr Standford Mundy, Rebecca Howell as Amy Hayes
Trivia Notes
• Steph's birthday
• The car Janae is working on is a Triumph TR6

Summary by Paul