.
Neighbourhood > Places > Dingoes' Den

Dingoes' Den Football & Sporting Club 2008-
Managers: Brad Willis (2013-)
Employees: Jade Mitchell (2011-2012), Chris Pappas (2010-2011), Harry Ramsay (2009), Bridget Parker (2008-2009), Ty Harper (2008), Justin Hunter (2008)

The training gym for Erinsborough's Eastside Dingoes football team, first seen on screen in July 2008 when Bridget Parker got a job working on the reception there. The main area of the gym is open plan, with the reception desk, drinks fridges and a variety of sports equipments and training machines. There are also male and female changing areas and showers.

As well as being used by the football players, the gym is also open to the public, with many Ramsay Street residents signed up as members. The facilities were also used by Erinsborough High School for the occasional physical education lesson.

Key moments (with episode links where available)

Zeke accidentally walks in on Bridget naked in the changing rooms


Gallery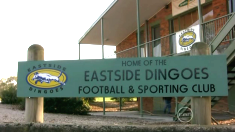 ..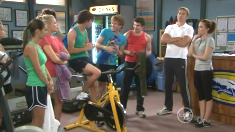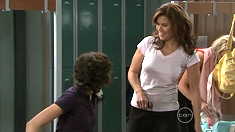 ..