.
Neighbourhood > Places > Power Road > Fitzgerald Motors

Fitzgerald Motors 2011-
Address: Power Road, Erinsborough, Victoria, 9571
Owners: Lucas Fitzgerald (2011-2013, 2015-), Mrs Ferguson (2013-2015), Dennis Dimato (2015)
Managers: Danni Ferguson (2013-2015), Tyler Brennan (2015-2017), Mark Brennan (2017-),
Employees: Chris Pappas (2011-2015), Mason Turner (2013), Mark Brennan (2014-2015), Tyler Brennan (2015, 2017-2018), Paige Smith (2015), Stephanie Scully (2015, 2017), Aaron Brennan (2016), Ben Kirk (2016-)

Having bought the garage, Lucas quickly renamed it Fitzgerald Motors. He also offered his friend and employee, Chris Pappas an apprenticeship once he finished school; however a brief misunderstanding in which Chris felt that Lucas did not support him with homophobic customer, Warren Burrell, made Chris think twice. However after Lucas apologised, Chris accepted on the condition that Lucas help him find a rare car which Andrew Robinson had promised a school friend in a bid to make money buying and selling cars to order, with Chris servicing the vehicles before delivering them to the customers.

When plans to build a new shopping complex in the area were halted due to the former Erinsborough News building, situated in the area proposed for the car park, being heritage listed, local lawyer, Toadfish Rebecchi was tasked with finding a solution, with the Power Road precinct becoming the suggested new site. Not wanting to sell out his friends for his own gains, Toadie convinced the developers to make high bids to buy out the property owners, however Lucas was left in two minds as to whether he would sell, having only recently bought the garage with the inheritance he had received from his father.

In 2013, Lucas sold the garage to Mrs Ferguson, who appointed her daughter, Danni as manager. The Fergusons owned a chain of garages, but Danni convinced her mother to retain the name to make it harder for her abusive ex-boyfriend to track her down.

Following Danni's arrest for killing Matt Turner due to dangerous driving in 2015, the garage was sold to criminal, Dennis Dimato who had been busy buying other businesses in the area. Dimato used the business as a legitimate cover for a car theft and stripping racket which mechanic, Tyler found himself forced into helping with.

After Dimato's arrest, the garage was sold again in late 2015 with the local residents pleased to see that former owner, Lucas Fitzgerald had bought it back having come into some money following the sale of one of his wife, Vanessa's cupcake recipes.

Trivia Notes
• In 2015, the telephone number for the garage was (03) 7010 4698


Previously...

Carpenter's Mechanics 1997-2011
Address: Power Road, Erinsborough, Victoria, 9571
Owners: Lou Carpenter (1997-2007), Ben Atkins (1997-1999), Philip Martin (1997-1999), Drew Kirk (1999-2002), Ben Kirk (2002-2007), Libby Kennedy (2002-2007), Janae Timmins (2007-2009), Janelle Timmins (2007-2009), Elle Robinson (2009-2011), Lucas Fitzgerald (2011)
Managers: Christine Rodd (2006-2008), Ned Parker (2008), Stephanie Scully (2004-2007, 2009-2010), Lucas Fitzgerald (2008-2009, 2010-2011)
Employees: Drew Kirk (1998-1999), Tad Reeves (1999), Larry 'Woody' Woodhouse (2001), Stuart Parker (2002-2003), Boyd Hoyland (2002-2003), Aaron Barkley (2003-2004), Ed Bear (2006), Janae Hoyland (2006-2007), Ned Parker (2007-2008), Stephanie Scully (2003-2004, 2008-2009, 2010), Lucas Fitzgerald (2009-2010), Chris Pappas (2011)

In 1997, having sold his car lot a few years earlier and keen to expand his business empire, Lou Carpenter suggested to local mechanic, Ben Atkins that they go into partnership in a local garage, combining his knowledge of the motor trade with Ben's skills. Whilst Ben initially jumped at the chance, he soon had second thoughts after Lou was initially dishonest about things and started to treat him more like an employee than a partner. Eventually, Philip Martin came up with a solution whereby Lou and Ben would both hold 49% each with him in charge of the other 2% of the garage, thus ensuring a fair business. After a racing accident which nearly left him dead, Ben decided to take up an offer from his recently found birth father to work together at his garage in Sydney and so mechanic, Drew Kirk was hired to replace him. Eventually, Drew bought into the garage and remained a partner until his death in 2002, when his wife, Libby Kennedy and son, Ben Kirk inherited his shares. Following Libby's departure, Stephanie Hoyland took over the running of the business on behalf of her and Lou, eventually passing the day to day running over to new manager, Christine Rodd, having been forced to stop working at the garage whilst she was pregnant due to the fumes and a second bout of cancer.

Chris eventually took over full management responsibilities in 2007, when Steph left to focus on running Scarlet Bar. With her family having sold their shares in Lassiter's, Janae tried to convince her mother, Janelle to buy the garage from Lou & Libby, however, Janelle wasn't convinced, but Janae was ecstatic when Lou suggested that she use her share of the money to buy him out. Soon after, Janelle had a change of heart and made Libby an offer she couldn't refuse. Six months later, Janae decided to leave Erinsborough after her relationship with Ned Parker crumbled. She moved up to Cairns leaving Ned, who had been working there as a mechanic, in charge of the garage. A few weeks after Ned left Erinsborough, the garage was taken on by new manager Lucas Fitzgerald, who had previously worked as a mechanic for a touring motorbike company.

The garage itself has barely changed, if at all, over the years, with little need to, although in 2007, Pepper Steiger, who had been suspended from her teaching job took up her mother (and garage manager), Christine Rodd's suggestion of repainting the office as a distraction.

In 2009, Elle Robinson bought the garage with the position of manager changing hands between Stephanie Scully and Lucas Fitzgerald several times. In 2011, with the garage in a poor state of repair, Lucas asked Elle's father, Paul, to contact her in order to arrange a new hoist, however Lucas was stunned when he later returned to the garage to find a 'For Sale' sign. Initially electing to buy the garage himself, a few words from Paul about the commitment running a business requires made him decide against it, not wanting to feel forced to stay in one place. After later talking to friend, Sonya Mitchell, who had recently bought the local Community Gardens and realising that he could hire a manager if he wanted to go away, Lucas approached Paul with a deposit cheque and a reduced bid to take into account the required repairs, which was accepted.

Trivia Notes
• The garage often ordered spare parts from wholesalers MOCO
• In 2010, Lucas' e-mail address was shown as lucas@carpentersmechanics.com.au


Key moments (with episode links where available)

Libby rushes to stop Drew signing away the garage and leaving Erinsborough
Woody is beaten up by thugs, trying to stop him from giving evidence against Kev Kelly
Janae spots Chris kissing her girlfriend Carol
An erratic Ringo almost runs down Susan outside the garage


Gallery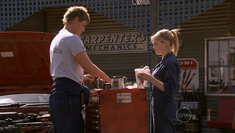 ..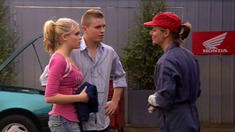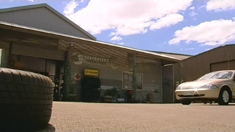 ..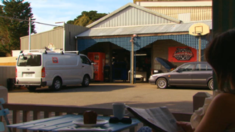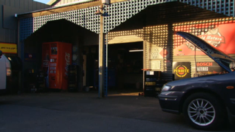 ..