.
Neighbourhood > Places > Power Road > Dial-A-Kyle

Dial-A-Kyle 2011-2016
Address: Lot 5, 3-9 Power Road, Erinsborough, Victoria, 9571

Owners: Jade Mitchell (2012-2013), Kyle Canning (2011-2016), Lou Carpenter (2011-2012)
Employees: Amy Williams (2015, 2015-2016), Harley Canning (2012), Dane Canning (2011)

After Jade Mitchell convinced Lou Carpenter to invest in Kyle's handyman business, he began renting the land formerly used for his car yard to Kyle. Although intended to be a silent partner, Lou soon set about organising promotional materials for the business, naming it 'Dial-A-Kyle' and arranging a Grand Opening without consulting his partner. Struggling with the prospect of having to make a speech, Kyle decided to call off the opening, however when Lou demanded $1,000 to cover the expense of the wasted promotion, Kyle was forced to go ahead, with Jade enlisting the help of their friend, Kate Ramsay to help reassure Kyle. With their help, the launch was a great success with neighbours Karl and Susan Kennedy congratulating him on his success and promising to use him for future odd-jobs.

In 2012, having secretly stolen from the business without, Lou admitted his fraud to Kyle and put the business on the market to repay Kate Ramsay who had covered the debt. Initially, Kyle's grandmother, Sheila, looked to buy Lou out but could not raise the funds, however Kyle's girlfriend Jade Mitchell quickly stepped in, taking over the books and ordering.

Trivia Notes
• In 2013, the telephone number for Dial-A-Kyle was 0491 570 110.
• The address has also been given as 233 Power Road.



Previously...

Erinsborough Motors 2010-2011
Address: Lot 5, 3-9 Power Road, Erinsborough, Victoria, 9571

Owners: Gordon Davis (2010), Lou Carpenter (2010-2011)
Employees: Kyle Canning (2011), Sophie Ramsay (2011), Lucas Fitzgerald (2010), Callum Jones (2010-2011)

In 2010, Lou Carpenter enlisted the help of lawyer, Jarrod 'Toadfish' Rebecchi to help negotiate a deal to buy back his old car yard, which owner, Gordon Davis, had put up for sale. As Lou spun Gordon a story about how the forecourt was uneven and would play havoc with his knee, which he injured in Vietnam and how he'd have to redecorate in a bit to reduce the price, Callum Jones overheard and told Gordon not to sell to Lou as he was lying. Having bought the car yard at a higher price than intended, Lou put Callum to work cleaning the forecourt in order to pay off the extra cost.

With the day of the Grand Opening having arrived, Lou enlisted Toadie to man the barbecue, whilst Susan and Karl Kennedy arrived to cover the opening for the Erinsborough News. Noticing the galah which was hanging around the car lot, Susan suggested it could make a good mascot, so Lou quickly set about ordering promotional materials and a man in a giant galah suit.

In 2011, Lou's manager left with no notice forcing him to advertise for a new sales assistant in the Erinsborough News. When Kyle Canning applied for the position, Lou was less than impressed, however with a little help from Callum Jones and Sophie Ramsay, Kyle tricked Lou into thinking he had sold a car whilst Lou was asleep on the forecourt and was given the job. In truth, Kyle had asked a friend to pose as a buyer, with Sophie and Callum making sure the paperwork went missing.

Later the same year, Lou fired Kyle and took on sole responsibility of running the car yard, however his advanced years and the pressure of the business took its toll and friend, Harold Bishop, found him collapsed on the courtyard. After much convincing, Lou agreed to sell the car yard and retire, however later changed his mind, selling the stock and renting the land to Kyle for him handyman business.

Trivia Notes
• In 2010, the telephone number for the car yard was 5550 8809, and the fax number was 5550 8009



Carpenter's Cars 1992-1995
Owners: Lou Carpenter (1992-1995), Madge Bishop (1992), Benito Alessi (1992-1993), Jim Robinson (1993), Julie Martin (1993-1994), Cheryl Stark (1994-1995)
Managers: Peter Hill (1995)
Employees: Toby Mangel (1992-1993), Brett Stark (1993), Rick Alessi (1993), Lauren Carpenter (1993), Alex (1994-1995), Joanna Hartman (1995)

In 1992, having made Erinsborough his permanent home, Lou Carpenter opened his own used car business, Carpenter's Cars, which Madge Bishop invested in, agreeing to be a silent partner and not interfere in the running of the business, however she proved to be anything but silent. When Madge left Erinsborough for Queensland later that year, Lou found a new partner in neighbour, Benito Alessi whom he thought would be so busy managing Lassiter's Hotel that he wouldn't have time to involve himself in the day-to-day running of the car yard. But Lou was soon proved wrong, as Benito wanted to be involved in all aspects of the business, and even quit Lassiter's so he could concentrate fully on the car yard. Petty squabbling ensued between the two partners, culminating in them even painting a white line down the centre of the car yard to divide it between them, but they quickly realised how farcical the situation had become and patched up their differences.

When Benito announced his plans to move to Sydney, Jim Robinson bought his shares in the car yard, pleasing Lou with his intention to be a silent partner. However, Jim's death shortly afterwards meant the shares passed on to his daughter, the interfering Julie Martin. Julie was initially too caught up in her grief to bother herself about the car yard, but after splitting up with her husband, Philip, Julie announced her plans to return to work full-time so she could support herself and daughter, Hannah. Although Lou was horrified at the prospect of Julie becoming involved in the car yard, thinking she wouldn't be cut out for the world of used cars due to her sex, Julie proved Lou wrong, and sales increased thanks to Julie's way with the customers.

The following year, however having reunited with Philip, Julie sold her shares to Lou's partner, Cheryl Stark, in order to work with Philip full time at his newsagents. Soon afterwards, an article appeared in the Erinsborough News claiming that Lou had fiddled his books and slamming him as a shonky car dealer who constantly sold cars that were un-roadworthy. To make matters worse, Lou's office at the car yard - and the proof that he wasn't a shady businessman - caught fire before he could prove his innocence over the allegations, however it transpired that Peter, who Lou had recently hired as manager of the car yard, had been responsible for the fire, the article in the newspaper and defrauding the business. Lou was delighted when his long-time right hand man at the car yard, Alex, showed up at his house with the books, explaining that he had cottoned on to Peter's scam and hidden the books, enabling Lou to prove that Peter was the arsonist and have him arrested.

In 1995, Lou decided to re-mortgage the car yard in order to provide Cheryl with some extra financial support to buy the Lassiter's shopping arcade, however as a series of bad business decisions left Cheryl facing serious financial problems, Lou was forced to sell his beloved car yard to help ease their cash flow crisis.




Key moments (with episode links where available)

Lou buys back the car yard
The cabin office burns down
Benito and Lou draw a line down the middle of the forecourt
Lou buys the car yard


Gallery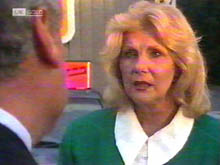 ..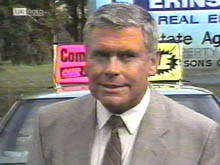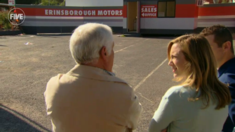 ..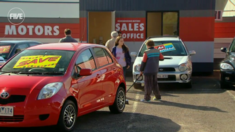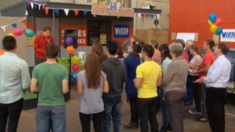 ..