.
Neighbourhood > Locations by Callum, David and Emily
The Perfect Blend guide to some of the real-life locations used on Neighbours over the past twenty five years. Unless otherwise stated, all locations are in Victoria, Australia.
Blackburn South
Bairnsdale Regional Hospital (Inala Village, 220 Middleborough Road)
Erinsborough High School [1] (Blackburn English Language School, Eley Road)
L'Amour Bridal Boutique [Donna goes dress shopping], (17 Indra Road)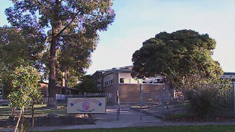 ..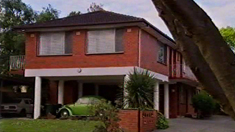 Box Hill
Libby and Drew's Flat (6 Alexander Street)
Erinsborough Court House (Box Hill Town Hall, Whitehorse Road)
Swimming pool (Aquatic Centre, Box Hill Pool, Surrey Park, Canterbury Road)

Burwood East
Erinsborough & District Community Hall (East Burwood Recreational Reserve, Burwood Highway)
RSPCA and Animal Emergency Centre, Burwood Highway
School Sports Day (Bill Sewart Athletics Track, Recreational Reserve, Burwood Highway)

Chirnside Park
Hotel [Jack and Izzy's night of passion] (The Sebel Lodge Yarra Valley, Heritage Avenue)
Coburg
Erinsborough High School [2] (Coburg Senior High School, Alva Grove)
Croydon
Motel [Toadie finds Steph and Adam] (Dorset Gardens Hotel Motel, 335 Dorset Road)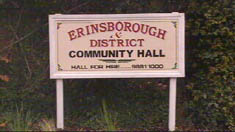 ..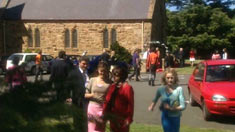 Doncaster
St. Stephen's Church, Church Street [Scott & Charlene's wedding/Libby & Drew's wedding] (Holy Trinity, Church Road)
Dandenong
Erinsborough & District Hospital [1] (Dandenong Hospital, David Street)
Eltham
Montsalvat [Libby and Daniel's wedding], 7 Hillcrest Avenue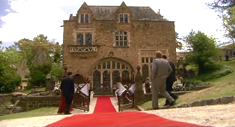 ..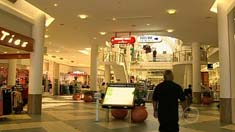 Forest Hill
Erinsborough Dingoes (Nunawading Football/Cricket Oval, Mahoneys Road)
Erinsborough Plaza (Forest Hill Chase Shopping Centre, cnr Mahoneys and Canterbury Roads)
Lassiter's Interior (Brand Receptions, Mahoneys Road)
Nursery [Zeke and Mia do community service], (ParksWide Nursery) Salvation Army Store (Brentford Square, Canterbury Road)
Soccer pitch (Nunawading City Soccer Club, Mahoneys Road)
Swimming pool (Nunawading Aquatic Centre, Husband Road)

Glen Waverley
Cinema [Summer and Declan's date] (Village Cinemas, Century Walk, Springvale Road)
Tad confronts Doula (Mountain View Hotel, 186 Springvale Rd)
Healsville
Lou takes Mishka to the animal park (Healsville Sanctuary, Badger Creek Road)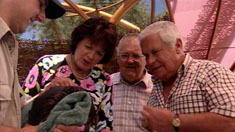 ..
Heidelberg
Erinsborough & District Hospital [3] (Austin Hospital, 145 Studley Road)
Keilor
Calder Park Raceway [Ben's racetrack crash/Timmins family day out], Calder Highway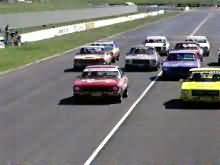 ..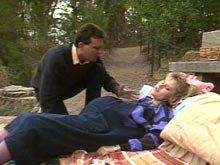 Melbourne
Dance Theatre [Kate's dancing] (Ministry Of Dance, 64 Sutton Street, North Melbourne)
Hotel [Dee and Toadie celebrate their engagement] (Hyatt Hotel)
Her Majesty's Theatre [Lou and Trixie's wedding], 219 Exhibition Street
Melbourne Aquarium, cnr King & Flinders Street
Southern Cross Station, Spencer Street
Warehouse [Declan, Rachel and Donna look for Mickey] (Queen Victoria Market, cnr Victoria & Elizabeth Streets)
Mitcham
Basketball court [Chris struggles to fit in when Erinsborough Emus play Elliot Park] (Mullauna College, 456 Springfield Road)
Nunawading
The Lassiter's Complex, Carpenter's Mechanics, Dial-A-Kyle, Grease Monkeys (Global Television, cnr Springvale & Hawthorn Roads)
Ringwood East
Erinsborough & District Hospital [2] (Maroondah Hospital, Mount Dandenong Road)
Jamie Clarke's birth place (Ringwood Lake, Maroondah Highway)
Seville East
Winery [Elle, Lucas & Andrew showdown] (Killara Park Estate, 773 Warburton Highway)

Springvale
Cemetery [Marco's funeral] (Springvale Botanical Cemetery, 600 Princes Highway)
County Court (Springvale City Hall, 397-405 Springvale Road)
St. Kilda
Luna Park, 18 Lower Esplanade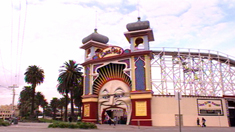 ..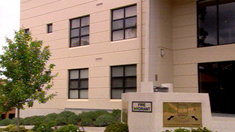 Vermont South
Ramsay Street (Pin Oak Court)
Beverly Marshall's house (Huskey Court)
Erinsborough Primary School (Weeden Heights Primary School, Weeden Drive)
India's Pre-School (Biralee Pre-School, 21 Weeden Drive)
Karl's Apartment (Saxonwood Apartments, 8 Saxonwood Drive)
Wantirna South
Cinema [Bridget and Declan's date] (Village Cinemas - Knox, 435 Burwood Highway)
Woolloomooloo (New South Wales)
Velero Restaurant [Toadie, Sonya and Eli eat out in Sydney], 2/6 Cowper Wharf Road