.
Neighbourhood > Ramsay Street > No. 24

24 Ramsay Street 1985-
Address: 24 Ramsay Street, Erinsborough, Victoria, 9571


Current Residents: None

Past Regular Residents: Ajay Kapoor (2012-2013), Rani Kapoor (2012-2013),Priya Kapoor (2012, 2013), Lou Carpenter (1992-1994, 2003, 2005, 2006-2008, 2009-2012), Vanessa Villante (2012), Lucas Fitzgerald (2010-2012), Kate Ramsay (2009-2012), Sophie Ramsay (2009-2011), Sonya Mitchell (2011), Jade Mitchell (2011), Declan Napier (2008, 2010, 2011), Harry Ramsay (2009-2010), India Napier (2010), Rebecca Napier (2008-2009), Carmella Cammeniti (2006-2007, 2008), Chloe Cammeniti (2008), Sienna Cammeniti (2008), Oliver Barnes (2008), Marco Silvani (2008), Harold Bishop (1988-1991, 1996, 1997-2005, 2005-2008), Sky Mangel (1989, 2003-2005, 2005-2007), Kerry Mangel (2006-2007), Lolly Allen (1996, 2007), Connor O'Neill (2005), David Bishop (1988, 2003-2005, 2005), Liljana Bishop (2003-2005, 2005, 2005), Serena Bishop (2003-2005, 2005, 2005), Valda Sheergold (2002), Tad Reeves (1999-2002), Paul McClain (1997-2001), Madge Bishop (1986-1992, 1996, 1997-2001), Luke Handley (1996), Marlene Kratz (1994-1996), Cheryl Stark (1994, 1996), Danni Stark (1994, 1996), Sam Kratz (1994-1996), Joanna Hartman (1995), Annalise Hartman (1993-1996), Cody Willis (1994-1995), Brett Stark (1994), Rick Alessi (1993-4), Lauren Carpenter (1993-1994), Beth Brennan (1992-1993), Cameron Hudson (1992), Guy Carpenter (1991-1992), Brenda Riley (1991-1992), Gemma Ramsay (1990-1991), Sharon Davies (1990), Bronwyn Davies (1989-1990), Kerry Bishop (1989), Henry Ramsay (1987-1989), Charlene Robinson (1986-1988), Scott Robinson (1987-1989), Susan Cole (1987), Shane Ramsay (1985-1987), Danny Ramsay (1985-1986), Tom Ramsay (1986), Max Ramsay (1985-1986), Maria Ramsay (1985)

Past Guest/Unseen Character Residents: Cassandra Freedman (2009), Tegan Freedman (2009), Simon Freedman (2009), Mishka Schneiderova (2006), Gino Esposito (2003), Saxon Garvey (2002), Claudia Harvey (1997), Bianca Zanotti (1995), 'Black' Jack Ramsay (Dates unknown)

Past Pet Residents: Tazzle (2007, 2007-2008), Shadow (2004), Blanche (2002), Stella (2002), Axel (1998), Colonel Parker (1995), Suede Tess (1995), Jeffrey (1993)

Along with Numbers 26 and 28, Number 24 has been at the heart of the Neighbours since episode one. Having been home to the Ramsay family, for whom the street was named, for many years, in 1985 the house was owned equally by Max Ramsay and his sister Madge Mitchell. Although Madge lived in Queensland, she had helped Max out of financial problems in order to keep the family home and Max intended to pay her back in instalments. The house was originally decorated with a taupe colour and exposed brickwork with pinkish-brown sofas with green stained glass windows either side of the front door.


Madge returned to Erinsborough in 1986 following the breakdown of both her marriage and Max's and took up residence in the house. The house was sold to the Daniels Corporation the same year, who intended to build a supermarket access road on the street, however the scheme was cancelled, and following Max's departure to reunite with his wife, Maria, Madge bought the house back outright.


In 1992, the now Madge Bishop left Erinsborough and rented the house to her former partner, Lou Carpenter, who added a lot of his own furniture, including a wooden bar.


The house was sold in 1994 to Marlene Kratz, who redecorated with a new paint scheme with white paint in the lounge and yellow in the kitchen and dining area and her own eclectic mix of bric-a-brac. When Marlene faced heavy fines for unpaid parking tickets, in 1996, all of her belongings were repossessed. Her grandson Sam bought her new furniture, including tartan sofas and distressed wood dining table and chairs and redecorated in a green, white and yellow colour scheme, painting over the brickwork in the same colour scheme.

In 1996, Marlene moved into Number 22 following the death of her daughter, Cheryl Stark, briefly renting the house to Madge who had returned to Erinsborough following the discovery that her husband Harold, who had been presumed dead five years earlier was in fact alive, before they moved back to Queensland together. The following year, Madge and Harold returned to Erinsborough, renting their former marital home once again. Although never mentioned on screen, it seems that the Bishops bought the house back soon after, as they became embroiled in a land dispute with Lou Carpenter. The decor remained unchanged, however in 2000, the green stained glass windows by the front door were replaced with blank boards.


The house was extensively refurbished in 2005 having been trashed by Dylan Timmins, following a feud with the Bishop family and received a new look, including a small change in layout in the kitchen and the doors to the rest of the house. The brickwork was covered over and the blank boards by the front door were replaced with clear bevelled glass. Alongside the taupe and purple colour scheme, a new dark wood kitchen was installed with granite worktops, along with a dark wood dining table and green sofas.


In 2008, Harold planned to sell the house to Marco Silvani and Carmella Cammeniti, as he left Erinsborough to travel around Australia, but changed his mind at the last minute, opting to keep the house and rent it out to the young couple.


Following a battle with cancer in 2009, Harold donated the house to the Salvation Army for use by families in need. Initially the tenancy was given to the Freedman family; however later that year a twist of fate saw the house become home to the Ramsay family once again as orphans Kate, Harry and Sophie moved in. The Ramsays brought with them new furniture including red sofas and a new dining table and chairs.


In 2012, having discovered that the house was no longer being used as a family home by tenant Kate Ramsay, the Salvation Army put the house up for auction needing the capital for other ventures. Although resident, Lucas Fitzgerald planned to buy the house, a last minute high bid by Ajay Kapoor won, infuriating his wife, Priya who had not seen the entire house. The Kapoors redecorated following their purchase of the house with a purple and cream colour scheme, bringing new furniture with them.


Trivia Notes
• The house used for the exterior of Number 24 is 4 Pin Oak Court, Vermont South, Melbourne, Victoria, 3133.
• When filming exterior scenes, a number 2 is stuck in front the house number on the mailbox.
• The brickwork seen in Number 24's living room was re-used from prison interiors created for Grundy's Prisoner.
• A swimming pool is located in the back garden of Number 24.



Floor Plan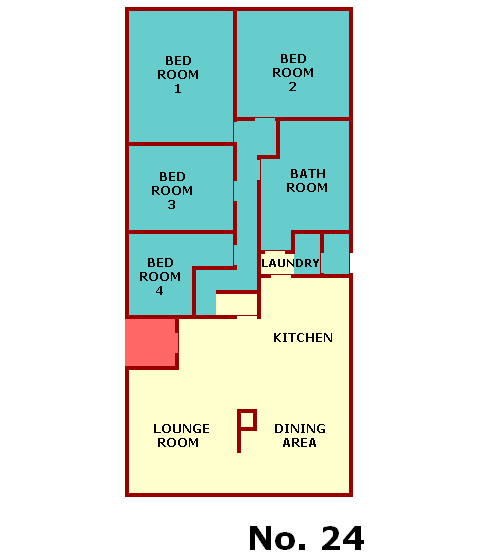 Please note: Due to studio and production constraints, alterations are often made to the layout of rooms/sets. Thus, the above illustration is intended as a plan based on the architecture of the actual houses on Pin Oak Court, and the various replicated interior layouts that have appeared on-screen over the years. Blue sections show areas which are rarely, if ever, shown on screen.
Illustration by Rhys and David
Click here for satellite photograph (from Google Earth)
Key moments (with episode links where available)
A fire breaks out, almost killing Madge and Harold
Another fire breaks out when Madge, temporarily blinded, tries to cook on the stove
Madge passes away
Sandy Allen nearly drowns in the pool

Gallery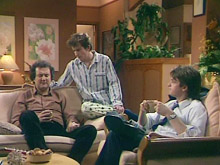 ..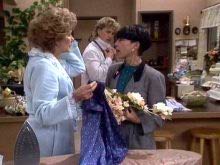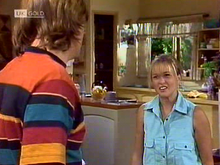 ..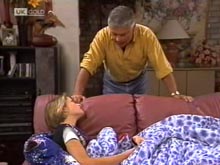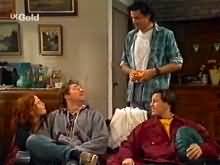 ..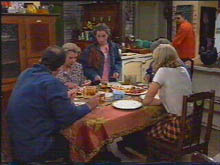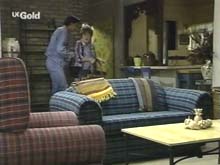 ..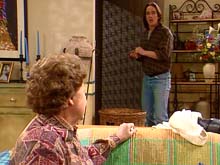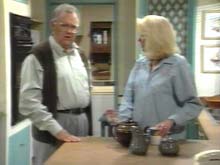 ..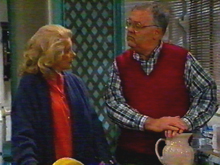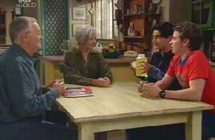 ..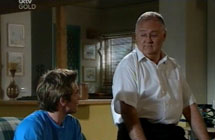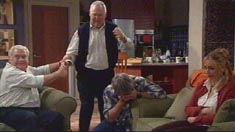 ..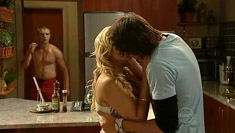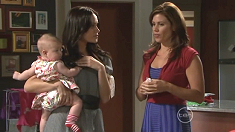 ..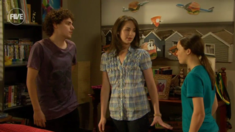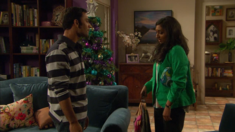 ..